Beetroot, roast garlic and red wine risotto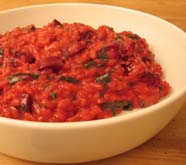 A few months ago, Danielle told me about a beetroot risotto she'd eaten at restaurant once. It had been a lovely deep purple colour, contrasting with the green of the mange touts it was served with. I loved the image, and when I bought a bunch of beetroot at the farmers' market on Saturday I decided to try making something similar. I looked around our kitchen for other ingredients, considering and then discarding thoughts of adding various herbs, drizzling with pesto, or topping with zucchini crisps. It was cold, and rainy, and the pinot noir we were drinking was particularly fine, and I craved garlic...
So I decided on a very simple recipe: beetroot and garlic roasted in the oven, to concentrate the flavour of the beetroot and make the garlic sweet and almost caramelised. Then a glass of red wine rather than white, to make it a bit more robust and darken the colour of the risotto. And the beetroot leaves wilted and stirred through at the end for a bit of contrast of colour and texture.
I liked the finished product, though next time I make it I might try a few variations. If I had a bit more time I would probably roast the beetroots like I normally do, whole and with skin on, then slip off the skins and chop the flesh; it's neater and you don't get crunchy edges on the beetroot pieces. They take much longer to cook that way, so the garlic would probably have to be roasted separately - if you liked you could do a whole head and bake it in alfoil until each clove is just mild golden mush to be squeezed out of its paper. Though I prefer the flavour while there is still a bit of a sharp garlicky edge, so I would probably just pop the peeled cloves in a little ramekin with a drizzle of olive oil and cook them that way, removing them when they're soft and golden but not disintegrating. And although the final colour of the risotto is already gorgeous, you could probably deepen it further by adding a chopped beetroot to the stock too.
1 large bunch of beetroot, leaves attached
olive oil
6 large cloves of garlic, peeled and halved
1 litre vegetable stock
butter
1 onion, finely chopped
200 g arborio or other risotto rice
1 glass red wine
freshly grated parmesan
Preheat oven to 180 C.
Trim the leaves from the beetroot and set aside. Peel the beetroot, and chop into 1.5 cm pieces. Toss with some olive oil in a baking dish, then place in the oven. After about 15 minutes, add the garlic pieces, then continue to cook until the beetroot is soft and the garlic is turning golden and sweet, about another 20 minutes or so. Remove from the oven and set aside.
Stem the beetroot leaves and wash the leaves well. Chop into bite-sized pieces and set aside. Bring the stock to a simmer in a medium saucepan.
Make a risotto in the usual way. In a large pan, heat a knob of butter and a splash of olive oil. Saute the chopped onion until it is soft and translucent. Add the rice, and toast for two minutes. Tip in the red wine, and stir till it is absorbed. Add a ladle of hot stock, stir until it is completely absorbed and the rice is on the verge of sticking, then add the next ladle, and continue in this fashion for about 18-20 minutes, until the rice is about 5 minutes away from being done. Add the roasted beetroot and garlic, and stir, adding stock as before, for a further 4-5 minutes. Taste for seasoning. Add the beetroot leaves and stir until they are wilted, about 1 minute. Remove the pan from the heat, add a handful of grated parmesan and a final ladle of stock, stir well, then put the lid on the pan and leave it to rest for 1 - 2 minutes, then serve.
Serves 2 generously.
Comments (6)
20 September 2004