Bulgur, tuna and parsley salad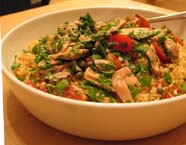 This is possibly a bit summery for January (oh I am so northern hemisphere now), but it was very good and just what we needed after several days of stodgy meals. Make sure you use good steaky bits of tuna for this, not cheap mush. And definitely spend the time to toast the bulgur - it makes it lovely and nutty. I am going to try doing it this way next time I make tabouli, too.
3/4 cup bulgur
1 1/3 cup water
sea salt
190 g good quality tuna in oil, drained and flaked
1 bunch flat-leaf parsley, chopped
1 heaped tablespoon capers
1 small clove garlic, very finely minced
about 10 cherry tomatoes, halved or quartered
1 pinch cayenne pepper
juice of 1 lemon
olive oil
Place the bulgur in a medium saucepan over medium-high heat, and cook, stirring occasionally, for 5 minutes or so, until it is slightly brown, and you can hear it popping if you put your ear near the pan. Add the water and a good pinch of salt, and bring to the boil. Remove from the heat and set aside for 10 minutes, until it is tender and all the water is absorbed.
Meanwhile, in a large bowl combine the tuna, parsley, capers, garlic, tomatoes, cayenne pepper, lemon juice and a slug of olive oil, and toss to combine.
Once the bulgur is cooked, combine it with the tuna mixture, season to taste, and serve.
Makes 2 main-course servings.
Comments (4)
4 January 2005