Walnut oil and apple cake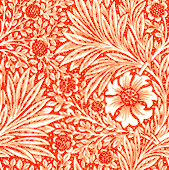 Christmas is not about stressful cooking, all appearances to the contrary. Last year the two of us ate an exceptionally enjoyable bowl of spaghetti with garlicky tomato sauce for lunch, in our warm and messy loungeroom, listening to the wind blow off the Channel and bluster against the windows, before settling down contentedly for some desultory novel-reading on the couch with plentiful pillows and cups of tea.
This year, we were invited out to E Ho to share Christmas lunch with friends, so made the pleasant 40 minute drive across the Downs, heading happily towards a meal which was a mixture of the traditional (pheasant, tiny fingerling potatoes with rosemary and sea salt, green beans) and the Mediterranean-via-Australia (grilled zucchinis and roasted capsicums). With us was the dessert, which was supposed to be chocolate mousse but had miraculously transmogrified into walnut oil and apple cake.
My eyes had been opened to the potential excellence of chocolate mousse at Hilary and Richard's place a couple of months ago, when they served one which was light and dense all at once and made me want to lick out the ramekin. Hilary generously sent me the recipe on request, and I thought it would be just the thing to make on Christmas morning and take for lunch. After the first batch seized hideously, and I'd sent Ted off to the one corner store open in the neighbourhood, which I happened to know had the very good taste to stock Lindt 70%, and I had done a bit of speedy web research into the seizing phenomenon, I thought it would be something I could possibly manage to pull off if I worked quickly and cranked the fridge right down to near freezing. After the second batch got most of the way done before seizing, I took some deep breaths and mentally flicked through my collection of tried and tested cake recipes for something which could be begun now and be ready to take with us in the car in 90 minutes. (I should mention that the E Ho posse had told me several times that if I decided at any stage that making dessert was too stressful in my thesis-ridden state, we could easily survive without. So this minor intrusion of angst into my culinary life was entirely self-generated.)
Alas, there wasn't a single cake or dessert recipe on this webpage for which I had all the ingredients, which could be completed in the necessary timeframe. My banishment of possibly stress-inducing traditional Christmas cooking from my life meant that ours was possibly the only household in the land which was not in possession of cream, cream cheese, almond meal, exotic fruits, chocolate (at least any not now in grainy, oily, post-seizure lumps in the sink), or other standard cake ingredients. Fortunately, the very first cookbook I grabbed from the shelf supplied me with a recipe which met all my requirements. My kitchen always contains fresh apples, walnut oil, pine nuts, sultanas, liquor and lemons. These were enough to produce a modified version of Nigella Lawson's apple and walnut cake, which is itself a modification of Anna del Conte's torta di mele. The batter came together in a moment; the enjoyment of working with earthy and reliable ingredients rather than tricksy and thrice-damned chocolate was uplifting. The moment of removing from the oven the beautifully domed and golden cake, surface puckered with apple pieces, was exceptionally satisfying. Almost as rewarding as cutting into it several hours later, after a wonderful lunch and a walk in the afternoon dark to see the village Christmas tree, and finding that this cake was moist, and with a gentle flavour of spice and walnut, and very good indeed. Merry Christmas, everybody.
Walnut oil and apple cake
100 g sultanas
75 ml grappa
75 ml walnut oil
75 ml olive oil
200 g castor sugar
2 large eggs
350 g plain flour
1 heaped teaspoon cinnamon
1 1/2 teaspoons bicarbonate of soda
1/2 teaspoon cream of tartar
1/2 teaspoon salt
450 g eating apples, peeled, cored and cut into small pieces (I used 2 Coxes, 1 Granny Smith and 1 Tentation)
zest of 1 lemon
100 g pine nuts
Preheat the oven to 180C. Butter and flour a 20 cm springform pan.
Put the sultanas and grappa into a small saucepan and bring to the boil. Remove from the heat at once and set aside to let the sultanas plump up.
With an electric whisk, beat the oil and sugar together in a large bowl, then add the eggs one at a time and beat for another minute or two until it looks like a light mayonnaise. Sieve together the flour, cinnamon, bicarb soda, cream of tartar and salt, and then add to the batter and fold together with a metal spoon. Stir in the apples, lemon zest, nuts, and the sultana and grappa mixture. The batter will be fairly stiff. Spoon the mixture into the prepared tin, smooth the top, and bake for 1 hour, or until a skewer comes out clean.
Let the cake stand in the tin for 10 minutes, then turn it out and leave it to cool on a wire rack. Will shortly afterwards be able to survive carriage while wrapped in a festive red teatowel exceptionally well.
Note on modifications: The original recipe called for rum rather than grappa; for 150ml walnut oil rather than half walnut and half olive, but that's all the walnut I had and in any case I think this ratio provides a nice balance; slightly less cinnamon; and walnuts rather than pine nuts, which again was a substitution necessitated by what was in the fridge. You could use pretty much any nut of your choice, I think, or leave them out altogether.
Comments (2)
26 December 2004