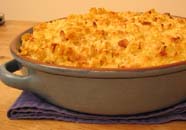 The air is so crisp these days, it's a pleasure to breath. I love it when I emerge from the gym in the mornings to walk across campus to my building - I can see out on to the Downs, and the air is clear and cool in my lungs in lovely contrast to the warmth in my muscles. I'm eating lots of healthy food to keep me on the path of sanity during the final frantic couple of months of my PhD, but all this sensible living has to be balanced out occasionally. That is what mustardy macaroni cheese and Fuller's beer is for.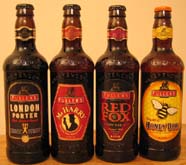 The Fuller's we bought as a four-pack special, containing a bottle each of London Porter, Mr Harry, Honey Dew and Red Fox, and drank them over the course of two or three nights. I liked the first three quite well, but Red Fox was the real revelation. I am in love with this ale. It's a gorgeous tawny red colour, with biscuity, toasty, oaty flavours. I was all ready to go and buy a slab (do they sell slabs in the UK? Replace with word for some large quantity, as appropriate), but as far as I can find on the web it's only available at Fuller's pubs, or in this four-pack. I really don't have time to go up to London just to drink some beer, but on the other hand, I would very much like to install myself in some cosy pub and slowly drink Red Fox for a few hours... Anyway, if you happen to see it, buy yourself some - and quickly, as it's only available in autumn.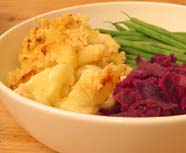 To go with this delicious beverage, we ate macaroni cheese made with gruyere and two kinds of mustard, topped with a crust of fresh breadcrumbs, parmesan and pine nuts. Most excellent. I experimented with red cabbage and apple as a side - not sure whether I liked that enough to be bothered typing up a recipe or not. Probably not.
750 ml milk
1 onion, peeled and halved
2 bay leaves
10 peppercorns
60 g butter
60 g plain flour
400 g short pasta
200 g gruyere, grated
50 g emmental, grated
2 teaspoons seed mustard
1 teaspoon Dijon mustard
1 cup fresh breadcrumbs
3 tablespoons parmesan, grated
1 or 2 tablespoons pine nuts
Preheat the oven to 180 C.
Place the milk, onion, bay leaves and peppercorns in a saucepan, and gently heat for 10 minutes, until the flavours of the seasonings have infused the milk, then strain through a sieve. In another saucepan, melt the butter, then add the flour and stir over moderate heat until it forms a paste. Very gradually add the warm milk, a little bit at a time, stirring continually to make a smooth sauce. Gently bring the sauce to a simmer, and cook for 5 to 10 minutes, stirring as necessary, until it has thickened somewhat.
Meanwhile, cook the pasta in lightly salted boiling water, until it is al dente, then drain.
Mix the gruyere, emmental and both mustards into the white sauce, and season to taste. The mustard flavour will mellow considerably during cooking, so don't panic when you taste it. Combine the cheese sauce with the pasta, then tip into a gratin dish.
Combine the breadcrumbs, parmesan and pine nuts, and sprinkle over the top of the pasta. Bake in the oven for 30-40 minutes, until golden on top.
Serves 4-6, depending on greed and side dishes.
Comments (0)
19 November 2004