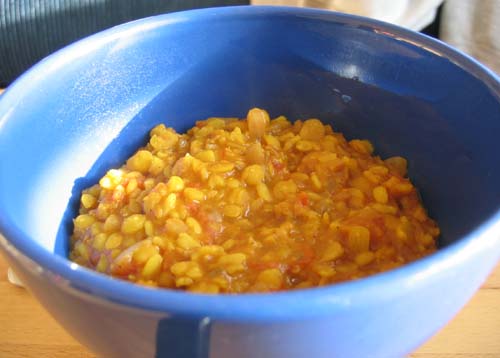 Today, I was craving a lentil stew, so tried out a recipe I remembered reading on Fae's blog (which is consistently fantastic and inspiring, by the way). I got to do the excited and self-satisfied kitchen dance when I realised that I had all five types of dal required in the cupboard, and then I was thrilled all over again by the gorgous yellow of a pot of golden lentils simmering in a turmeric broth. When the thesis is being truly horrible, minor visceral pleasures become very very important.
The resultant dal: perfect. This recipe is simple but superb. I substituted tinned tomatoes for the fresh ones originally called for, because it is the middle of winter in England, but otherwise left it just as originally dictated from heaven. I will have to investigate the originating stone tablets, aka Flatbreads and Flavors, by Jeffrey Alford and Naomi Duguid.
For those who don't keep mulitple types of dal on hand, check out the ever-useful Cook's Thesaurus page on lentils for photos of the different kinds and suggestions for substitutions.
1/4 cup channa dal (yellow split peas)
1/4 cup skinned urud dal
1/4 cup masoor dal (split red lentils)
1/4 cup toovar dal (toor dal)
1/4 cup mung dal (yellow mung beans)
5 cups water
1/2 teaspoon turmeric
1/2 teaspoon cayenne pepper
1 tablespoon ghee
1 large onion, finely chopped
2 fat cloves of garlic, chopped
1 heaped teaspoon cumin seed
1 heaped teaspoon garam masala
half a tin of chopped tomatoes
salt to taste
Rinse the dal well. Bring the water to a boil in a large pot, then add the dal, stir, and return to the boil. Remove the pan from the heat and set aside, covered, for two hours. Then add the turmeric, cayenne pepper and a good pinch of salt, stir, and return to the heat and simmer until the dal is tender, about 35 minutes.
When the dal has been simmering for about 15 minutes, start preparing the chaunce. Heat the ghee in a heavy pan over medium heat, then add the onion. Fry for about 3 minutes, then add the garlic and cook a further 1 minute. Add the cumin and garam masala and cook one more minute. Add the tomatoes and cook 8-10 minutes, until the tomatoes are broken down.
Once both components are ready, add the chaunce to the dal, stir through, and cook for a further couple of minutes to let the flavours come together. Season to taste.
This is supposed to serve 4, but we were starving, and are always greedy, so we almost finished it off between the two of us for lunch. We didn't need dinner though.
Comments (2)
18 December 2004