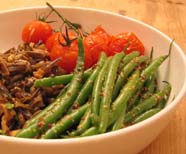 I wish I could remember vital information like "wild rice pilaf is dodgy" before I go ahead and make it for the third time. Perhaps if I blog it I will remember. Each time I've made wild rice pilaf (from a different recipe each time), it's turned out gummy and stodgy. From now on, it will be boiled and drained and rinsed if necessary - it's too expensive to eat grudgingly and without enjoyment. And life is too short, of course.

The other elements of the pilaf I made tonight turned out quite well, and suited the cool weather. I cooked the rice in stock made from dried porcini, then added in the chopped porcini, some toasted pine nuts, and chopped green onions towards the end. Alongside, we had roasted cherry tomatoes with garlic, and some spectacularly good green beans. I love green beans many ways, but this method has shot straight to the top of my list.




Green beans with seed mustard





200 g green beans
salt
2 teaspoons olive oil
1 heaped teaspoon seed mustard (or more, to taste)




Trim the beans, and cook in a large volume of boiling, lightly salted water for two or three minutes, until they are tender but still have some snap. Drain, and refresh in cold water to stop them cooking unless you are going on to the next stage immediately.

In a large saucepan, heat the olive oil, then add the beans. Cook them long enough to warm through if they have gone cold, then add the mustard. Stir over the heat for another minute, until the mustard seeds just start to pop. Serve at once.

Serves 2 as a side.

Comments (0) | Permalink



When I was younger (much younger), I imagined that when I visited Paris I would wear a black turtleneck, carry existentialist novels in my bag, and sit in cafes for hours on end drinking black coffee. Yes, gag. In all the visits I've made to my sister in Paris in the last six or seven years, I don't think I've done any of that. Perhaps the first time I visited her I was reading Memoirs of a dutiful daughter, but that was just a coincidence, honestly.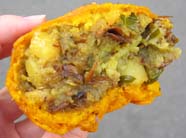 Instead, we make coffee at home, dress like we're not depressed, and eat Indian snacks while propped up against the railings on the side of the street. Much better. When I was there this weekend, we visited the Indian and Pakistani quarter near La Chapelle metro station, checking out grocers selling asian fruit, vegetables and spices, and along the way buying a very large selection of hot snacks from takeaway counters. Most items are about 1 euro, so you can get an excellent lunch for two for six or seven euros. We tried samosas, stuffed rotis, and besan flour donuts, but our two favourites were the bonda (photo above) and the masala vada (below).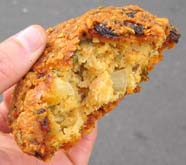 The bonda was a mixture of potato, onion and fresh herbs and spices, very soft and tasty. I was initially a bit dubious about the vada, since it looked a little dry, but it was moister - is that even a word? - than it appeared. It's made by soaking a combination of dals, then grinding them coarsely to make a flour, mixing with green chillis, onions and spices, forming into flattened balls, and deep frying.

Highly recommended Paris lunchtime destination - as long as you're over your turtleneck stage, of course.

Comments (0) | Permalink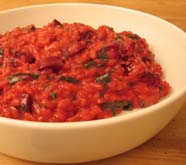 A few months ago, Danielle told me about a beetroot risotto she'd eaten at restaurant once. It had been a lovely deep purple colour, contrasting with the green of the mange touts it was served with. I loved the image, and when I bought a bunch of beetroot at the farmers' market on Saturday I decided to try making something similar. I looked around our kitchen for other ingredients, considering and then discarding thoughts of adding various herbs, drizzling with pesto, or topping with zucchini crisps. It was cold, and rainy, and the pinot noir we were drinking was particularly fine, and I craved garlic...

So I decided on a very simple recipe: beetroot and garlic roasted in the oven, to concentrate the flavour of the beetroot and make the garlic sweet and almost caramelised. Then a glass of red wine rather than white, to make it a bit more robust and darken the colour of the risotto. And the beetroot leaves wilted and stirred through at the end for a bit of contrast of colour and texture.

I liked the finished product, though next time I make it I might try a few variations. If I had a bit more time I would probably roast the beetroots like I normally do, whole and with skin on, then slip off the skins and chop the flesh; it's neater and you don't get crunchy edges on the beetroot pieces. They take much longer to cook that way, so the garlic would probably have to be roasted separately - if you liked you could do a whole head and bake it in alfoil until each clove is just mild golden mush to be squeezed out of its paper. Though I prefer the flavour while there is still a bit of a sharp garlicky edge, so I would probably just pop the peeled cloves in a little ramekin with a drizzle of olive oil and cook them that way, removing them when they're soft and golden but not disintegrating. And although the final colour of the risotto is already gorgeous, you could probably deepen it further by adding a chopped beetroot to the stock too.




Beetroot, roast garlic and red wine risotto





1 large bunch of beetroot, leaves attached
olive oil
6 large cloves of garlic, peeled and halved
1 litre vegetable stock
butter
1 onion, finely chopped
200 g arborio or other risotto rice
1 glass red wine
freshly grated parmesan




Preheat oven to 180 C.

Trim the leaves from the beetroot and set aside. Peel the beetroot, and chop into 1.5 cm pieces. Toss with some olive oil in a baking dish, then place in the oven. After about 15 minutes, add the garlic pieces, then continue to cook until the beetroot is soft and the garlic is turning golden and sweet, about another 20 minutes or so. Remove from the oven and set aside.

Stem the beetroot leaves and wash the leaves well. Chop into bite-sized pieces and set aside. Bring the stock to a simmer in a medium saucepan.

Make a risotto in the usual way. In a large pan, heat a knob of butter and a splash of olive oil. Saute the chopped onion until it is soft and translucent. Add the rice, and toast for two minutes. Tip in the red wine, and stir till it is absorbed. Add a ladle of hot stock, stir until it is completely absorbed and the rice is on the verge of sticking, then add the next ladle, and continue in this fashion for about 18-20 minutes, until the rice is about 5 minutes away from being done. Add the roasted beetroot and garlic, and stir, adding stock as before, for a further 4-5 minutes. Taste for seasoning. Add the beetroot leaves and stir until they are wilted, about 1 minute. Remove the pan from the heat, add a handful of grated parmesan and a final ladle of stock, stir well, then put the lid on the pan and leave it to rest for 1 - 2 minutes, then serve.

Serves 2 generously.

Comments (6) | Permalink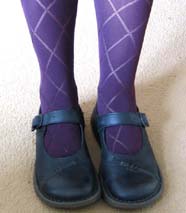 Only two entries ago I was saying that summer was finally showing its nose in Brighton - and I've just gone shopping today with Danielle for autumn stockings in M+S. All hail my new plum-coloured, diamond-patterned tights! Proper summer was fairly brief this year, but not quite so much so as the 'two entries ago' would make it appear. I've been working, and holidaying, and working some more, and interviewing for postdocs (expect to see Dublin restaurant reviews starting early next year, HURRAH!!!), and suddenly realising that I have only a couple of months to finish up my thesis, and re-learning how to program in Python, and so on and so on.... And I find that the weblog hasn't quite reached the top of my list of things to do for over a month now.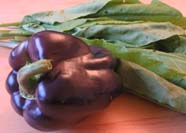 That doesn't mean that we haven't been cooking. Last night we made grilled salmon (the excellent organic stuff from Waitrose), roasted sweet potato, steamed green beans tossed with pumpkin seed oil, cherry tomatoes roasted with garlic slivers, and quinoa, for Danielle and Georg. I also made far breton for dessert, but we were so full it wasn't eaten and so ended up as afternoon tea today. We needed a substantial tea, after walking along the seafront in the wind, and winding our way home via the Lanes, including a stop at the monthly produce market held outside the Quaker meeting house. We bought vegetables for tonight's dinner, including the purple-black capsicum and sorrel in the photo. Not quite sure what I'll do with them yet - perhaps a Spanish omlette.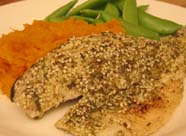 I've been playing around with fishy recipes, having more successes than failures. I discovered that I don't particularly like smoked salmon - too squishy and not as smoky as I was expecting - nor monkfish or sea bass, both of which could easily have been tofu shaped like a fish for all the taste they had, and what's the point in that? Might as well have tofu. I do like fillets of fresh salmon, and grilled whole sea bream, and red mullet, and smoked mackerel. The sea bass to the left is the prettiest fish I've managed to cook so far, but as I say it wasn't particularly tasty. The steamed mashed sweet potato was excellent though.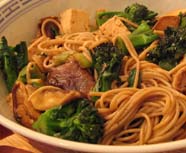 Of course we haven't only been eating fish tasting like tofu, we've also consumed lots of the real stuff too... Taj Mahal sells loose shitake mushrooms very cheaply, so there've been quite a few stirfries with tofu, shitakes, dark leafy green of the moment, sometimes a red pepper, usually a sprinkle of dried chilli, and some finely chopped fresh ginger or garlic. Finished off with whatever combination of soy sauce, fish sauce, toasted sesame oil, mirin or black rice vinegar takes our fancy, and served with soba noodles, green tea noodles, rice stick, or brown or white rice. Very easy and very delicious.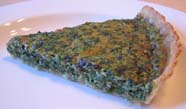 And here is a slice of spinach and olive tart, signifying all the dishes I cooked and photographed over the last couple of months, but never got around to writing about, and so forgot how I had made them. I think this one might have been adapted from the spinach and anchovy tart in Tamsin Day-Lewis' Art of the Tart. Look at that lovely crust, Ted's first attempt at shortcrust pastry.

Not everything was lost, however. Below are recipes for a not entirely traditional kedgeree; a blackberry, apple and almond crumble I made when Cheryl came over for dinner a couple of weeks ago; polenta with smoky tomato sauce and roast vegetables; and a burgul salad.

Comments (3) | Permalink



| | |
| --- | --- |
| | Kedgeree |




275 ml water
150 g rice
a pinch of saffron
a pinch of salt
a dash of olive oil
150-200 g smoked mackerel
milk to cover the fish
1 bay leaf
half a dozen peppercorns
a pinch of chilli powder
1/4 teaspoon turmeric
1/2 teaspoon cumin seeds
1/2 teaspoon coriander seeds
seeds from 2 cardamom pods
2 eggs (or more if you like)
chopped fresh coriander


Bring the water to the boil, then add the rice, saffron, salt and oil. Stir briefly, then put the lid on and simmer over very low heat for 15 minutes, until the rice is tender and the water is absorbed. Remove from the heat.

Place the fish in a saucepan over medium heat, add enough milk to cover the fish, the bay leaf and the peppercorns, and simmer for approximately 5 minutes until the fish is ready to flake. Remove it from the heat, and, when cool enough to handle, remove the skin and break the flesh into medium-sized pieces.

Place the chilli powder, turmeric, cumin, coriander and cardamom seeds into a small frypan and dry roast them over medium heat for a couple of minutes until they are aromatic. Remove from the heat and grind using a mortar and pestle.

Put the eggs in a saucepan of cold water. Bring it to the boil, boil for 6 minutes, then remove from the heat and cool the eggs under running water. Peel and halve the eggs.

Mix together the rice, mackerel, ground spices and some chopped coriander leaves. Serve with the eggs.

Comments (2) | Permalink




| | |
| --- | --- |
| | Blackberry, apple and almond crumble |




800 g Granny Smith apples
2 cups blackberries
1/3 cup maple syrup
a squeeze of lemon juice
1/2 cup plain flour
1/4 cup almond meal
1/2 cup soft brown sugar, packed
1/2 cup rolled oats
1/4 cup flaked almonds
1 teaspoon cinnamon
a pinch of salt
125 g butter, cut into small pieces




Preheat the oven to 180 C.

Peel and core the apples, then chop into pieces about 1.5 cm square. Mix together the apples, blackberries, maple syrup and lemon juice, and tip into an ovenproof bowl.

To make the topping, mix together the flour, almond meal, sugar, oats, almonds, cinnamon and salt. Rub in the butter with your fingertips, until the mixture forms moist clumps. Sprinkle the topping over the fruit and gently press it down. Sprinkle some more flaked almonds over the top if you like.

Bake for about 40 minutes, until the topping is golden and juices are bubbling up the side of the dish. Serve warm.

Comments (0) | Permalink





Polenta with smoky tomato sauce





1 cup medium or coarse grind polenta
3.5 cups light vegetable stock
1/2 cup milk
grated pecorino
olive oil
1 large onion, finely chopped
3 cloves garlic, crushed
1/2 teaspoon hot smoked paprika (picante pimenton)
two 400 g tins of tomatoes
a pinch of salt




Preheat the oven to 180 C.

Mix together the polenta and the stock in a shallow casserole dish. Bake for about 35-40 minutes, stirring once. It should become soft and thick.

Remove the polenta from the oven, and stir through about half a cup of milk, and a couple of handfuls of grated pecorino or other strong cheese. Return to the oven and cook for a further 10 minutes, or until it reaches the consistency you like. Season to taste.

Heat a little olive oil in a saucepan over medium heat. Cook the onions, stirring, until they are soft and translucent. Add the garlic and paprika and cook another couple of minutes, then add the tomatoes and salt, and bring to a simmer. Cook gently for about 30 minutes, stirring now and then.

When everything is ready, ladle some polenta onto each plate, and spoon over some smoky tomato sauce. Eat at once. This is very good with roast vegetables - fennel, butternut squash, green beans, aubergine, whatever is in season.

Serves 2-4, depending on vegetables.

Comments (0) | Permalink




| | |
| --- | --- |
| | Burgul and tahini salad |



150 g bulgur (bulgar)
olive oil
1 large red onion, quartered and sliced finely
100 g baby spinach, stemmed and roughly chopped
50 g pine nuts, toasted
10 cherry tomatoes, halved
1 tablespoon tahini
2 tablespoons water
juice of 1 lemon
3 tablespoons plain yoghurt




Rinse the bulgur well in running water, then cook in boiling water for about 10 minutes or until it is tender. Drain and set aside.

Heat a little olive oil in a pan, then add the onion and cook over low-medium heat, stirring, for about 10 minutes until the onions have softened and sweetened. Add the burgul, spinach, pine nuts and cherry tomatoes, and cook for a couple of minutes until everything is warmed through.

In a small bowl, combine the tahini, water, lemon juice and yoghurt. Mix well, adding more water if it needs to be thinned. Pour this dressing over the burgul mixture and combine well. Taste, and add more tahini or lemon juice as required. Serve warm.

Comments (0) | Permalink