Saturday, January 12th, 2013
Stuff that has been making me happy recently:
1. Spending Christmas with friends – Iñaki, Begoña, Unai, Naia and Heather came over to our place for Christmas lunch. We all contributed mezze; I made these slices of baguette with french goat cheese, roasted cherry Roma tomatoes, and salted capers. Then Iñaki made paella, and we ate it with slow-roasted Roma tomatoes, griddled zucchini with lemon and mint, and roasted peppers tossed with sherry vinegar, and a spinach, pea, mint and ricotta salad.
2. Checking out green places around Melbourne, including the Botanic Gardens, where queued for 40 minutes to see this spectacular titan arum blooming on Boxing day: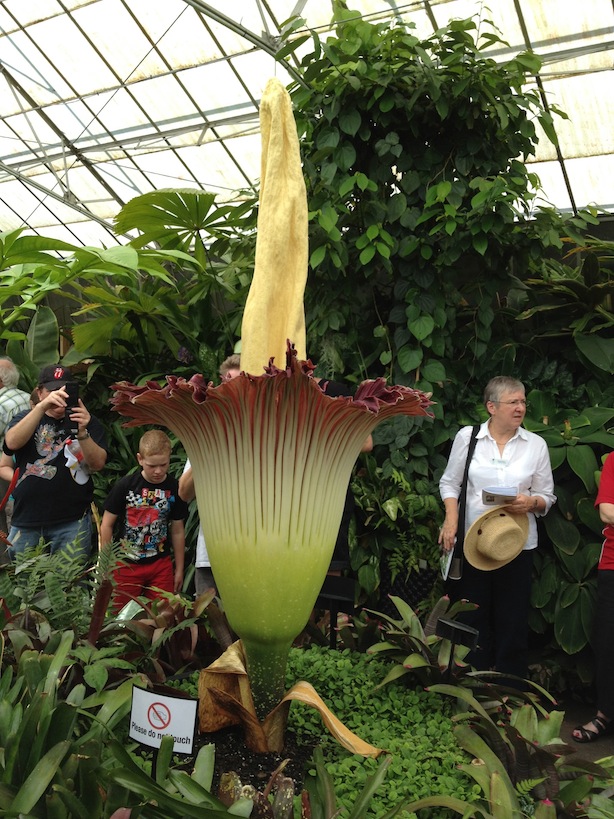 the fernery, heritage orchard, succulent garden etc etc at Ripponlea Estate: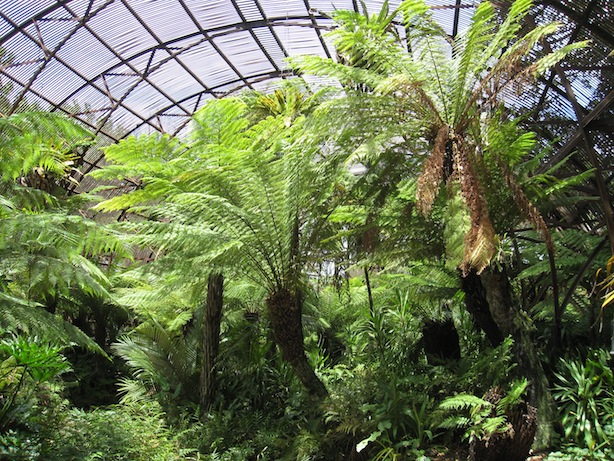 and the perfect hidden river cafe at the Fairfield boathouse (where I had prawns, watercress and lemon aioli on a brioche roll for lunch today):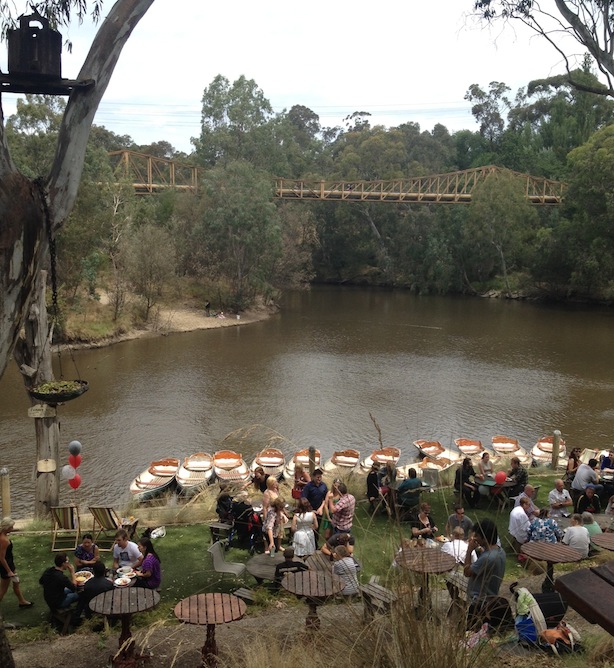 3. Delicious stonefruit from the St Kilda and Victoria markets, this week and last.
4. Seeing Helvetica at ACMI with Ted and Helen last week.
5. Two delicious meals at Dainty Sichuan in Chinatown, including one on the 4th of January, described here, which made a hellish public transport trip in 39 degree heat worthwhile.
6. The garden, where all but one of the nine tomato varieties I have planted have started to produce fruit. Only a couple of wild sweeties have ripened yet, but I have hope for a good harvest from the rest. The fig tree is also covered with green figs – last year the earliest ripe ones were at the end of February, so there is still a while to wait yet. But just sitting out there, or watering, or weeding, the beautiful green box that is our garden always returns me to at least some degree of serenity.
************************
For dinner tonight we made these kofta, inspired strongly by a recipe in Ottolenghi's Jerusalem. The original recipe made a larger amount, used half beef and half lamb, pine nuts instead of pistachios, red chili instead of green, and so on. I modified according to what we had in the house and came up with these, which were delicious.
Lamb and pistachio kofta with tahini sauce
Kofta
400 g freshly minced lamb
half a red onion, finely chopped
2 garlic cloves, crushed
40 g unsalted pistachios, chopped
2 large handfuls of finely chopped flat-leaf parsley
1 long green chilli, deseeded and finely chopped
scant teaspoon ground allspice
1/2 teaspoon cinnamon
1/2 teaspoon nutmeg
1/2 teaspoon freshly ground black pepper
1/2 teaspoon salt
Tahini sauce
4 tablespoons tahini paste
1-2 tablespoons lemon juice
1 garlic clove, crushed
hot water to mix
To serve
a big salad of tomato, cucumber and mint
pita bread
To make the kofta, mix the ingredients together well in a bowl, using your hands. Shape them into about ten kofta, either long, thinnish torpedo shapes, or rounder and flatter frittery shapes. Shape them firmly so they stay together during cooking.
Make the tahini sauce by combining the tahini, lemon juice, garlic and a pinch of salt. Add hot water, stirring briskly, until the sauce is a bit runnier than honey (in Ottolenghi's very clear phrase).
Preheat the oven to 200C. Heat a slick of oil in a pan over medium-high heat, and sear the kofta all over until golden brown. At this point they will be still rare inside. Place them in an oven tray and cook them in the oven until they are done to your liking. How long this takes will depend on how cooked you want them and what shape they are. If you got a butcher to mince the lamb for you today, it's ok to leave them a little rare if you like; otherwise make sure they are fully cooked. Ours took about 12 minutes in the oven, under alfoil.
To eat, spoon the sauce around the kofta and drizzle a little over the top. Sprinkle with more parsley and some more chopped pistachios if you have any over. Serve with the salad and pita.
Serves 4.