Sunday, July 7th, 2013
I appear to be completely incapable of writing proper blog posts any more, even though I'm still cooking lots of great stuff and keeping the daily eating notes. But I've been feeling listalicious recently, so here is another list of good food that has been happening in our household this week.
1. Last weekend I made a big batch of kimchi, using Zoe's recipe. I love this kimchi – the recipe is foolproof and easy, and produces some of the tastiest kimchi I've ever had. Love it. I've been snacking on kimchi all week and incorporated it into an ultra-delicious brunch this morning.
Here, have a photo of me doing the last mixing step in the kimchi production process. I used Edwige and Jean's old (well cleaned!) laundry tub, because I am all class. Also because none of my normal kitchen bowls are big enough to handle the kimchi. Note that grey thing in the bottom left of the photo- it's the chainmail-esque glove I wear when using the mandoline these days, after slicing off the tip of my finger with it a couple of years ago.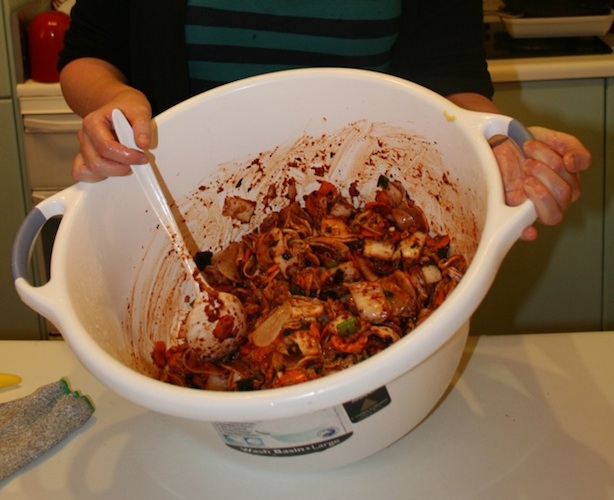 2. We had dinner last night with Danielle at Rumi in Brunswick East, and loved everything we tried. We started with pickled vegetables and then shared oven baked baby baramundi fillet with poached onion in a tahini and almond sauce; spiced lamb shoulder roasted on the bone with sirkanjabin; persian meatballs in tomato and saffron sauce with labne; and an orange and fennel salad. Every mouthful was delicious. The lamb was particularly amazing – slow cooked until it left the bone perfectly clean, and the meat extremely tender without even glancing at sloppiness. Incredible flavour, highlighted brilliantly by the sweet mint sirkanjabin. I found this earlier review of Rumi that says that the spice mix the lamb is coated with is advieh, containing rose petals, dried limes, cumin and coriander (as well as other things, I would guess, given its complexity of flavour).
3. It was the Veg Out markets at St Kilda yesterday and I stocked up big on lots of winter vegetables, astringent persimmons, multiple kilos of chicken and beef bones to make stock, and some other cow bits as well from the Warialda Beef stall. These guys are so great. Super friendly and very happy to give advice, share knowledge, and recommend different cuts and recipes. I ended up carrying away quite a few pieces of beef to cook up this month- short ribs, stewing beef, a pack of tendon and sinew to go in the stock pot with some Flintsones-sized vertebrae and joint bones, and finally a pack of very tender little trimmings from blade steak that I will use for a couple of stir fries this week – I'm thinking one with kimchi (something like this) and another with piles of chinese broccoli and pak choy.
4. And today's breakfast, which made me exclaim multiple times, with lots of enthusiastic profanities, about how great it was: fried rice and kimchi with fried egg. My god it was so good.
This is really the perfect winter breakfast – spicy and flavoursome, chewy brown rice for that texture hit, and runny egg yolk melding everything together.
Breakfast rice, kimchi and fried egg
1 large handful cooked brown rice
2 scallions, green parts chopped
kimchi, a bit more than the volume of rice, roughly chopped
fresh coriander leaves
1 or 2 eggs
toasted sesame oil
tamari
Heat a large saucepan, add a dash of sesame oil, and sautee the rice until it is hot. Add the scallions and kimchi, and cook a further 5-10 minutes, until everything is warm and the mixture is catching a little on the bottom of the pan.
Meanwhile, fry the eggs. I like to do this in a little non-stick pan – a dash of oil, crack the eggs in, cook over low heat with a lid on the pan until the whites are cooked but the yolks are still very runny.
Put the rice and kimchi in a bowl, slide the just-cooked eggs on top, and sprinkle with coriander and a few drops of sesame oil and tamari. Eat at once.