Saturday, January 9th, 2016
For dinner tonight, I made a soup, adapted (mostly in proportions and a little in technique) from this recipe: cold-fighting couscous chicken soup.
I was attracted by the name – I still have this stupid cold and wish devoutly for anything to improve it – and by the combination of chicken, turmeric and ginger, which sounded warming and wholesome.
The resulting soup was turmeric-golden (despite the seeming brownness in the photo below), savoury and warming. I'm still coughing but I feel somewhat less revolting, at least for now.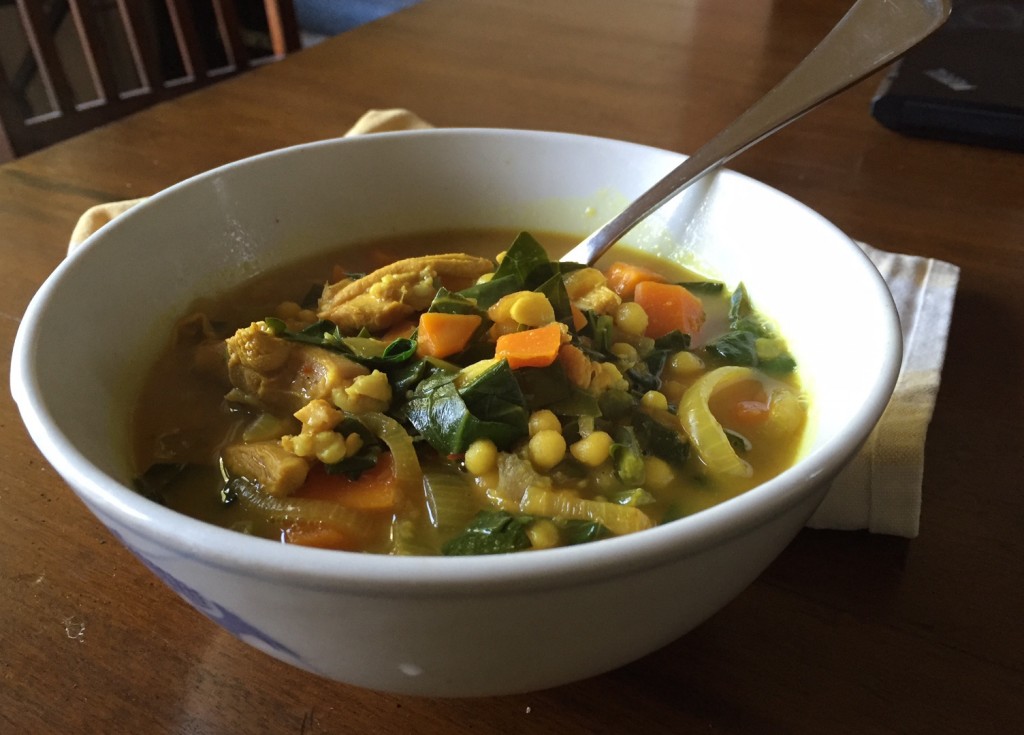 olive oil
1 onion, quartered and sliced
2 carrots, cut into 1 cm dice
2 sticks of celery, cut into 0.5 cm dice
6 cloves of garlic, finely chopped
2 inch thumb of ginger, peeled and grated
1 teaspoon turmeric
150 ml white wine
1 cup home-made chicken stock
2 cups water
1/2 cup moghrabieh
2 chicken thigh fillets, each cut into two or three pieces
1 small bunch chinese broccoli (or other green), quite finely chopped
juice of half a lemon
chili flakes
sea salt and black pepper to taste
Heat a good dash of olive oil in a saucepan over medium heat. Add the onion, carrot and celery, and cook for about 8 minutes, until they are golden and softened. Add the garlic, ginger and turmeric, and cook for a further minute or two.
Deglaze by tipping the wine in on top of the vegetables and scraping up any brown bits from the bottom of the pan with a wooden spoon. Add the stock, water, moghrabieh and chicken, and bring to a simmer. Simmer gently for about 10 minutes, then remove the chicken.
Keep simmering the soup until the moghrabieh is al dente. Meanwhile, use two forks to roughly shred the chicken. A couple of minutes before you are ready to serve the soup, add in the chinese broccoli, shredded chicken, lemon juice and chili flakes. Simmer until the broccoli has wilted and warmed through. Season to taste.
Makes two very large servings.