Sunday, July 14th, 2013
Have a random list of recent food-related doings:
We have hardly cooked this week, through a combination of being busy, lazy and tired. So not too much to report on the home cooking front. I do want to give a shout out to the delicious frittata I made last weekend, with leek, cavolo nero, chard, sorrel, mint, pine nuts, a bit of brown rice, feta and fennelseed. Thank you, frittata, you made several meals very satisfying.
I am keen to try making some crumpets today, since it is grey and drizzly. Thinking of using Elizabeth David's recipe, as recounted here. (Afternoon edit: we made these, and they were extremely good. A++.)
Putting in some work now for eating in the future, we've been doing a lot in the garden this weekend. Yesterday we made a second, smaller raised bed on the east side of the garden, where I'll plant out some soft herbs and greens. I also transplanted the rosemary from a pot to the back of the garden, and will move a couple of kinds of thyme, the oregano, and some lavender back there today (in between showers of rain). That part of the garden used to be covered by pointless 'ground cover' creeper, but very happily our landlords pulled it out when they came to prune the fig and lemon trees, so I want to get something useful in there before any remaining creeper has a chance to recolonise the space. I also picked up some seedlings of chicory, asian greens, spinach, celery and raddichio when we were at Bulleen Art and Garden buying a second compost bin yesterday, so they should also get planted out this afternoon.
And finally, last night I made some ginger biscuits, riffing slightly off this recipe. They're very much an Australian nana-style biscuit, very simple, but delicious.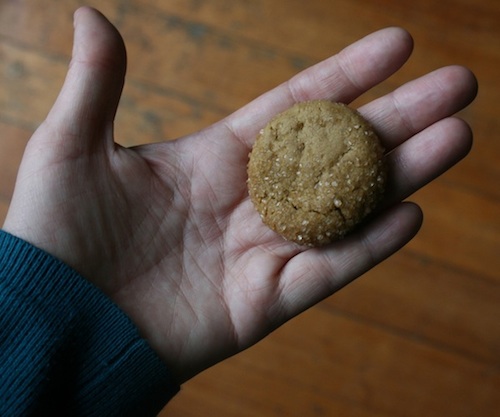 Ginger biscuits
115 g soft brown sugar
115 g butter, softened
1 1/4 cups plain flour
1 tablespoon powdered ginger
1/2 teaspoon bicarb soda
3 tablespoons golden syrup
demerara sugar to coat
Cream the butter and sugar until pale and fluffy. Sift together the flour, ginger and soda. Add the flour mixture and the golden syrup to the butter and sugar, and mix all together. It will form a soft, mouldable paste.
Form small balls of the mixture, 2 or 2.5 cm in diameter, by rolling between your palms. Toss each ball in demarara sugar, then place on a lined baking tray and flatten slightly with your fingers. Leave a few cm between biscuits as they will spread a little.
Bake at 180C for about 10-12 minutes, until the biscuits are going golden around the edges. Remove from the oven, and cool on racks.
Makes about 32 biscuits.