Beaumes-de-Venise cake with grapes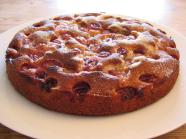 It's time for Is my blog burning? again! After the soup and the tartine rounds, we are now up to the sweet course, and the theme is Cake Walk. I considered making something from my most recent cake cookbook purchase, Julie Duff's Cakes regional and traditional, which has fascinating recipes for things like huffkins (a tea cake from Kent), goosnargh cakes (flavoured with caraway and coriander, traditionally eaten with ale at Whitsun) and fat rascals (smaller versions of Yorkshire turf cakes). But in the end I decided that I wanted something lighter, and more spring-inspired. I briefly wondered whether it would be possible to make a cake version of cucumber sandwiches, but in the end was tempted by a cake less English: gateau de Beaumes-de-Venise aux raisins.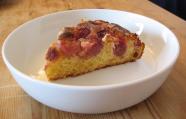 It was the photo of the cake on Epicurious that reeled me in - there is something about that pattern of dimpling and swelling of cake crust around fruit which promises deliciousness to me. Having cooked the cake, I do wonder how they managed to keep their cake so pale on top, after baking it at 200 C for 40 minutes - mine went much browner (a bit too brown, really). But the cake is lovely, everything I was hoping for - moist crumb, delicate muscat flavour throughout, slightly more concentrated in the soft grapes, and a faint echo of the lemon and orange zests. So far I have only eaten a slice warm, but I expect it will keep very well (if we give it a chance).
1 1/2 cups plain flour
1 teaspoon baking powder
1 teaspoon salt
1/4 teaspoon baking soda
3/4 cup castor sugar
90 g butter, at room temperature
3 tablespoons extra-virgin olive oil
2 large eggs
1 teaspoon grated lemon peel
1 teaspoon grated orange peel
1 teaspoon vanilla essence
1 cup Beaumes-de-Venise or other muscat wine
2 cups seedless red grapes
30 g butter, extra
1 tablespoon castor sugar, extra
Preheat the oven to 200 C. Grease a 9 or 10 inch diameter springform pan with olive oil, then line the base with baking paper and brush the paper with oil too.
Sift the flour, baking powder, salt and baking soda into a bowl. In another, large bowl, whisk together the sugar, butter and oil until smooth. Whisk in the eggs, lemon and orange peel and the vanilla. Now add the flour mixture alternately with the wine in three additions each, whisking until just smooth after each addition.
Pour the batter into the prepared pan and smooth the top with a spatula or the back of a spoon. Sprinkle the grapes evenly over the batter. Bake the cake for 20 minutes, until the top is set, then dot the top of the cake with the 30 g of butter and sprinkle with a tablespoon of sugar. Bake for a further 20 minutes, or until the top is golden and a knife inserted into the centre comes out clean.
Cool the cake in the pan on a rack for about 20 minutes, then run a knife around the edge and release the sides of the pan. Serve slighly warm or at room temperature. Serves 8-10.
Comments (10)
18 April 2004