Sore wrists, bulging cupboards
I've had bad RSI after spending a couple of 12-hour days hunched over the computer about 10 days ago, in a stupid attempt to get a big analysis finished in a (completely arbitrarily determined) short amount of time. I am still not caught up with blog entries - the most recent ones below have been partly typed one-handed and very slowly, and partly dictated to the long-suffering and very generous Ted. It's particularly frustrating because, being banished from the computer at night, I have been cooking lots of good stuff. There is still the spinach and olive tart to describe yet, and the burgul salad with tahini dressing...
Ted and I were lounging around after eating the first half of that spinach tart last night, and thinking about how much we spend on food every week. I considered how over-stuffed our pantry was, and suggested that we spend this one week (Monday morning till Sunday night) living only off what we had in the apartment. It would be so useful on several fronts - saving money, using up some of the obscure ingredients shoved to the back of the cupboard, eating more healthily as our takeaway habit could not be indulged. The idea was quickly modified to allow us to buy fresh fruit and vegetables (and milk for Ted's essential breakfast cereal), but other than that we are to pass though the aisles of the supermarket untempted (or at least not giving in). If we make it, we will go to dinner at La Fourchette on Sunday night, to partly undo the benefits of the week.
Feeling very virtuous in anticipation, I made a Grant loaf last night, using about 300 g spelt flour, 180 g wholemeal flour, and 70 g rye flour, with an additional 80 g in total of flax seeds, sunflower seeds and rye flakes - a very good combination. That used up a little of the flour we have lying around (currently including plain flour, strong bread flour, Italian type 00, self-raising, wholemeal, spelt, rye, buckwheat, barley, corn, rice and potato), and was the basis of a very good lunch at university today with some cherry tomatoes, baby spinach and the end of some Swaledale cheese bought on the weekend. Tonight we ate the second half of the spinach and olive tart, and a salad of lambs' lettuce, cherry tomatoes and feta, with a dressing of olive oil and red wine vinegar (selected from our cupboard shelf of oils including extra virgin olive, garlic-infused olive, chilli-infused olive, peanut, pumpkin seed, hazlenut, flax and sesame, and vinegars including red wine, white wine, balsamic, raspberry, white rice, red rice, black rice, malt and white).
Tomorrow's lunch will be more of the same as today, but I haven't decided on dinner yet. Perhaps a dal, to use up some portion of the channa, urud, toor and mung dals we have on the shelf, or some other pulse-based dish using Puy lentils, red lentils, kidney beans, navy beans, cannelini beans or turtle beans. The dal idea has more merit, since it would probably use more of the approximately 50 different spices jumbled on the second-bottom shelf of the pantry. Then some time later in the week, we could make a dish based around one of nine shapes of pasta (including some of the 2.5 kg of orrechiette), or noodles (rice stick, egg, soba, mushroom or tea flavoured), or millet grain, spelt, burgul, barley or polenta. And somewhere in there I would like to use at least a bit of the 3 jars of tahini we have somehow accumulated.
I have to admit that although I am still enthusiastic about the idea, I have been running up against a few brick walls. When excavating through the cupboard I thought, "a-ha, I can use up that old jar of morello cherries in a clafouti!", only to remember that we have only one egg in the house and one of the main purposes of this week is to clear some food out without bringing more in, even perishable things like eggs. Fortunately I can have quite a good drink to help me get creative about it - I was concerned when I realised that we had cut ourselves off from the bottle shop while possessing no wine and only one bottle of beer, but cheered up no end when I surveyed the alcohol shelf and discovered that we have 21 bottles of hard liquor in the house, including one of Vana Tallinn, a very drinkable Estonian liqueur.
If these lists of ingredients spark any ideas within you, please let me know! I am particularly interested in finding a recipe using large quantities of split urud dahl, since the only ones I have found so far use it in half-teaspoon amounts, as an ingredient in tempering. My two or three cups of it will last forever, at that rate. Also: what am I going to do with those cherries? Especially in fresh cherry season, it seems ridiculous to use them, but they've been in the cupboard for at least 18 months and I'm determined that they should go.
Comments (disabled)
Last month I bought half a dozen books on programming and calculus and other scientific topics, to improve myself and make me look even more fantastic than I really am on my postdoc applications. To leaven this worthy stuff, I also ordered a copy of Fuchsia Dunlop's Sicuhan Cookery, a book I have been eyeing off ever since it first came out in 2001. I am so glad I gave in to temptation: it's brilliant.
It begins with a short history of the area, and a description of traditional Sichuan cuisine, including meal structure, ingredients, food preparation, and equipment. Then there are the recipes, each one introduced by a paragraph of interesting and relevent information. There are only a few pages of colour photos scattered throughout the book, but they're well-chosen and very very tempting-looking. Although like most cookbooks the majority of recipes call for some meat, there are more than enough vegetarian recipes to make it worthwhile, and she suggests vegetarian versions of quite a few recipes which traditionally incorporate meat.
I cooked a quartet of dishes from this book, enough to serve 4 with rice. The lettuce dish should be served first, while the others are being finished in the kitchen. Some notes: the dried chillies used in these recipes are the plump Sichuanese kind; if you can't obtain these it is OK to substitute long Indian chillies. Don't use short Thai chillies, which are far hotter. The brand of chilli bean paste Dunlop recommends is Lee Kum Kee, which I found at my local Asian market - if you can't find this brand, make sure whichever one you buy is based on broad beans, not soy beans.
The dishes are pictured below. Clockwise from the top left, they are lettuce with sesame dressing, ma po tofu, stir-fried amaranth leaves with garlic, and dry-fried green beans. I found the sesame sauce on the lettuce a bit too sesame-y, but the tofu was utterly delicious, and both the greens were good. I will be cooking lots more from this book soon!
Lettuce with sesame dressing
400 g lettuce (I used little gems, quartered)
5 tablespoons Chinese dark sesame paste
2 tablespoons sesame oil
salt to taste
a big pinch of sugar
1 teaspoon toasted sesame seeds
In the original recipe, the lettuce was used raw. I decided to lightly cook it first, by quickly sauteing the lettuce quarters in a little peanut oil in a wok, then adding a tablespoon or two of water and cooking for a further two minutes, then removing the lettuce with tongs and shaking off any remaining water.
Place the lettuce on a plate. Combine the sesame paste and oil in a little bowl, then season with sugar and salt to taste. Pour this over the lettuce, and sprinkle with the sesame seeds. Serve at room temperature.
Ma po tofu
500 g tofu
4 spring onions
2 tablespoons peanut oil
1.5 tablespoons Sichuanese chilli bean paste
1 tablespoon black fermented beans
2 teaspoons ground Sichuanese chillies
250 ml stock
1 teaspoon white sugar
2 teaspoons light soy sauce
salt to taste
3 tablespoons potato flour mixed with 4 tablespoons cold water
1/2 teaspons ground roasted Sichuan pepper
Cut the tofu into 2 cm cubes and steep in very hot, lightly salted water for 10 minutes. Cut the spring onions into thin slices at a steep angle.
Heat the peanut oil in a wok over medium heat, then add the chilli bean paste and stir-fry for about 30 seconds. Add the black beans and ground chillies and stir-fry for another 30 seconds, until they are fragrant.
Pour in the stock and add the drained tofu. Gently mix everything together by pushing the spoon gently from the edges to the centre of the wok. Take care not to break up the tofu. Season with the sugar, soy sauce and salt to taste. Simmer for about 5 minutes.
Add the spring onions. Gently stir and cook for 1 minute. Add half the potato flour mixture, mixing well. The sauce should thicken enough to be glossy and cling to the bean curd. Add a little more if necessary to reach this stage. Pour into a bowl, scatter with the ground Sichuan pepper, and serve.
Dry-fried green beans
peanut oil
300 g green beans, topped and tailed and cut into 5cm pieces
8 Sichuanese dried chillies, snipped in half
1/2 teaspoon Sichuan pepper
3 cloves of garlic, thinly sliced
1 thumb of fresh ginger, thinly sliced
2 spring onions, white parts only, cut into thin slices at a steep angle
salt to taste
Heat 2 tablespoons of oil in a wok over a low-medium heat, the add the green beans and cook, stirring, for about 6 minutes, until they are tender and the skins are slighly puckered. Set aside.
Heat 2 tablespoons of fresh oil in the wok over high heat. Add the chillies and pepper and stir-fry very briefly until they are aeromatic. Add the garlic, ginger and spring onions and stir-fry until they are also fragrant. Add the beans, toss the ingredients together, adding salt to taste. Serve at once.
Stir-fried amaranth leaves with garlic
300 g bunch of fresh amaranth
2 tablespoons peanut oil
2 teaspoons finely chopped garlic
salt to taste
Wash the amaranth thoroughly to remove any grit, then shake dry. Remove the leaves and any tender stems, discarding the coarse stalks. Heat the oil in a wok over a high heat. Add the garlic and stir-fry briefly, then throw in the amaranth. Cook, stirring thoroughly until the leaves have wilted and the stalks are tender. Season with salt to taste, and serve at once.
Comments (disabled)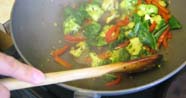 I go through phases of thinking I don't like stirfries. I think it's because I've eaten (and cooked myself, to be honest) too many which are mishmashes of every vegetable, vaguely Asian or not, found in the grocer - baby sweetcorn, mange-touts, various bean sprouts, tri-coloured peppers, multiple species of mushrooms, even rounds of zucchini or augergine. With such a combination of vegetables nothing cooks properly, there's no consistency of taste, and I find it all vaguely depressing. I much prefer ones like this: two or three vegetables, clean flavours, and above all very quick and easy to make!
Green and red stirfry
a little peanut oil
1 small head of broccoli, cut into florets
1 small red capsicum (pepper), finely sliced
1 head of spring greens, sliced
a thumb of fresh ginger, peeled and finely chopped
2 cloves of garlic, peeled and chopped
1 teaspoon chilli flakes
2 good sloshes of light soy sauce
a few drops of fish sauce, to taste
Heat the peanut oil in a wok over medium-high heat. Add the broccoli and pepper and cook for a couple of minutes, then add the greens, ginger, garlic and chilli flakes. Saute for a few minutes further, until the greens are wilting and the ginger and garlic are aromatic. Add the soy sauce and fish sauce, and continue to cook for a minute or two more, till the vegetables are as you like. Serve at once with steamed rice or noodles.
Serves 2.
Comments (disabled)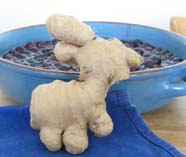 Isn't this ginger bunny cute? I was very struck by him. So much so that I felt really quite cruel snapping his head off when it came time to add the ginger to the carrot, ginger and lemon soup I was making. Hilary and Richard were coming over for dinner, and that soup was the start of the meal, to be followed by a mushroom and herb tart, with garlic-roasted green beans and a salad, and finished with a blueberry cobbler. The beans and the cobbler were by far the best parts of the meal, I think, and both were adapted from recipes in Anna Thomas' book The New Vegetarian Epicure (also known, in the Penguin edition I own, as From Anna's Kitchen). The beans are very easy to make, and infused with a lovely garlicky flavour, while the cloves of garlic themselves become soft and mellow-tasting. The original cobbler recipe called for blackberries, which would also be good, but blueberries are one of my favourite fruits and available in abundance at the moment, so I substituted them. It is the blueberries waiting for their cobbler topping against which the bunny is leaning in the photo.
Roasted green beans with garlic
500 g tender green beans
8 good-sized cloves of garlic
1 tablespoon olive oil
a sprinkle of sea salt
Wash the green beans, and trim them. Peel the garlic cloves, but leave whole. Combine the beans, garlic, oil and salt in a large baking dish, and toss with your hands until everything is very lightly coated with the oil. Roast at 180C for about 20 minutes, until the beans are slightly brown in spots, and parts of the skin are lightly blistered. Taste one to check that it is done. Serve at once, hot (although apparently they are also good at room temperature, for finger food).
Serves 2-4 as a side dish, depending on how much else is on the table.
Blueberry cobbler
125 g sugar
1 tablespoon cornflour
120 ml water
2 tablespoons lemon juice
900 g fresh blueberries (or other berries or prepared fruit)
125 g plain flour
2 tablespoons sugar
1/2 teaspoon bicarbonate of soda
1 teaspoon baking powder
1/2 teaspoon salt
2-3 tablespoons butter
120 ml buttermilk
Preheat the oven to 180C.
Combine the sugar, cornflour, water and lemon juice in a large pan, and stir to dissolve the cornflour. Add the fruit, then bring the mixture to the boil over medium heat and simmer for one minute, stirring gently to avoid breaking the fruit. Remove from the heat, taste and add a little more sugar or lemon juice as necessary. Pour into a 1.7 litre casserole dish.
Combine the flour, 2 tablespoons of sugar, bicarbonate of soda, baking powder and salt in a bowl. Melt the butter and combine with the buttermilk, then stir the liquid into the dry mixture in three lots, stirring to combine - do not overmix. Drop spoonfuls of this sticky dough onto the top of the fruit. Bake for 20-25 minutes, until the scone crust is golden. Serve warm or hot, with cream or vanilla icecream.
Serves 4-6.
Comments (disabled)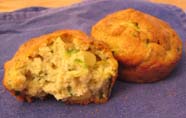 I loved the idea of these muffins as soon as I saw the recipe on Maki's food blog, I was just really very hungry. When we decided to have a picnic lunch for our lab meeting this week, I knew this was the thing to bring. (And lunch turned out to be a lovely muffin fest, with someone else bringing some really excellent carrot, apple, ginger and mint muffins.) Maki adapted the recipe from one in Bernard Clayton's New Complete Book of Breads, and I modified it further by adding pine nuts, putting half the cheese in the muffins rather than on them, and replacing part of the white flour with spelt, for just a hint of gold in the final muffin. They didn't rise quite as well as I would have liked (I think my baking powder might be a little old), but they were extremely tasty.
Zucchini, basil and pine nut muffins
2 large eggs
3/4 cup milk
2/3 cup extra-virgin olive oil
2 cups plain white flour
1/2 cup spelt flour (or wholemeal)
1/3 cup pine nuts
1/4 cup sugar
2 teaspoons salt
1 tablespoon baking powder
2 cups grated zucchini (2 large zucchini or 4 skinny ones)
2 tablespoons finely chopped basil leaves
1/2 cup finely (and freshly) grated pecorino cheese
Preaheat the oven to 190 C. Grease the muffin tins with butter or oil.
Combine the eggs, milk and olive oil in one bowl. In another, larger bowl, mix together the flours, pine nuts, sugar, salt and baking soda. Add the liquid to the dry ingredients in about three lots, mixing only to combine. Be careful not to overbeat. Add the zucchini, basil and half the cheese, and stir to combine.
Fill each muffin cup about half-full. Sprinkle the tops with the rest of the cheese, then bake for 22-25 minutes, until the tops are dark golden and puffed. (I always remove one muffin and split it in half to check that it is cooked all the way through before taking the tray out.)
These are great while still warm but keep well for several hours (or possibly longer - I haven't been able to have any left uneaten for that long).
Comments (disabled)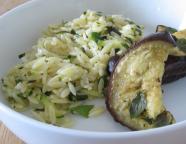 I spent a long time trying to work out what to have for lunch today. I had a big, very attractive eggplant sitting on the counter which I wanted to use up, and I felt like trying a new recipe with it. Initially I was considering some kind of stew with tomatoes and capers, but I really wanted to use mint, which I didn't think would go with the capers. I thought of lots of ways to combine mint and eggplant, but kept wanting to add tomatoes in one shape or form. It almost hurt to think of cooking eggplant without! Which was a good reason to force myself to do it as an experiment. Once I poked around the kitchen a bit I found a packet of orzo, and remembered that the zucchini plant on the balcony had a couple of reasonable-sized fruits, and the oregano was growing like crazy...
I like this method of cooking eggplants (despite the absence of tomato). It becomes tender, while still holding its shape, and isn't at all oily. You could follow the original baking steps and then add various other dressings at the end - perhaps a mixture of red wine vinegar, honey and fresh mint would work too?
Eggplant with oregano and white wine vinegar
1 large eggplant (aubergine)
1 tablespoon olive oil
3 tablespoons water
sea salt and freshly ground black pepper
1-2 tablespoons white wine vinegar
a palmful of fresh oregano leaves, torn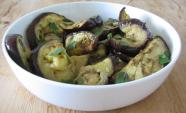 Pre-heat the oven to 180C. Slice the eggplant into rounds about 1 cm thick, then cut the rounds into halves. Place them in a large baking dish, drizzle with the olive oil, and add 3 or 4 tablespoons of water to the base of the dish. Sprinkle with sea salt and black pepper, then toss all together well. Cover the dish with alfoil and bake for 15 minutes.
Remove the alfoil from the dish and gently toss the aubergine again. Cook for a further 10-15 minutes, until the aubergine is tender and slightly golden. Remove from the oven and transfer the aubergine to a bowl.
Add the white wine vinegar to taste, and sprinkle over the oregano leaves. Toss well, then taste and adjust the seasoning. Serve warm or at room temperature.
Orzo with zucchini, mint and lemon
200 g orzo (or other rice-shaped pasta)
garlic-infused olive oil
2 medium zucchinis (courgettes), coarsely grated
1 bunch of mint, leaves chopped
juice of 1 large lemon
sea salt and black pepper
Cook the orzo in boiling, salted water till al dente, then drain. Return the orzo to the pan, drizzle over a little garlic-infused olive oil, and add the grated zucchini. Cook this over medium heat for about 2 minutes, stirring. Remove from the heat and tip into a bowl. Stir through the mint, lemon juice and salt and pepper. Taste and adjust seasoning, then serve.
Comments (disabled)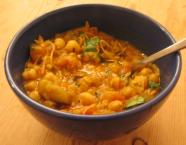 Harira is the thick, lemony, spicy soup which is often eaten in Morocco to break the day-long fast during Ramadan. There are endless different recipes for it, but almost all include lamb, lentils, tomato, lemon and spices, and many also use chick peas, saffron and vermicelli. I adapted this recipe from one on the ABC Brisbane website, substituting eggplant (aubergine) for the lamb. The combination of flavours is delicious. The flavours develop nicely if left overnight, but if you plan to eat the soup over two meals, I'd suggest adding the vermicelli only to the part you intend to eat that night - the noodles can get a bit squishy if they're left to soak up liquid for a day or two.
Harira
olive oil
1 large onion, chopped
3 cloves garlic, minced
2 heaped teaspoons cinnamon
1 teaspoon ground ginger
1/2 teaspoon turmeric
large pinch of saffron threads
400g tin crushed tomatoes
1.25 litres of stock
120 g (1/2 cup) red lentils
450 g cooked chickpeas (= 2 x 420 g tins, drained)
500 g aubergine, cut into 1.5 cm cubes
100 g fine vermicelli
1/2 preserved lemon, chopped
1 bunch coriander, chopped
1 tablespoon honey
1 teaspoon harissa
salt and pepper
quartered fresh lemons and extra harissa, to serve
Heat the olive oil in a large saucepan over moderate heat, then saute the onions for 8 minutes until they are translucent and soft. Add the garlic, cinnamon, ginger, turmeric and saffron and cook a further 2-3 minutes, until the spices are aromatic.
Add the tomatoes, stock, lentils, chickpeas and aubergine, and simmer, partially covered, for 15-20 minutes, until the aubergine is tender. Add the vermicelli and cook, stirring, for another few minutes, until it is al dente. Add a little more liquid if necessary.
Finally, add the preserved lemon, coriander, honey and harissa. Taste and adjust seasoning. Serve with wedges of lemon and additional harissa for those who want more heat.
Serves 6-8.
Comments (disabled)
I'm heading to the US shortly to go to a couple of conferences, so no updates until early July (unless Ted decides to do a guest entry or two while I'm away, of course!). Hopefully I will have tales of good food to relate then. I plan on eating lots and lots of Mexican. Mmmm, chillies.
Comments (disabled)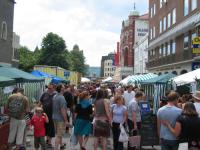 The Brighton food and drink lovers festival (I really want to add in a couple of hyphens there, or at least an apostrophe) is on from the 10th to the 20th of July. Lots of the "events" are just set price meals at various restaurants around town, but one event which is definitely worth attending is the food market held on the weekends. It's held on New Road (between the Theatre Royal and the Pavillion gardens), and consists of almost 50 stalls - local producers up one end, the French market contingent up the other
The advantage of this being not a real farmers' market is that we could arrive around noon and know that everything would still be there! Nomally I like to wander along markets, zigzagging from one side of the street to the other, buying things which catch my eye at the time, rather than trying to keep them all in mind to come back and purchase later. But since I was pretty peckish, we zipped from one end to the other in search of the most appealing lunch, bought it and ate it sitting on the curb, then, stomachs satisfied, returned to buy all those things which had tempted me before. Click on the thumbnails to see the good things we observed!
| | |
| --- | --- |
| | Nomades Moroccan food stall was the clear winner for lunch. They sold olives, moroccan sauces, and various lunchy foods, including this pastilla of spinach, carrot, lemon and spices wrapped in filo pastry. Lovely subtle spicy flavours, delicious! |
| | Ted's lunch - kofte flatbread, cooked while he waited. Minced lamb, onion and herbs are mixed into the batter and then cooked on a very hot flat grill. I risked the possibility of eating a tiny bit of lamb by tearing off the edge of his flatbread and dipping it in the harissa. If was worth it - lovely flaky warm bread and the best harissa I have ever tasted. |
| | The tub of home-made harissa I bought to take home. |
| | And the eat-in facilities at the Nomades stall, which I didn't notice until after we had availed ourselves of the curb. They were selling mint tea and pastries here too. |
| | My other favourite stall at the market: Chillipepper Pete. Half a dozen kinds of dried chillies, various chilli pastes and sauces, chilli plants..... I bought chipotles, pasillas, habaneros and anchos. |
| | Sausages, from which some interesting smells were wafting. |
| | Vegetables (non-smelly), including some white asparagus we bought to eat for dinner. |
| | Dried and glace fruits. I bought some clementines, for which I searched Brighton at Christmastime without success. Unfortunately, I can't remember now what I wanted them for - but I'm sure it will come back to me. |
There were lots more stalls, including various local cheese producers, people selling Indian spice pastes, lots of meaty things, a couple of bakeries, some vegetarian caterers..... it was all good. It's on again next weekend, and highly recommended if you're in Brighton!
Comments (disabled)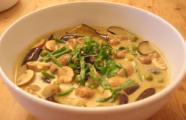 A year or so ago, eGullet ran a piece about Thai curries, in which the author claimed that, while a home-made curry paste made with fresh, good quality ingredients would always be better than a pre-packaged one, most people outside Asia can't get the ingredients quite that fresh, and a lot of us don't have the sense of what a raw curry paste should taste like anyway so will often get it wrong. I still think it's worth experimenting (as did the author, I think), but I am more than happy to use a good commercial curry paste too. I like Mae Ploy brand, although Danielle, who makes an excellent Thai curry, prefers a brand with a lady on the side - I can't remember the name.
For the coconut cream, you can simply use the cream which floats to the top of most cans of coconut milk as long as you don't shake the can before you open it. Alternatively, you could use one of the little mini tetrapacks of coconut cream, using half for the initial frying and adding the rest with the coconut milk later. I used mostly aubergines in this curry because I had seen the gorgeous pea eggplants in Ryelight and wanted to see what they were like - little explosions of flavour, slightly bitter, is the answer, yum - but you could use whatever combination takes your fancy, making it up to about the same weight and volume.
Thai green curry with eggplant and green beans
2 tablespoons coconut cream
2-3 tablespoons green curry paste
1-2 tablespoons chopped palm sugar
1 tablespoon fresh lime juice
1 tablespoon fish sauce
2 cups coconut milk
200 g slender purple asian eggplants, chopped into 2 cm pieces
1/3 cup Thai pea eggplants, plucked from their stems
100 g crimini mushrooms, halved
100 g green beans, topped and halved
several leaves of holy basil, cut in ribbons
steamed rice
Heat a large saucepan over medium heat. Add the coconut cream and cook until it is bubbling. Add the curry paste and stir until it is dissolved. I've read several recipes saying to keep cooking this until you see a sheen of coconut oil on top - I cooked it for two or three minutes and didn't see this, and was wary of overcooking it (can you, I wonder?), so I called it done.
Add the chopped palm sugar and stir to dissolve. Now add the lime juice, the fish sauce, and the coconut milk. Stir well to combine, then taste. Check for the balance of flavours, but most importantly check that it is sour enough (add more lime juice if not). Add more sugar if it seems too spicy (though remember that the vegetables and rice will dilute the heat a bit).
Add both kinds of eggplants, partially cover the pan, and leave to simmer for 8-10 minutes, until the eggplants are tender. Add the mushrooms and green beans and cook for 3-5 minutes more. Taste the curry, and adjust with more lime, fish sauce, or coconut milk if necessary.
Pour the curry into a serving bowl and sprinkle with the basil, and finely sliced fresh green chillies if you wat a bit more bite. Serve with steamed white rice.
Serves two starving, greedy people, or 3 or 4 normal people for a light meal.
Comments (disabled)
Want more? Go to the monthly archive.