Zucchini, basil and pine nut muffins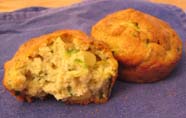 I loved the idea of these muffins as soon as I saw the recipe on Maki's food blog, I was just really very hungry. When we decided to have a picnic lunch for our lab meeting this week, I knew this was the thing to bring. (And lunch turned out to be a lovely muffin fest, with someone else bringing some really excellent carrot, apple, ginger and mint muffins.) Maki adapted the recipe from one in Bernard Clayton's New Complete Book of Breads, and I modified it further by adding pine nuts, putting half the cheese in the muffins rather than on them, and replacing part of the white flour with spelt, for just a hint of gold in the final muffin. They didn't rise quite as well as I would have liked (I think my baking powder might be a little old), but they were extremely tasty.
2 large eggs
3/4 cup milk
2/3 cup extra-virgin olive oil
2 cups plain white flour
1/2 cup spelt flour (or wholemeal)
1/3 cup pine nuts
1/4 cup sugar
2 teaspoons salt
1 tablespoon baking powder
2 cups grated zucchini (2 large zucchini or 4 skinny ones)
2 tablespoons finely chopped basil leaves
1/2 cup finely (and freshly) grated pecorino cheese
Preaheat the oven to 190 C. Grease the muffin tins with butter or oil.
Combine the eggs, milk and olive oil in one bowl. In another, larger bowl, mix together the flours, pine nuts, sugar, salt and baking soda. Add the liquid to the dry ingredients in about three lots, mixing only to combine. Be careful not to overbeat. Add the zucchini, basil and half the cheese, and stir to combine.
Fill each muffin cup about half-full. Sprinkle the tops with the rest of the cheese, then bake for 22-25 minutes, until the tops are dark golden and puffed. (I always remove one muffin and split it in half to check that it is cooked all the way through before taking the tray out.)
These are great while still warm but keep well for several hours (or possibly longer - I haven't been able to have any left uneaten for that long).
Comments (disabled)
15 July 2004