Eggplant with oregano and white wine vinegar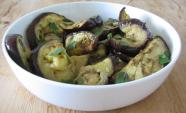 I spent a long time trying to work out what to have for lunch today. I had a big, very attractive eggplant sitting on the counter which I wanted to use up, and I felt like trying a new recipe with it. Initially I was considering some kind of stew with tomatoes and capers, but I really wanted to use mint, which I didn't think would go with the capers. I thought of lots of ways to combine mint and eggplant, but kept wanting to add tomatoes in one shape or form. It almost hurt to think of cooking eggplant without! Which was a good reason to force myself to do it as an experiment.
I like this method of cooking eggplants (despite the absence of tomato). It becomes tender, while still holding its shape, and isn't at all oily. You could follow the original baking steps and then add various other dressings at the end - perhaps a mixture of red wine vinegar, honey and fresh mint would work too?
1 large eggplant (aubergine)
1 tablespoon olive oil
3 tablespoons water
sea salt and freshly ground black pepper
1-2 tablespoons white wine vinegar
a palmful of fresh oregano leaves, torn
Pre-heat the oven to 180C. Slice the eggplant into rounds about 1 cm thick, then cut the rounds into halves. Place them in a large baking dish, drizzle with the olive oil, and add 3 or 4 tablespoons of water to the base of the dish. Sprinkle with sea salt and black pepper, then toss all together well. Cover the dish with alfoil and bake for 15 minutes.
Remove the alfoil from the dish and gently toss the aubergine again. Cook for a further 10-15 minutes, until the aubergine is tender and slightly golden. Remove from the oven and transfer the aubergine to a bowl.
Add the white wine vinegar to taste, and sprinkle over the oregano leaves. Toss well, then taste and adjust the seasoning. Serve warm or at room temperature.
Comments (disabled)
10 July 2004