Thai green curry with eggplant and green beans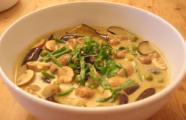 A year or so ago, eGullet ran a piece about Thai curries, in which the author claimed that, while a home-made curry paste made with fresh, good quality ingredients would always be better than a pre-packaged one, most people outside Asia can't get the ingredients quite that fresh, and a lot of us don't have the sense of what a raw curry paste should taste like anyway so will often get it wrong. I still think it's worth experimenting (as did the author, I think), but I am more than happy to use a good commercial curry paste too. I like Mae Ploy brand, although Danielle, who makes an excellent Thai curry, prefers a brand with a lady on the side - I can't remember the name.
For the coconut cream, you can simply use the cream which floats to the top of most cans of coconut milk as long as you don't shake the can before you open it. Alternatively, you could use one of the little mini tetrapacks of coconut cream, using half for the initial frying and adding the rest with the coconut milk later. I used mostly aubergines in this curry because I had seen the gorgeous pea eggplants in Ryelight and wanted to see what they were like - little explosions of flavour, slightly bitter, is the answer, yum - but you could use whatever combination takes your fancy, making it up to about the same weight and volume.
Thai green curry with eggplant and green beans
2 tablespoons coconut cream
2-3 tablespoons green curry paste
1-2 tablespoons chopped palm sugar
1 tablespoon fresh lime juice
1 tablespoon fish sauce
2 cups coconut milk
200 g slender purple asian eggplants, chopped into 2 cm pieces
1/3 cup Thai pea eggplants, plucked from their stems
100 g crimini mushrooms, halved
100 g green beans, topped and halved
several leaves of holy basil, cut in ribbons
steamed rice
Heat a large saucepan over medium heat. Add the coconut cream and cook until it is bubbling. Add the curry paste and stir until it is dissolved. I've read several recipes saying to keep cooking this until you see a sheen of coconut oil on top - I cooked it for two or three minutes and didn't see this, and was wary of overcooking it (can you, I wonder?), so I called it done.
Add the chopped palm sugar and stir to dissolve. Now add the lime juice, the fish sauce, and the coconut milk. Stir well to combine, then taste. Check for the balance of flavours, but most importantly check that it is sour enough (add more lime juice if not). Add more sugar if it seems too spicy (though remember that the vegetables and rice will dilute the heat a bit).
Add both kinds of eggplants, partially cover the pan, and leave to simmer for 8-10 minutes, until the eggplants are tender. Add the mushrooms and green beans and cook for 3-5 minutes more. Taste the curry, and adjust with more lime, fish sauce, or coconut milk if necessary.
Pour the curry into a serving bowl and sprinkle with the basil, and finely sliced fresh green chillies if you wat a bit more bite. Serve with steamed white rice.
Serves two starving, greedy people, or 3 or 4 normal people for a light meal.
Comments (disabled)
11 June 2004