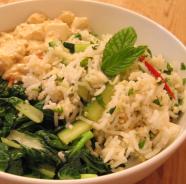 This morning I bollixed up an interview for a job I really want (ugh! kicking self, very hard), so tonight I wanted to cook something relaxing and healthy, to assist in regaining my normal state of zen-like tranquility. Said transition to be assisted by consumption of new, summery cocktail, of course. So behold: asian rice salad, with side of Moscow mule. The salad was pretty good, and tasted very light, excellent for warm weather. It could have done with a bit more colour - I wonder if a bit of very finely julienned red pepper would do the job?
Still kicking myself. Bugger.
Asian rice salad
1/2 cup jasmine rice
about 30 g shelled, natural peanuts
2 red chillies
15 cm thin (Asian or Lebanese) cucumber
1 bunch coriander
10 large mint leaves
2 tablespoons fresh lime juice
2 teaspoons fish sauce (or to taste)
1 teaspoon sesame oil
2 teaspoons peanut oil
1 1/2 teaspoons soft brown sugar
freshly ground black pepper
Asian greens
Cook the rice according to whichever method you prefer. Set aside and let cool for 10-20 minutes while you prepare the rest of the salad.
Heat a wok over medium-high heat, then add the peanuts and toast for 3 minutes. Remove from the heat, and chop the nuts finely with a mezzaluna once they are cool. Remove the tops of the chillies, seed or not according to your taste and the heat of the chillies, and julienne the flesh finely. Halve the cucumber lengthwise, and scoop out the seeds. Cut the cucumber into very fine julienne, then cut into shorter lengths. Roughly chop the coriander, and finely chop the mint leaves.
Mix the peanuts, chillies, cucumber, coriander and mint into the rice. Combine the lime juice, fish sauce, sesame oil, peanut oil, sugar and pepper, then stir into the rice mixture. Adjust the seasoning to taste. Serve with some Asian greens, wilted and dressed with a few drops of sesame oil.
Serves 2.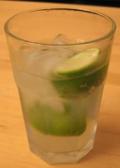 Moscow mule
Put lots of ice cubes in a tall glass, and add a couple of lime wedges. Tip in a large shot of vodka, then fill the glass with ginger beer. Stir, and drink.
Comments (disabled)
1 June 2004