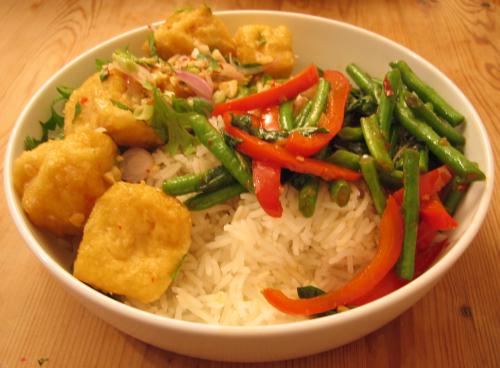 I was craving Thai tofu salad this afternoon. Tofu may be the basis of this salad, but as far as I am concerned it is merely the passive carrier for the sauce - a hot and sour mixture of chilli, lime juice, and something magical and unidentified. Unidentified, that is, until I looked up various recipes for it this evening and realised that it was fish sauce. So much for my vegetarian credentials for the last decade, as I have slurped up this salad every chance I get (not that it bothers me quite so much now, in light of my recent experimentation - look out for an upcoming entry, tentatively titled "Something fishy this way comes").
So I got off my bed of pain - actually couch of slight discomfort, since all I really have is an annoying but not deadly serious cold - and trekked to Ryelight on Preston St to get lots of good Asian ingredients. I haven't mentioned Ryelight before, and I should have. It is the kind of Asian food store I fantastised about for the first two years I lived in Brighton, before realising that it existed four blocks from our house. I will write a proper review soon, but for now just know that it has, not quite everything, but most Asian ingredients I have ever needed. Most exciting is the fridge at the back with a couple of dozen kinds of Asian greens, most of which I can't identify, plus mushrooms, tubers, etc, and packaged vegetables like lotus roots, ginkgo nuts, and so on. I love it. If we had closing credits, the voiceover would say, "Tonight's dinner was brought to you courtesy of Ryelight".
Both of the dishes I made tonight, the salad and a stirfry, are products of a cross between past restaurant meals and hints from reading David Thompson's brilliant Thai Food, filtered through my tastes and the ingredients I could get my hands on. Probably not terribly authentic Thai, but both absolutely delicious to me and Ted.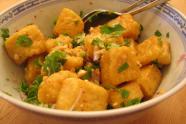 There's an excellent section on salad dressings in Thai Food, including a tutorial on making a dressing by adding a little too much of this, not quite enough of that, smelling and tasting to work out what's out of balance, and how to bring everything back into harmony at the end. The dressing used here is modified from one used in the book for a cucumber and prawn salad. The preparation of the ingredients for the salad should be done as close as possible to use, to maintain peak flavour and fragrance, though it's probably not really necessary to do everything while the tofu is frying. We used pre-fried tofu cubes, but if you are set up to do deep-frying yourself that would obviously be a better way to go, I think. Alternatively, use smaller pre-fried cubes (ours were about an inch square), which would reheat faster, so get less tough. Last point: the dressing for the salad should not just coat the ingredients like a vinaigrette, but should "liberally anoint" them - so while this can be eaten without rice, it is better with.
peanut oil
200 g tofu, cubed and deep-fried
30 g roasted, skinned peanuts, chopped finely
3 red shallots
2 slender young stalks of lemongrass
a handful of mint leaves
1 small bunch coriander
2 small red chillies
1.5 tablespoons lime juice
2 teaspoons fish sauce
0.5 teaspoon sugar
Heat the peanut oil in a frypan, and add the tofu. Cook over medium-high heat, stirring, until the tofu is well heated through. A couple of minutes before it is done, add the chopped peanuts and continue cooking. Remove from the heat.
While the tofu is frying (or just before, if you have a lot of stuff going on in the kitchen), prepare the rest of the salad. Peel the shallots, and slice them very finely (lengthwise, you want shards, not rings). Remove the outer leaf of the lemongrass, then slice the stalks very finely, at an angle. Shred the mint leaves, and pick or coarsely chop the coriander leaves.
To make the dressing, top and remove the seeds from the chillies. Chop very finely, or pound to a paste using a mortar and pestle. Mix the chilli with the lime juice, fish sauce and sugar, then taste and adjust as necessary.
Mix together the tofu mixture, the shallots, lemongrass, herbs and dressing. Toss well, taste once more to check seasoning, and serve at once.
Comments (disabled)
4 June 2004