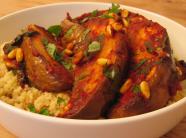 I was emailing Cheryl this afternoon about prospects for spring dinners, and started to think about what I could make with the two aubergines I had at home. I'd bought them on a whim, since I'd never cooked with this kind before - they were round, about 15 cm in length, and a lovely violet colour with pale white shoulders around the stem. I think they might be prosperosa variety, though Waitrose sells them as violet pearl aubergines.
Anyway, I remembered seeing a reference to eggplant agrodolce on the hungry tiger a while ago, so I made up a version of my own, taking into account my current craving for tomatoes. It was very good, warm and satisfying but not at all stodgy, just right for a late spring evening while watching a thunderstrom over the English Channel.
2 medium-large violet pearl eggplants (aubergines)
1 tablespoons garlic-infused olive oil
400 ml tomato passata
sea salt and black pepper
1 or 2 tablespoons red wine vinegar
1 or 2 teaspoons sugar
2 tablespoons pine nuts, toasted
a handful each fresh basil and fresh mint, leaves roughly chopped
175 g couscous
250 g cooked chickpeas, or contents of a 400 g tin, drained and rinsed
Cut each of the eggplants into 8 segments, lengthwise. Pull off any leaves and stem parts still attached to the top. Place the segments in a baking dish, and drizzle with a little of the oil, then add the passata. Toss with a little sea salt and black pepper, and roast at 180 C for 40-60 minutes, until the eggplant is very tender and the passata is thick. Stir two or three times during cooking.
Remove the pan from the oven, and add the vinegar and sugar. Start by adding about half the vinegar, then taste and work up from there. I use a very mellow vinegar (Forum brand), so add quite a lot. Return the pan to the oven while you make the couscous.
Place the couscous and chickpeas in a large bowl. Bring 250 ml of water to the boil, the add to the couscous and stir through. Leave for about 7 minutes, then stir with a fork to fluff up. Remove the eggplant from the oven again, and stir through the toasted pine nuts and the fresh herbs. Serve the eggplant over the couscous, either warm or at room temperature.
Serves 2-3 as a main, 4 as a side dish.
Comments (disabled)
20 May 2004