Roast squash with Israeli couscous and harissa dressing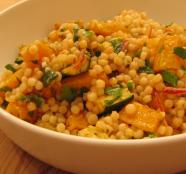 I've had a packet of Israeli couscous sitting on the pasta shelf in the cupboard for about six months now, waiting for inspiration to strike. It never seemed to be what I wanted throughout winter, but now that summer is coming, I thought I would try it out in a warm salad.
This "couscous" consists of little pea-sized grains of pasta which have been pre-toasted, and can be cooked in a number of ways: like normal pasta in simmering water and then drained; like a pilaf, by toasting in a little oil, and then adding water and covering until the liquid is absorbed; or risotto-fashion, gradually adding ladlefuls of stock or water and stirring continually. I was feeling tired tonight so went for the first, easiest option, but I think next time I will try the pilaf technique, since the couscous was very slightly gluggy this way. Still, I was more than happy with the way this salad turned out, and the harissa dressing was just what I was after - slight chilli warmth and a hint of spice from the cumin.
1 large butternut squash, peeled and cut into 1.5 cm pieces
4 medium zucchinis (courgettes), cut into 1.5 cm pieces
olive oil
sea salt and freshly ground black pepper
200 g Israeli couscous
1 small bunch flat-leaf parsley, finely chopped
1 small bunch mint, finely chopped
Greek yoghurt, to serve
Dressing
3 tablespoons extra virgin olive oil
3 tablespoons lemon juice
1 teaspoon cumin seeds, toasted and coarsely ground
1/2 teaspoon harissa paste, or to taste
1/2 red onion, sliced wafer thin
First make the dressing. Mix together the oil, lemon juice, cumin seeds, harissa and onion, and stir to combine. Let sit while you make the rest of the dish - this will remove the sharp taste of the raw onion.
Toss the butternut squash with a drizzle of olive oil and a little salt and pepper, and roast at 180 C for 10 minutes. Add the zucchini, and return to the oven for about 15 minutes, or until the vegetables are tender and turning golden.
Meanwhile, boil the couscous in lightly salted boiling water for 8-10 minutes, until it is cooked. Drain, and place in a bowl. Add the vegetables, the chopped parsley and mint, and the dressing, and mix well. Taste and adjust the seasoning as necessary. Serve with a spoonful of yoghurt.
Serves 4 as a light meal.
Comments (disabled)
9 June 2004