Bean and capsicum stirfry with chilli and holy basil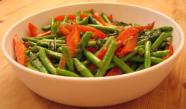 Both of the dishes I made tonight, a tofu salad and a stirfry, are products of a cross between past restaurant meals and hints from reading David Thompson's brilliant Thai Food, filtered through my tastes and the ingredients I could get my hands on. Probably not terribly authentic Thai, but both absolutely delicious to me and Ted.
For the stirfry, if you can't find holy basil, you could substitute normal sweet basil, but the taste of the herb is quite different and it's worth seeking out the holy version if you can get it. Similarly, you could use normal green beans if you can't obtain snake beans. We've got a really tiny mortar and pestle, good for grinding small quantites of spices but pretty useless for pounding pastes and sauces. The garlic and chilli ended up more chopped than pounded, but the final result was still good.
2 cloves garlic, peeled and chopped
2 small, hot red chillies, chopped
a pinch of salt
peanut oil
10 snake beans, cut into 4 cm lengths
1 red capsicum (pepper), sliced finely
1 tablespoon water
1 tablespoon dark soy sauce
1 tablespoons light soy sauce
a pinch of sugar
a few drops of fish sauce
a handful of Thai holy basil leaves
Grind the garlic, chilli and salt to a paste using a mortar and pestle. Heat a little peanut oil in a wok, then add this paste and cook for 1 minute, until it becomes aromatic. Add the beans and capsicum, and cook a further 3 minutes. Stir together the water, soy sauces, sugar and fish sauce, and add to the wok. Cook a further couple of minutes, until the vegetables are tender. Mix the holy basil leaves through the vegetables, cook for a further 30 seconds, then remove from the heat and serve at once, with rice.
Comments (disabled)
4 June 2004