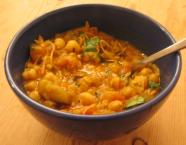 Harira is the thick, lemony, spicy soup which is often eaten in Morocco to break the day-long fast during Ramadan. There are endless different recipes for it, but almost all include lamb, lentils, tomato, lemon and spices, and many also use chick peas, saffron and vermicelli. I adapted this recipe from one on the ABC Brisbane website, substituting eggplant (aubergine) for the lamb. The combination of flavours is delicious. The flavours develop nicely if left overnight, but if you plan to eat the soup over two meals, I'd suggest adding the vermicelli only to the part you intend to eat that night - the noodles can get a bit squishy if they're left to soak up liquid for a day or two.
olive oil
1 large onion, chopped
3 cloves garlic, minced
2 heaped teaspoons cinnamon
1 teaspoon ground ginger
1/2 teaspoon turmeric
large pinch of saffron threads
400g tin crushed tomatoes
1.25 litres of stock
120 g (1/2 cup) red lentils
450 g cooked chickpeas (= 2 x 420 g tins, drained)
500 g aubergine, cut into 1.5 cm cubes
100 g fine vermicelli
1/2 preserved lemon, chopped
1 bunch coriander, chopped
1 tablespoon honey
1 teaspoon harissa
salt and pepper
quartered fresh lemons and extra harissa, to serve
Heat the olive oil in a large saucepan over moderate heat, then saute the onions for 8 minutes until they are translucent and soft. Add the garlic, cinnamon, ginger, turmeric and saffron and cook a further 2-3 minutes, until the spices are aromatic.
Add the tomatoes, stock, lentils, chickpeas and aubergine, and simmer, partially covered, for 15-20 minutes, until the aubergine is tender. Add the vermicelli and cook, stirring, for another few minutes, until it is al dente. Add a little more liquid if necessary.
Finally, add the preserved lemon, coriander, honey and harissa. Taste and adjust seasoning. Serve with wedges of lemon and additional harissa for those who want more heat.
Serves 6-8.
Comments (disabled)
8 July 2004