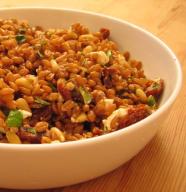 The adjective most commonly used to describe the taste of spelt, I think, is nutty. I've used that description myself here before. So normally when I cook spelt, I mix it with vegetables, in a soup, or cheese and herbs, in a salad - since the spelt has provided the nuttiness, I haven't thought to combine it with nuts. Tonight I experimented in that direction, and made a warm salad of spelt and toasted pine nuts. It looked lovely, especially when it was just the spelt and pine nuts in the bowl - the two ingredients are about the same size and shape, just different shades of golden brown, and it was so pretty, in a demure way. The feta, herbs and sun dried tomatoes add colour, and lift the flavour.
We ate this with a big mixed salad - leaves, capsicum, grated carrot and beetroot, quartered raw criminis - which supplied a day's worth of vegetables, but wasn't the ideal accompaniment. I'd prefer a pile of steamed or braised green vegetables next time, that would work nicely.
1 cup spelt grains
walnut oil
sherry vinegar
2 tablespoons of pine nuts
8 large sun dried tomatoes in oil, drained
fresh herbs - e.g. mint, flat-leaf parsley, and oregano
freshly ground black pepper
Rinse the spelt grains well under cold flowing water, then drain. Bring a pot of water to the boil, salt lightly, and add the spelt. Cook for 40 minutes or so, until the grains are tender but still slightly chewy (the time taken depends on the age and type of the grains - start tasting around 30 minutes, but they can take up to an hour). Drain, and place in a bowl. Add a splash each of walnut oil and sherry vinegar, to taste.
Toast the pine nuts in a small frypan over medium heat until they are just turning golden. Remove from the heat and stir through the spelt. Chop the sun dried tomatoes and the herbs and mix through as well. Taste, and season with pepper and salt if you like. Can be eaten warm or at room temperature.
Serves 2.
Comments (disabled)
2 June 2004