For the asparagus stock

2 carrots, peeled
2 celery sticks
2 onions, peeled
1 bay leaf
asparagus ends and peelings
salt and pepper
Risotto

500 g medium-large asparagus stalks (ends trimmed and reserved for stock)
125 g butter
1 large onion, peeled and very finely chopped
300 g arborio rice
75 g parmesan, freshly grated
salt and pepper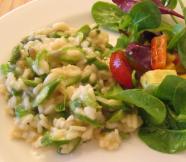 To make the stock, pulse the stock vegetables together in a food processor until fine. Put with the bay leaf into a 6 litre pot and cover with water, at least 4 litres. Season and bring to the boil. Boil for 30 minutes and then sieve. Discard the vegetables and return the stock to the boil, reducing it to concentrate the flavour until you are left with about 2 litres. Cool and refregerate if not using immediately.
To make the risotto, heat the stock to a simmer. Cut the asparagus stalks into 5mm slanted slices. Take your chosen pan and add the onion and half the butter. Sweat over a medium heat for 5 minutes, then add the asparagus. Sweat for 5 minutes more, then add the rice. Sweat, stirring, until the rice sticks, then add 1 soup ladle of stock. Stirring, cook until the liquid is totally absorbed.
Repeat this procedure several times until the rice has swollen and is nearly tender. The rice should not be soft but neither should it be chalky. Normally the rice is ready about 20 minutes after the first addition of stock. If it is taking much longer, the heat is too low, or your rice has been hanging around in the store cupboard for too long.
When the rice is nearly done turn off the heat and add the remaining butter and then the grated parmesan. Season, stir, cover and leave for 3 minutes before serving.
Serves 4.
Recipe from Alastair Little's Italian Kitchen.
July 2001