Rocket, gorgonzola and blood orange salad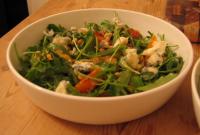 We came home tired and hungry, and knowing that we needed to spend time tonight preparing for tomorrow night, when friends are coming over for a meal. My gastronomic eye was very jaded, and my cooking muscles all limp and floppy. Fortunately for our chances of a decent dinner, I had decided earlier, when my enthusiasm levels were higher, that we would make something with the blood oranges sitting in a bowl on the hall table.
I did a web search at lunchtime today and discovered that about 80% of all blood orange recipes are either for orange and fennel salad, orange, rocket and gorgonzola salad, or orange cake. Since I am making braised fennel tomorrow, and am not yet at such a level of degeneracy that I plan to eat cake for dinner, the middle option it was for tonight.
I was quite surprised at myself for wanting to make this, since normally I shy away from fruit in salad recipes - too much ambrosia as a child, perhaps. But I am glad I changed my mind this once, because this salad is great. I think it is because the orange is not sweet but rather the tart element of the salad, mellowed by the creamy gorgonzola and warm toasty pine nuts. Yum yum. And all ready in under 10 minutes!
Salad
70 g rocket (arugula)
2 or 3 blood oranges, peeled and cut into segments
40 g or so gorgonzola, crumbled
1/4 cup pine nuts, lightly toasted
Dressing
40 ml blood orange juice
1/2 tablespoon white wine vinegar
60 ml olive oil
1 teaspoon dijon mustard
a pinch of salt
Place the rocket in a bowl, add half the dressing, and toss well. Divide the rocket between two plates.
On top of the rocket scatter the chopped oranges, crumbled gorgonzola and toasted pine nuts. Drizzle a little more dressing over, then serve at once, with a loaf of fresh and crusty white bread.
Serves 2.
Comments (disabled)
1 March 2004