Cypriot bread with olives, haloumi and herbs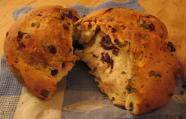 When I saw the first issues of Olive and Delicious magazines in December, I was so thrilled I subscribed to both of them. Two glossy, non-stodgy cooking magazines, relevant to the seasons and produce in the UK! So exciting. Since then I have calmed down a bit - Delicious especially has been a bit of a disappointment, with the monthly article by Jamie bloody Oliver and his cheeky pukka bollocks, and an increasing emphasis on meaty recipes and traditional puddings, although there is a good article on purple sprouting broccoli in the latest issue. Olive, by contrast, has had an editorial about how unpleasantly posh restaurants behave when asked for a vegetarian option, and is a bit more relaxed and amusing about food, though I think having an entire article about jellies (with the title "Wibble wobble") is a tad silly. Enough nursery puddings, please! I don't care if it's ironic.
Anyway, having these magazines drop through the letterbox every month does keep me cooking new things, since I promised myself when signing up for them that I would make at least one thing from each magazine each month, before the new issue arrived. I have been keeping up with this quite well, until last month when, despite noticing about half a dozen recipes I wanted to try from the March Olive, I hadn't made one of them when April arrived. I rectified this by cooking two things from it tonight: a sweet potato and carrot soup, and some bread. The soup was nothing to write an entry about, or to make again (fry an onion and some garlic, add 250 g chopped carrots and 750 g chopped sweet potato, simmer in stock till tender, blend, season, serve with a drizzle of chilli oil. Very boring. Shows the power of a sexy photo to sucker you in to a recipe.) The bread, however, was fantastic.
The recipe was by Paul Hollywood, who lived in Cyprus for five years as a hotel baker. The recipe was fairly terse, since after all it's the interview and photos which matter, right? Still, I think I made a pretty good loaf, using a combination of the recipe, information from the photo (which contradicted the shaping instructions given in the recipe) and a bit of making it up as I went along. I ended up with a somewhat strangely shaped loaf, but it tasted great. There was another variant of the recipe given, with the parsley omitted and replaced with the zest of 2 lemons and 150 g of crumbled feta - that would be good to try too. Both original recipes called for dried oregano, but I love fresh so used that instead.
500 g strong white flour
10 g easy-bake dried yeast
1 teaspoon salt
3 tablespoons olive oil
300 ml water, room temperature
120 g pitted black olives
70 g haloumi cheese, crumbled into pieces
1 small bunch flat-leaf parsley, leaves picked and chopped
several sprigs fresh oregano, leaves picked and chopped
In a large bowl, mix together the flour, yeast and salt. Make a well in the centre and pour in the olive oil and water. Mix together, then tip out onto a lightly floured surface and knead for about 5 to 7 minutes, until the dough is smooth and elastic. Replace the dough in the bowl and leave to rise for 1 hour, until it has about doubled in size.
Tip the dough out again and knead in the olives, cheese and herbs. Shape the dough into a rough oblong, and place on a baking sheet lined with baking parchment. Leave to rise again for another hour.
Heat the oven to 220C. Slash a cut along the top of the loaf with a sharp knife. Bake for 30 minutes, then remove from the oven and rap on the bottom of the loaf - it should sound hollow. Let bread cool on a wire rack before eating.
Makes 1 large loaf.
Comments (disabled)
6 March 2004