Grilled peppers and baby courgettes with leaves, lime and couscous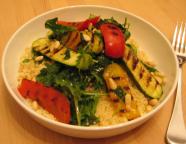 Snowdrops are out! There are purple and yellow crocuses (crocii?) under the trees at uni and the daffodils are clusters of green spikes ready to burst open soon. So I don't care if it's officially winter for another month, I'm ready for spring - and I'm so so so sick of root vegetables. Hence tonight's dinner, which takes advantage of the unnatural transport of vegetables across the globe, allowing me to eat baby zucchini, ripe capsicums and fresh basil when it's 8 degrees C outside if I'm lucky.
I was originally going to serve this with toasted millet, rather than couscous, but it didn't quite work out. We were following Rose Elliot's recipe for cooking millet, which promised that we would end up with dry and fluffy grains. Instead, we got sticky, wet porridge, not really what we were after, so couscous came to the rescue. Although, had we been less hungry, the grilled vegetables tossed with salad leaves and lime juice would have made a delicious dinner on their own.
6 baby zucchinis (courgettes)
1 red capsicum (pepper)
1 yellow capsicum
garlic-infused olive oil (or normal will do)
sea salt and freshly ground black pepper
175 g couscous
250 ml water or very light vegetable stock
80 g mixed leaves - watercress, rocket and baby spinach is a good mix
juice and zest of 1 lime
1 tablespoon toasted pine nuts
Slice the baby zucchinis in half lengthwise. Cut the capsicums into wide slices, each about 3 x 8 cm. Put the vegetables together in a bowl, drizzle over a little of the olive oil (you really only need a tiny bit) and toss with your hands until they are all covered with a fine layer of oil. Heat a ridged grill pan on the stove, then grill the vegetables, for 3-5 minutes on each side, until they are tender and branded with grill marks. Return them to the bowl, toss with a little sea salt and pepper, and let cool slightly.
Put the couscous in another bowl. Bring the water or stock to a boil, add to the couscous, stir through, and leave for about 10 minutes, until the liquid is all absorbed. Stir up the couscous with a fork, until all the lumps are broken up.
While the couscous is cooking, add the mixed leaves, lime zest and juice to the grilled vegetables, and toss well.
To serve, divide the couscous between two plates. Top with the vegetable mixture, and sprinkle with pine nuts. Eat while warm.
Serves 2 generously.
12 February 2004