Garlic and parsley hearthbreads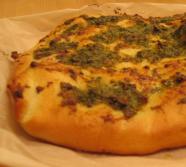 This excellent recipe for squidgy, foccacia-like bread is from Nigella Lawson's How to be a Domestic Goddess. As you can see from the (rather bad and uninformative) photo, I got a bit carried away with adding parsley to the garlicky paste spread over the top of the bread - I think a bit less would be better, perhaps with a little more fresh parsley chopped over the top just before serving. This amount would serve two people generouly if eaten alone; with soup or something else it would be enough for 3-4.
250 g strong white flour
half a 7g sachet of instant yeast
1 heaped teaspoon salt
150-200 ml warm water
40 ml olive oil (2.5 tablespoons)
2 heads of garlic
extra virgin olive oil for drizzling
1 small bunch flat-leaf parsley
sea salt, preferably Maldon, for sprinkling
Preheat the oven to 190C.
Combine the flour, yeast and salt in a bowl. Pour 150 ml warm water into a measuring jug and stir in the olive oil. Mix the liquid with the dry ingredients to make a soft but firm dough, adding more liquid as necessary. Turn the dough out onto a flat surface, and knead until it is smooth, supple and elastic. Form it into a ball, and place it in an oiled bowl, turning once to cover the ball with oil. Cover with cling film and leave to rise for an hour or so until doubled in size.
While the bread is rising, trim the tops off the heads of garlic, making sure they remain whole, then sit each on a square of alfoil, and wrap into baggy packets with tightly sealed edges. Cook the garlic packages for 45 minutes - they should be mushy but still holding their shape. Remove from the oven, tear open the packets, and let the garlic cool till you can handle them easily. Turn up the oven to 200C.
When the dough has risen, punch it down and leave it to rest for 10 minutes. Tear off a piece of greaseproof paper about a foot long, and put the ball of dough in the middle. Use a rolling pin to roll out the dough into a curved rectangle, then use your hands to press it out a little more. Move the bread on its paper to a baking sheet, cover with a teatowel, and leave to proove and get puffy for about 25 minutes.
While it's proving, finish making the topping. Squeeze the soft garlic cloves out of their skins and into the small bowl of a food processor. Add a handful of parsley leaves, and process to chop and combine. While still processing, trickle in enough olive oil to make a runny paste.
Poke your fingers all over the bread to dimple it, then pour the garlic and parsley mixture all over it. Put the bread in the oven and bake for 20 minutes, or until the bread is cooked - the dough should be golden, the garlic flecks a darker brown, and the rims puffing up a little around the oily topping.
Remove the bread from the oven, and drizzle over a good amount of olive oil (use your best one), sprinkle well with sea salt, and eat immediately.
31 January 2004