I'm heading to the US shortly to go to a couple of conferences, so no updates until early July (unless Ted decides to do a guest entry or two while I'm away, of course!). Hopefully I will have tales of good food to relate then. I plan on eating lots and lots of Mexican. Mmmm, chillies.
Comments (disabled)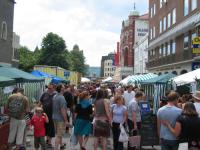 The Brighton food and drink lovers festival (I really want to add in a couple of hyphens there, or at least an apostrophe) is on from the 10th to the 20th of July. Lots of the "events" are just set price meals at various restaurants around town, but one event which is definitely worth attending is the food market held on the weekends. It's held on New Road (between the Theatre Royal and the Pavillion gardens), and consists of almost 50 stalls - local producers up one end, the French market contingent up the other
The advantage of this being not a real farmers' market is that we could arrive around noon and know that everything would still be there! Nomally I like to wander along markets, zigzagging from one side of the street to the other, buying things which catch my eye at the time, rather than trying to keep them all in mind to come back and purchase later. But since I was pretty peckish, we zipped from one end to the other in search of the most appealing lunch, bought it and ate it sitting on the curb, then, stomachs satisfied, returned to buy all those things which had tempted me before. Click on the thumbnails to see the good things we observed!
| | |
| --- | --- |
| | Nomades Moroccan food stall was the clear winner for lunch. They sold olives, moroccan sauces, and various lunchy foods, including this pastilla of spinach, carrot, lemon and spices wrapped in filo pastry. Lovely subtle spicy flavours, delicious! |
| | Ted's lunch - kofte flatbread, cooked while he waited. Minced lamb, onion and herbs are mixed into the batter and then cooked on a very hot flat grill. I risked the possibility of eating a tiny bit of lamb by tearing off the edge of his flatbread and dipping it in the harissa. If was worth it - lovely flaky warm bread and the best harissa I have ever tasted. |
| | The tub of home-made harissa I bought to take home. |
| | And the eat-in facilities at the Nomades stall, which I didn't notice until after we had availed ourselves of the curb. They were selling mint tea and pastries here too. |
| | My other favourite stall at the market: Chillipepper Pete. Half a dozen kinds of dried chillies, various chilli pastes and sauces, chilli plants..... I bought chipotles, pasillas, habaneros and anchos. |
| | Sausages, from which some interesting smells were wafting. |
| | Vegetables (non-smelly), including some white asparagus we bought to eat for dinner. |
| | Dried and glace fruits. I bought some clementines, for which I searched Brighton at Christmastime without success. Unfortunately, I can't remember now what I wanted them for - but I'm sure it will come back to me. |
There were lots more stalls, including various local cheese producers, people selling Indian spice pastes, lots of meaty things, a couple of bakeries, some vegetarian caterers..... it was all good. It's on again next weekend, and highly recommended if you're in Brighton!
Comments (disabled)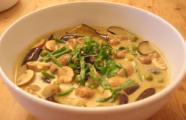 A year or so ago, eGullet ran a piece about Thai curries, in which the author claimed that, while a home-made curry paste made with fresh, good quality ingredients would always be better than a pre-packaged one, most people outside Asia can't get the ingredients quite that fresh, and a lot of us don't have the sense of what a raw curry paste should taste like anyway so will often get it wrong. I still think it's worth experimenting (as did the author, I think), but I am more than happy to use a good commercial curry paste too. I like Mae Ploy brand, although Danielle, who makes an excellent Thai curry, prefers a brand with a lady on the side - I can't remember the name.
For the coconut cream, you can simply use the cream which floats to the top of most cans of coconut milk as long as you don't shake the can before you open it. Alternatively, you could use one of the little mini tetrapacks of coconut cream, using half for the initial frying and adding the rest with the coconut milk later. I used mostly aubergines in this curry because I had seen the gorgeous pea eggplants in Ryelight and wanted to see what they were like - little explosions of flavour, slightly bitter, is the answer, yum - but you could use whatever combination takes your fancy, making it up to about the same weight and volume.
Thai green curry with eggplant and green beans
2 tablespoons coconut cream
2-3 tablespoons green curry paste
1-2 tablespoons chopped palm sugar
1 tablespoon fresh lime juice
1 tablespoon fish sauce
2 cups coconut milk
200 g slender purple asian eggplants, chopped into 2 cm pieces
1/3 cup Thai pea eggplants, plucked from their stems
100 g crimini mushrooms, halved
100 g green beans, topped and halved
several leaves of holy basil, cut in ribbons
steamed rice
Heat a large saucepan over medium heat. Add the coconut cream and cook until it is bubbling. Add the curry paste and stir until it is dissolved. I've read several recipes saying to keep cooking this until you see a sheen of coconut oil on top - I cooked it for two or three minutes and didn't see this, and was wary of overcooking it (can you, I wonder?), so I called it done.
Add the chopped palm sugar and stir to dissolve. Now add the lime juice, the fish sauce, and the coconut milk. Stir well to combine, then taste. Check for the balance of flavours, but most importantly check that it is sour enough (add more lime juice if not). Add more sugar if it seems too spicy (though remember that the vegetables and rice will dilute the heat a bit).
Add both kinds of eggplants, partially cover the pan, and leave to simmer for 8-10 minutes, until the eggplants are tender. Add the mushrooms and green beans and cook for 3-5 minutes more. Taste the curry, and adjust with more lime, fish sauce, or coconut milk if necessary.
Pour the curry into a serving bowl and sprinkle with the basil, and finely sliced fresh green chillies if you wat a bit more bite. Serve with steamed white rice.
Serves two starving, greedy people, or 3 or 4 normal people for a light meal.
Comments (disabled)
I got the job!!! Yippee!
(See the entry for the 1st of June if this makes no sense to you. What, you mean you're not keeping up with all the fascinating details of my life?)
Comments (disabled)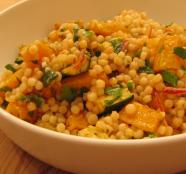 I've had a packet of Israeli couscous sitting on the pasta shelf in the cupboard for about six months now, waiting for inspiration to strike. It never seemed to be what I wanted throughout winter, but now that summer is coming, I thought I would try it out in a warm salad.
This "couscous" consists of little pea-sized grains of pasta which have been pre-toasted, and can be cooked in a number of ways: like normal pasta in simmering water and then drained; like a pilaf, by toasting in a little oil, and then adding water and covering until the liquid is absorbed; or risotto-fashion, gradually adding ladlefuls of stock or water and stirring continually. I was feeling tired tonight so went for the first, easiest option, but I think next time I will try the pilaf technique, since the couscous was very slightly gluggy this way. Still, I was more than happy with the way this salad turned out, and the harissa dressing was just what I was after - slight chilli warmth and a hint of spice from the cumin.
Roast squash and Israeli couscous with harissa dressing
1 large butternut squash, peeled and cut into 1.5 cm pieces
4 medium zucchinis (courgettes), cut into 1.5 cm pieces
olive oil
sea salt and freshly ground black pepper
200 g Israeli couscous
1 small bunch flat-leaf parsley, finely chopped
1 small bunch mint, finely chopped
Greek yoghurt, to serve
3 tablespoons extra virgin olive oil
3 tablespoons lemon juice
1 teaspoon cumin seeds, toasted and coarsely ground
1/2 teaspoon harissa paste, or to taste
1/2 red onion, sliced wafer thin
First make the dressing. Mix together the oil, lemon juice, cumin seeds, harissa and onion, and stir to combine. Let sit while you make the rest of the dish - this will remove the sharp taste of the raw onion.
Toss the butternut squash with a drizzle of olive oil and a little salt and pepper, and roast at 180 C for 10 minutes. Add the zucchini, and return to the oven for about 15 minutes, or until the vegetables are tender and turning golden.
Meanwhile, boil the couscous in lightly salted boiling water for 8-10 minutes, until it is cooked. Drain, and place in a bowl. Add the vegetables, the chopped parsley and mint, and the dressing, and mix well. Taste and adjust the seasoning as necessary. Serve with a spoonful of yoghurt.
Serves 4 as a light meal.
Comments (disabled)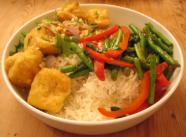 I was craving Thai tofu salad this afternoon. Tofu may be the basis of this salad, but as far as I am concerned it is merely the passive carrier for the sauce - a hot and sour mixture of chilli, lime juice, and something magical and unidentified. Unidentified, that is, until I looked up various recipes for it this evening and realised that it was fish sauce. So much for my vegetarian credentials for the last decade, as I have slurped up this salad every chance I get (not that it bothers me quite so much now, in light of my recent experimentation - look out for an upcoming entry, tentatively titled "Something fishy this way comes").
So I got off my bed of pain - actually couch of slight discomfort, since all I really have is an annoying but not deadly serious cold - and trekked to Ryelight on Preston St to get lots of good Asian ingredients. I haven't mentioned Ryelight before, and I should have. It is the kind of Asian food store I fantastised about for the first two years I lived in Brighton, before realising that it existed four blocks from our house. I will write a proper review soon, but for now just know that it has, not quite everything, but most Asian ingredients I have ever needed. Most exciting is the fridge at the back with a couple of dozen kinds of Asian greens, most of which I can't identify, plus mushrooms, tubers, etc, and packaged vegetables like lotus roots, ginkgo nuts, and so on. I love it. If we had closing credits, the voiceover would say, "Tonight's dinner was brought to you courtesy of Ryelight".
Both of the dishes I made tonight, the salad and a stirfry, are products of a cross between past restaurant meals and hints from reading David Thompson's brilliant Thai Food, filtered through my tastes and the ingredients I could get my hands on. Probably not terribly authentic Thai, but both absolutely delicious to me and Ted.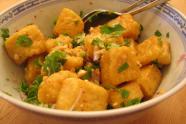 There's an excellent section on salad dressings in Thai Food, including a tutorial on making a dressing by adding a little too much of this, not quite enough of that, smelling and tasting to work out what's out of balance, and how to bring everything back into harmony at the end. The dressing used here is modified from one used in the book for a cucumber and prawn salad. The preparation of the ingredients for the salad should be done as close as possible to use, to maintain peak flavour and fragrance, though it's probably not really necessary to do everything while the tofu is frying. We used pre-fried tofu cubes, but if you are set up to do deep-frying yourself that would obviously be a better way to go, I think. Alternatively, use smaller pre-fried cubes (ours were about an inch square), which would reheat faster, so get less tough. Last point: the dressing for the salad should not just coat the ingredients like a vinaigrette, but should "liberally anoint" them - so while this can be eaten without rice, it is better with.
Thai tofu salad
peanut oil
200 g tofu, cubed and deep-fried
30 g roasted, skinned peanuts, chopped finely
3 red shallots
2 slender young stalks of lemongrass
a handful of mint leaves
1 small bunch coriander
2 small red chillies
1.5 tablespoons lime juice
2 teaspoons fish sauce
0.5 teaspoon sugar
Heat the peanut oil in a frypan, and add the tofu. Cook over medium-high heat, stirring, until the tofu is well heated through. A couple of minutes before it is done, add the chopped peanuts and continue cooking. Remove from the heat.
While the tofu is frying (or just before, if you have a lot of stuff going on in the kitchen), prepare the rest of the salad. Peel the shallots, and slice them very finely (lengthwise, you want shards, not rings). Remove the outer leaf of the lemongrass, then slice the stalks very finely, at an angle. Shred the mint leaves, and pick or coarsely chop the coriander leaves.
To make the dressing, top and remove the seeds from the chillies. Chop very finely, or pound to a paste using a mortar and pestle. Mix the chilli with the lime juice, fish sauce and sugar, then taste and adjust as necessary.
Mix together the tofu mixture, the shallots, lemongrass, herbs and dressing. Toss well, taste once more to check seasoning, and serve at once.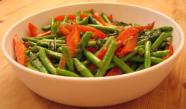 For the stirfry, if you can't find holy basil, you could substitute normal sweet basil, but the taste of the herb is quite different and it's worth seeking out the holy version if you can get it. Similarly, you could use normal green beans if you can't obtain snake beans. We've got a really tiny mortar and pestle, good for grinding small quantites of spices but pretty useless for pounding pastes and sauces. The garlic and chilli ended up more chopped than pounded, but the final result was still good.
Beans and capsicum with chilli and holy basil
2 cloves garlic, peeled and chopped
2 small, hot red chillies, chopped
a pinch of salt
peanut oil
10 snake beans, cut into 4 cm lengths
1 red capsicum (pepper), sliced finely
1 tablespoon water
1 tablespoon dark soy sauce
1 tablespoons light soy sauce
a pinch of sugar
a few drops of fish sauce
a handful of Thai holy basil leaves
Grind the garlic, chilli and salt to a paste using a mortar and pestle. Heat a little peanut oil in a wok, then add this paste and cook for 1 minute, until it becomes aromatic. Add the beans and capsicum, and cook a further 3 minutes. Stir together the water, soy sauces, sugar and fish sauce, and add to the wok. Cook a further couple of minutes, until the vegetables are tender. Mix the holy basil leaves through the vegetables, cook for a further 30 seconds, then remove from the heat and serve at once, with rice.
Comments (disabled)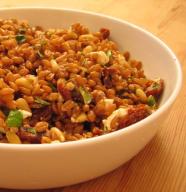 The adjective most commonly used to describe the taste of spelt, I think, is nutty. I've used that description myself here before. So normally when I cook spelt, I mix it with vegetables, in a soup, or cheese and herbs, in a salad - since the spelt has provided the nuttiness, I haven't thought to combine it with nuts. Tonight I experimented in that direction, and made a warm salad of spelt and toasted pine nuts. It looked lovely, especially when it was just the spelt and pine nuts in the bowl - the two ingredients are about the same size and shape, just different shades of golden brown, and it was so pretty, in a demure way. The feta, herbs and sun dried tomatoes add colour, and lift the flavour.
We ate this with a big mixed salad - leaves, capsicum, grated carrot and beetroot, quartered raw criminis - which supplied a day's worth of vegetables, but wasn't the ideal accompaniment. I'd prefer a pile of steamed or braised green vegetables next time, that would work nicely.
Spelt and pine nut salad
1 cup spelt grains
walnut oil
sherry vinegar
2 tablespoons of pine nuts
8 large sun dried tomatoes in oil, drained
fresh herbs - e.g. mint, flat-leaf parsley, and oregano
freshly ground black pepper
Rinse the spelt grains well under cold flowing water, then drain. Bring a pot of water to the boil, salt lightly, and add the spelt. Cook for 40 minutes or so, until the grains are tender but still slightly chewy (the time taken depends on the age and type of the grains - start tasting around 30 minutes, but they can take up to an hour). Drain, and place in a bowl. Add a splash each of walnut oil and sherry vinegar, to taste.
Toast the pine nuts in a small frypan over medium heat until they are just turning golden. Remove from the heat and stir through the spelt. Chop the sun dried tomatoes and the herbs and mix through as well. Taste, and season with pepper and salt if you like. Can be eaten warm or at room temperature.
Serves 2.
Comments (disabled)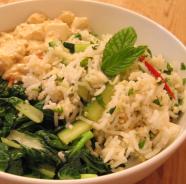 This morning I bollixed up an interview for a job I really want (ugh! kicking self, very hard), so tonight I wanted to cook something relaxing and healthy, to assist in regaining my normal state of zen-like tranquility. Said transition to be assisted by consumption of new, summery cocktail, of course. So behold: asian rice salad, with side of Moscow mule. The salad was pretty good, and tasted very light, excellent for warm weather. It could have done with a bit more colour - I wonder if a bit of very finely julienned red pepper would do the job?
Still kicking myself. Bugger.
Asian rice salad
1/2 cup jasmine rice
about 30 g shelled, natural peanuts
2 red chillies
15 cm thin (Asian or Lebanese) cucumber
1 bunch coriander
10 large mint leaves
2 tablespoons fresh lime juice
2 teaspoons fish sauce (or to taste)
1 teaspoon sesame oil
2 teaspoons peanut oil
1 1/2 teaspoons soft brown sugar
freshly ground black pepper
Asian greens
Cook the rice according to whichever method you prefer. Set aside and let cool for 10-20 minutes while you prepare the rest of the salad.
Heat a wok over medium-high heat, then add the peanuts and toast for 3 minutes. Remove from the heat, and chop the nuts finely with a mezzaluna once they are cool. Remove the tops of the chillies, seed or not according to your taste and the heat of the chillies, and julienne the flesh finely. Halve the cucumber lengthwise, and scoop out the seeds. Cut the cucumber into very fine julienne, then cut into shorter lengths. Roughly chop the coriander, and finely chop the mint leaves.
Mix the peanuts, chillies, cucumber, coriander and mint into the rice. Combine the lime juice, fish sauce, sesame oil, peanut oil, sugar and pepper, then stir into the rice mixture. Adjust the seasoning to taste. Serve with some Asian greens, wilted and dressed with a few drops of sesame oil.
Serves 2.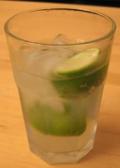 Moscow mule
Put lots of ice cubes in a tall glass, and add a couple of lime wedges. Tip in a large shot of vodka, then fill the glass with ginger beer. Stir, and drink.
Comments (disabled)