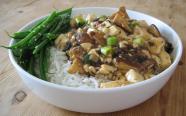 Ma po tofu has not always been my friend. The first time I ordered it in a restaurant, it was (fortuitously) a vegetarian version. Being the ignorant young thing that I was, I assumed that it was always cooked this way, and so ordered it again elsewhere, only to receive the more traditional version with minced pork. Not so excited.
But now I don't need to go hunting for my vegetarian ma po - this recipe is pretty good, substituting fresh shitakes for the pork, and including lovely Szechuan pepper in quantities which only just start to numb the tongue in that strange way. I found the fermented (salted) black beans in a local Asian grocer - they look hard and strange, but once out of their packet, they were easy to handle, surprisingly soft. When I cut through the block of compressed beans, it looked almost like a truffle until it crumbled. They taste fantastic too - I will have to think of something to cook with the rest of the packet.
I served this tofu with sesame beans, using some lovely spring green beans. Just top the beans, cook in boiling water for 4-5 minutes until just tender, and drain. Don't 'refresh' in cold water, if you want them to retain any taste! Transfer the beans to a bowl, and toss with a slug of toasted sesame oil, a pinch of sea salt, and a teaspoon of sesame seeds.
1 tablespoon cornflour
1 cup vegetable stock
2 tablespoons soy sauce
1 tablespoon rice vinegar
1 1/2 treaspoons sugar
1/4 teaspoon coarse salt
peanut oil
150 g fresh shitake mushrooms, stems removed, caps quartered
1 bunch spring onions, green and some white parts, chopped
3 cloves garlic, peeled and minced
2 tablespoons minced fresh ginger
2 heaped tablespoons Asian fermented black beans, minced
2 red chillies, seeded and chopped
1/4 teaspoon finely ground Szechuan peppercorns
700 g silken tofu, cut into 1.5 cm cubes
fresh coriander, chopped
steamed rice
Mix the cornstarch with a couple of tablespoons of the stock to dissolve, then add the rest of the stock, the soy sauce, rice vinegar, sugar and salt. Mix well and set aside.
Heat some peanut oil in a large wok, then add the mushrooms and stir fry until browning, about 3 minutes. Add the spring onions, garlic, ginger, black beans, chillies and ground peppercorns and cook one minute. Stir up the stock mixture, then add to the wok along with the tofu. Toss gently together, then reduce heat, cover, and simmer until the sauce thickens a little, about 4 minutes. Stir through a little fresh coriander, then serve over steamed rice.
Serves 3-4.
Comments (disabled)
9 May 2004