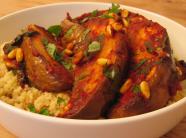 I was emailing Cheryl this afternoon about prospects for spring dinners, and started to think about what I could make with the two aubergines I had at home. I'd bought them on a whim, since I'd never cooked with this kind before - they were round, about 15 cm in length, and a lovely violet colour with pale white shoulders around the stem. I think they might be prosperosa variety, though Waitrose sells them as violet pearl aubergines.
Anyway, I remembered seeing a reference to eggplant agrodolce on the hungry tiger a while ago, so I made up a version of my own, taking into account my current craving for tomatoes. It was very good, warm and satisfying but not at all stodgy, just right for a late spring evening while watching a thunderstorm over the English Channel.
Eggplant agrodolce
2 medium-large violet pearl eggplants (aubergines)
1 tablespoon garlic-infused olive oil
400 ml tomato passata
sea salt and black pepper
1 or 2 tablespoons red wine vinegar
1 or 2 teaspoons sugar
2 tablespoons pine nuts, toasted
a handful each fresh basil and fresh mint, leaves roughly chopped
175 g couscous
250 g cooked chickpeas, or contents of a 400 g tin, drained and rinsed
Cut each of the eggplants into 8 segments, lengthwise. Pull off any leaves and stem parts still attached to the top. Place the segments in a baking dish, and drizzle with a little of the oil, then add the passata. Toss with a little sea salt and black pepper, and roast at 180 C for 40-60 minutes, until the eggplant is very tender and the passata is thick. Stir two or three times during cooking.
Remove the pan from the oven, and add the vinegar and sugar. Start by adding about half the vinegar, then taste and work up from there. I use a very mellow vinegar (Forum brand), so add quite a lot. Return the pan to the oven while you make the couscous.
Place the couscous and chickpeas in a large bowl. Bring 250 ml of water to the boil, the add to the couscous and stir through. Leave for about 7 minutes, then stir with a fork to fluff up. Remove the eggplant from the oven again, and stir through the toasted pine nuts and the fresh herbs. Serve the eggplant over the couscous, either warm or at room temperature.
Serves 2-3 as a main, 4 as a side dish.
Comments (disabled)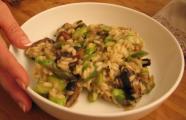 A month or so, Barrett left a comment on the blog, suggesting that a mushroom risotto might be improved by the addition of something green - perhaps asparagus. When Danielle said she had never made risotto, we decided that this would be a good occasion to try it out. It works very well! We added a bit of the water in which we'd soaked the dried porcini in to the stock, which increased the mushroom flavour, but not so much that the flavour of the asparagus was lost. PIty about the dressing I made for the salad on the side, which has taught me to be a bit more restrained in my additions of mustard to the oil and vinegar. Blech.
Mushroom and asparagus risotto
a large handful of dried porcini mushrooms
5 large flat field mushrooms, chopped into 1.5 cm pieces
olive oil
butter
1 onion, finely chopped
1 clove of garlic, chopped
300 g rice
1 wineglass of dry white wine
1.5 litres vegetable stock stock
2 bunches asparagus, stems trimmed, then sliced at an angle into 0.5 cm pieces
a handful finely grated parmesan
Put the porcini in a bowl and cover with boiling water. Leave for about 20 minutes, then remove the porcini with a slotted spoon, and chop. Reserve the soaking liquid.
Toss the field mushrooms with a little olive oil in a roasting pan, and roast at 180 C for about 20 minutes, until they are brown and tender. Set aside.
Bring the stock to a simmer in a saucepan. Add a couple of ladlefuls of the porcini soaking liquid to taste. Do not add the grit from the soaking liquid as well! Either strain it through muslin, or carefully ladle from the top of the bowl, avoiding stirring up the grit which will have settled on the bottom.
Heat about a tablespoon of olive oil and a knob of butter in a large saucepan over medium-high heat. Add the onion and fry until it is translucent and soft. Add the garlic and cook one minute more, then add the rice and toast for 2 minutes. Tip in the wine, and stir as it evaporates. Start adding stock half a ladle at a time, stirring constantly. Add more stock only once the previous ladleful has been absorbed.
Keep stirring and adding stock for about 15-18 minutes, until the rice is approaching done, but is still a little chalky. Add the asparagus and porcini and field mushrooms, and keep stirring and adding stock as before, for another 5 minutes or until the rice is no longer chalky, but still firm. Add the cheese and another knob of butter, stir through, and remove the pan from the heat. Put the lid on the pan and leave it to sit for 2 minutes. Then stir again and serve at once.
Comments (disabled)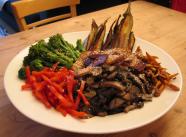 A fantastic Danielle creation: click on the thumnail to see a bigger photo and you will be able to observe broccolini, steamed and tossed with lime juice; eggplant, sliced lengthwise and roasted in the oven with garlic-infused olive oil; carrots, fried with fresh ginger and chilli oil; mixed mushrooms fried with garlic, basil and - something, I can't remember; lovely red capsiums, and smoked tofu sauted in peanut oil and soy sauce until dark golden and crispy. All eaten with soba noodles sprinkled with toasted sesame oil. So delicious, and beautiful to look at too.
Comments (disabled)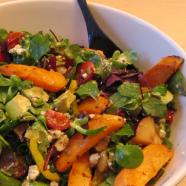 Here is an example of the serendipitous goodness that comes from using up all the leftover (but not sad and wilty) vegetables in the kitchen. The only real cooking involved is slicing a sweet potato, tossing with a little olive oil, sea salt and black pepper, and roasting at 180 C for about 20 minutes or so, until it is tender. While it is cooking, make the rest of the salad, with some mixed leaves, sliced yellow pepper, halved cherry tomatoes, a couple of chopped plums, an avocado, roughly chopped, a little crumbled feta, and some pumpkin and sunflower seeds. Make a dressing of pumpkin seed oil, white wine vinegar, and a little seed mustard, add the roast sweet potato, and you're done.
Comments (disabled)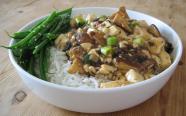 Ma po tofu has not always been my friend. The first time I ordered it in a restaurant, it was (fortuitously) a vegetarian version. Being the ignorant young thing that I was, I assumed that it was always cooked this way, and so ordered it again elsewhere, only to receive the more traditional version with minced pork. Not so excited.
But now I don't need to go hunting for my vegetarian ma po - this recipe is pretty good, substituting fresh shitakes for the pork, and including lovely Szechuan pepper in quantities which only just start to numb the tongue in that strange way. I found the fermented (salted) black beans in a local Asian grocer - they look hard and strange, but once out of their packet, they were easy to handle, surprisingly soft. When I cut through the block of compressed beans, it looked almost like a truffle. They taste fantastic too - I will have to think of something to cook with the rest of the packet.
I served this tofu with sesame beans, using some lovely spring green beans. Just top the beans, cook in boiling water for 4-5 minutes until just tender, and drain. Don't blanch, if you want them to retain any taste! Transfer the beans to a bowl, and toss with a slug of toasted sesame oil, a pinch of sea salt, and a teaspoon of sesame seeds.
Ma po tofu
1 tablespoon cornflour
1 cup vegetable stock
2 tablespoons soy sauce
1 tablespoon rice vinegar
1 1/2 treaspoons sugar
1/4 teaspoon coarse salt
peanut oil
150 g fresh shitake mushrooms, stems removed, caps quartered
1 bunch spring onions, green and some white parts, chopped
3 cloves garlic, peeled and minced
2 tablespoons minced fresh ginger
2 heaped tablespoons Asian fermented black beans, minced
2 red chillies, seeded and chopped
1/4 teaspoon finely ground Szechuan peppercorns
700 g silken tofu, cut into 1.5 cm cubes
fresh coriander, chopped
steamed rice
Mix the cornstarch with a couple of tablespoons of the stock to dissolve, then add the rest of the stock, the soy sauce, rice vinegar, sugar and salt. Mix well and set aside.
Heat some peanut oil in a large wok, then add the mushrooms and stir fry until browning, about 3 minutes. Add the spring onions, garlic, ginger, black beans, chillies and ground peppercorns and cook one minute. Stir up the stock mixture, then add to the wok along with the tofu. Toss gently together, then reduce heat, cover, and simmer until the sauce thickens a little, about 4 minutes. Stir through a little fresh coriander, then serve over steamed rice.
Serves 3-4.
Comments (disabled)