Aubergine and tofu with miso sauce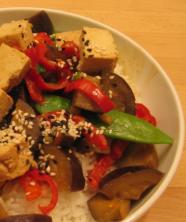 In a continuation of the "let's not die of heart disease just yet" cooking plan, we made a Japanese-inspired dish tonight, a combination of vegetables and tofu in a quite light and subtle miso sauce. It uses two vegetables I rarely cook with, Japanese eggplants and banana chillies. The eggplants are those thin ones which look like shiny purple courgettes, although I'm sure you could use the normal Italian eggplants if you couldn't get the Japanese variety. The ones we used were about 15 cm long, very plump, and completely seedless, really ideal. The banana chillies don't have any chilli heat - they taste quite like capsicum, but are less crisp, so only need a couple of minutes cooking at the end. If you can't find them and have to substitute capsicum, add it a little earlier. The chilli or capsicum and the snow peas should stay quite firm though, to contrast with the beautifully tender eggplant.
2 heaped tablespoons white miso
1 tablespoon soy sauce
1 tablespoon sugar
1/4 teaspoon salt
250 ml water
450 g Japanese eggplants (aubergines)
1 thumb-sized piece of fresh ginger
2 red banana chilies
200 g smoked tofu
3 tablespoons peanut oil
1 tablespoon sesame oil
100 g snow peas (mangetout)
2 spring onions (scallions), dark and light green parts only
2 teaspoons each of white sesame seeds and black sesame seeds
300 g rice, boiled
Mix together the white miso, soy sauce, sugar and salt in a bowl, then gradually stir in the water to make a thin sauce.
Top and tail the aubergines. Slice them in half lengthwise if they are thin, or into quarters if they're plump, then cut into pieces about 1.5 cm thick. Peel the ginger and chop very finely. Halve the banana chillies lengthwise, remove the seeds and membranes, and then slice into pieces about 7 mm wide. Chop the tofu into 1.5 cm cubes.
Heat the peanut and sesame oils together in a large wok. Add the aubergine and cook over medium-high heat for 7-10 minutes, until it is golden and softening. Add the ginger and cook for 1 minute, then tip in the miso and water mixture and stir well. Let it simmer for 5-7 minutes, until the aubergine is tender, then add the banana chillies, tofu and snow peas. Stir to combine everything in the sauce, then put a lid over the wok and let it cook for another 2-4 minutes, until the tofu is warmed through and the chillies and snow peas are just beginning to soften. Remove from the heat and stir through the chopped spring onions.
Serve the vegetables over the rice, drizzling any remaining sauce over the top. Scatter with the toasted sesame seeds, and eat at once.
Serves 4.
7 February 2004