Mushroom and asparagus risotto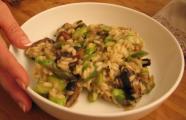 A month or so, Barrett left a comment on the blog, suggesting that a mushroom risotto might be improved by the addition of something green - perhaps asparagus. When Danielle said she had never made risotto, we decided that this would be a good occasion to try it out. It works very well! We added a bit of the water in which we'd soaked the dried porcini in to the stock, which increased the mushroom flavour, but not so much that the flavour of the asparagus was lost. PIty about the dressing I made for the salad on the side, which has taught me to be a bit more restrained in my additions of mustard to the oil and vinegar. Blech.
a large handful of dried porcini mushrooms
5 large flat field mushrooms, chopped into 1.5 cm pieces
olive oil
butter
1 onion, finely chopped
1 clove of garlic, chopped
300 g rice
1 wineglass of dry white wine
1.5 litres vegetable stock stock
2 bunches asparagus, stems trimmed, then sliced at an angle into 0.5 cm pieces
a handful finely grated parmesan
Put the porcini in a bowl and cover with boiling water. Leave for about 20 minutes, then remove the porcini with a slotted spoon, and chop. Reserve the soaking liquid.
Toss the field mushrooms with a little olive oil in a roasting pan, and roast at 180 C for about 20 minutes, until they are brown and tender. Set aside.
Bring the stock to a simmer in a saucepan. Add a couple of ladlefuls of the porcini soaking liquid to taste. Do not add the grit from the soaking liquid as well! Either strain it through muslin, or carefully ladle from the top of the bowl, avoiding stirring up the grit which will have settled on the bottom.
Heat about a tablespoon of olive oil and a knob of butter in a large saucepan over medium-high heat. Add the onion and fry until it is translucent and soft. Add the garlic and cook one minute more, then add the rice and toast for 2 minutes. Tip in the wine, and stir as it evaporates. Start adding stock half a ladle at a time, stirring constantly. Add more stock only once the previous ladleful has been absorbed.
Keep stirring and adding stock for about 15-18 minutes, until the rice is approaching done, but is still a little chalky. Add the asparagus and porcini and field mushrooms, and keep stirring and adding stock as before, for another 5 minutes or until the rice is no longer chalky, but still firm. Add the cheese and another knob of butter, stir through, and remove the pan from the heat. Put the lid on the pan and leave it to sit for 2 minutes. Then stir again and serve at once.
Comments (disabled)
18 May 2004