1.5 - 2 litres vegetable stock
50 g butter
1 onion, peeled and finely chopped
2 cloves garlic, peeled and finely chopped
350 g arborio rice
1 glass white wine
8 large flat field mushrooms
12 chestnut or crimini mushrooms
1 bunch sage, leaves picked and chopped
several sprigs of thyme, leaves picked and chopped
a large handful grated pecorino or parmesan
sea salt and freshly ground black pepper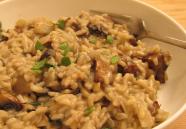 Put the stock in a medium saucepan and bring to a low simmer. In a large saucepan, fry the onion in butter (or olive oil) until translucent. Add the garlic and rice and cook until the rice is toasted and coated with butter, about three minutes. Add the glass of white wine and stir until it is absorbed. Add one ladleful of hot stock and stirr until the stock is absorbed, then add another. Keep adding stock in this way, being careful not to drown the rice, until the rice is still firm but definitely not chalky in the centre when you bite it, about 20 minutes.
Meanwhile, chop the mushrooms into 1.5 cm cubes. Toss in a baking pan with a little butter and/or olive oil, and some salt and pepper. Roast them at 180 C for 20 minutes, stirring once or twice, until they are dark golden brown and fully cooked.
When the rice is a couple of minutes away from being done, add the herbs and the mushroom mixture and stir through. After two minutes more stirring, add a final ladle of stock and remove from the heat. Stir through a handful or so of cheese, then put the lid on the pan and let it rest for two minutes before serving, passing extra cheese separately.
Serves 4.
January 2001