Wild mushroom and roast garlic sandwich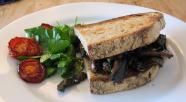 When I woke up this morning the wind was blustering and the rain was pelting, and this continued until well into the afternoon. So when I was thinking about what to make for lunch (while rugged up in a jumper and thick socks), I bypassed the books of Mediterranean food and took down from the shelf Gordon Hammersley's Bistro cooking at home. I would never have thought to buy this book myself - French or French-inspired cookbooks are fairly often a waste of money for a vegetarian, apart from the pages at the back covering vegetable side dishes. I was led to buy this one after reading an entry about it on An invitation to the barbeque at the end of last year. Rachael mentioned a couple of recipes which took my fancy at that time of deep dark winter - oven-baked penne with onions, walnuts and goats cheese, creamy garlic soup, pear and cranberry crumble - so I ordered it from Amazon late one night, was surprised when it turned up on my doorstep a week or so later, flicked through it, and then was distracted by something else and hadn't looked at it since.
When I paged through it this morning, there were lots of things to catch my eye, including some which I will have to wait to cook, like autumn vegetable stew with cheddar-garlic crust, and others which are now on my short-term list, such as baked polenta squares with pepperonata and white truffle oil, and peach galette. Looking through the bookmarks I left between the pages, I can see that almost all of them are for Italian- rather than French-inspired dishes, but never mind. I'm not making any claims to be cooking authentic Bistro-style!
My choice for lunch was decided by a gorgeous photo (and who says women aren't aroused by visual stimuli?) of mixed wild mushrooms, brown and glistening, poking out from between two slices of toasted pain de campagne. Yuuuum. It looked good enough to make us venture out into the rain in search of mushrooms, additional heads of garlic, and good bread. I bought some Poilane sourdough (my first loaf of this famous bread) at the Real Eating Company, but couldn't find exciting mushrooms either there or Waitrose, so settled for a combination of flat field mushrooms and little crimini. I raced home to check that the tomatoes I had slow roasting in a low oven hadn't burnt down the apartment (slight fire paranoia), chopped the heads off the garlic and wrapped them up and put them in to roast as well, then sat down and waited for the last minute frying of the mushrooms and the reward of a fantastic weekend lunch. And was it fantastic - toasted sour and tasty bread, spread with garlic soft and sweetened but still with a little bite, sandwiching a pile of deep-flavoured mushrooms, made to be picked up and eaten in our hands. On the side, a little salad of watercress with those roasted tomatoes, and a red wine vinegar vinaigrette. Very, very satisfying!
2 whole heads of garlic
sea salt and freshly ground black pepper
olive oil
1 tablespoon unsalted butter
250 - 300 g mixed wild and domestic mushrooms, cut into thick slices
2 garlic cloves, finely minced
1 small shallot, finely minced
1 teaspoon chopped fresh thyme
1/4 cup dry white wine
2 tablespoons chopped fresh parsley
4 sliced pain de campagne or other robust bread
Preheat the oven to 160 C. Remove any loose, papery skins from the two heads of garlic, and cut off the top 5 mm of each head to reveal the cross-sections of the cloves. Line a little baking dish with aluminium foil, and place the garlic on top, cut side up. Drizzle each head with a little olive oil and a pinch each of salt and pepper. Sprinkle a couple of tablespoons of water around the garlic, the cover the pan well with more foil. Bake until very tender, about 1 to 1 1/2 hours. Remove the garlic from the pan, and squeeze the cloves with your fingers to extract the garlic.
In a large pan, heat a couple of tablespoons of olive oil and the butter over medium-high heat until the butter is very hot. Add the meatiest mushrooms, like criminis and portobellos, and cook them, stirring occasionally, until they brown lightly and begin to release their juices, about 5 mintues. Add the remaining mushrooms and season with salt and pepper to taste. Continue to cook over medium heat, stirring once or twice, for another 5 minutes.
Add the chopped garlic, shallot and thyme and cook until fragrent, about 2 minutes. Add the white wine and continue cooking until the musrroms are tender and most of the liquid has evaporated, 5 to 10 minutes. Season to taste, stir through the parsley, and remove from the heat.
Toast the bread until golden brown. Spread each piece generously with the roast garlic, squishing the soft cloves with the knife. Construct two sandwiches with the bread and the mushrooms, and eat at once.
Serves 2.
Comments (disabled)
18 April 2004