2 bunches of basil (about this much)
1 small clove of garlic, peeled
30 g toasted pine nuts
20 g freshly grated parmesan or pecorino
extra virgin olive oil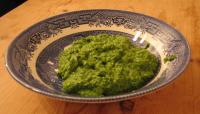 Pluck the leaves from the basil and wash well to remove any grit.
Put the garlic, pine nuts and parmesan in a food processor and blend well. Add the basil leaves and whizz again until you are getting a thick paste. Leaving the processor going, drizzle in olive oil until the pesto comes together smoothly. You may need to stop and scrape down the sides of the processor half way through.
Taste the pesto and add more of any ingredient if you feel it's needed (the amounts given above are approximate - they'll depend on the flavour of the basil, the strength of the cheese, your liking for garlic, and so on). You can also add a pinch of salt if necessary.
Use this pesto stirred through pasta, as part of an antipasto plate, on baked gnocci or vegetables, and so on. It will keep for several days covered in the fridge - just stir up and add a little more oil to thin it when you use it again.
Thank you so much, Tim Ferguson, my flatmate at Bernard House, for teaching me how to make pesto, including the instruction to use and appreciate every single basil leaf. You said, "it's a zen thing", I thought "no, it's an anal retentive thing", but I've come to agree with you.
November 1999