600 ml water
1.25 cups sugar
2 quinces
juice of half a small lemon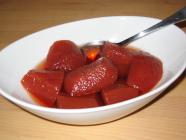 Make a light sugar syrup by combining the sugar and water in a saucepan and stirring over low heat until the sugar has dissolved. Peel the quinces and cut into quarters or sixths. Cut out the cores. Place the cores in a piece of muslin tied into a loose bag.
Put the sugar syrup, lemon juice and bag containing the cores into a casserole with a lid and mix together, then add the quinces. Cover tightly and bake at 180C for 4-6 hours until the quince is a lovely deep red. Do not stir during cooking - it's not necessary, and can break up the quince pieces. Remove from the oven and cool before serving.
Poached quinces are great served with cream, yoghurt, or a soft goats cheese (or just by themselves). They can also be used as the basis for other recipes, like quince clafouti or as a replacement for apple in cakes or crumbles.
Stephanie Alexander suggests that extra syrup left after poaching can be refrigerated in a screw-top jar in the fridge, and then used to make Eliza Acton's sweet pouring custard: Whisk together 12 egg yolks in a large bowl. Bring 600 ml of poaching syrup to a simmer, then pour onto the egg yolks and mix well. Return the mixture to the rinsed-out saucepan and cook gently, stirring all the time, until the custard thickens. Strain into a bowl, add the juice of 1 lemon, and stir now and then as it cools. The custard can be diluted with cream before use, if you prefer.
5 January 2003