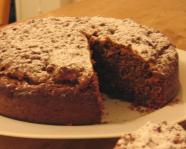 So I had six poached quinces I hadn't really planned on, and even my appetite for quince with cream, quince with yoghurt, quince by itself, etc etc, fades in the end. Fortunately, Stephanie Alexander's Cook's Companion had the solution: quince and nut cake. You can use walnuts, almonds, pecans, or a mixture in this recipe. I am not normally a big fan of walnuts, and love almonds, but in this case I do think that walnuts fit best. The cake is dark, moist, and not too sweet - a surprisingly traditional fruit cake, without a very strong taste of quince.
375 g plain flour
2 teaspoons bicarbonate of soda
2 heaped teaspoons ground cinnamon
2 heaped teaspoons ground allspice
1/2 teaspoon salt
1 cup roughly crushed walnuts
2 cups poached quince (from about 3 quinces), mashed
1 cup brown sugar
2 eggs
250 g butter, melted and cooled completely
pure icing sugar
Butter and flour a 23 cm springform pan. Preheat the oven to 180C.
Sift the flour, soda, cinnamon, allspice and salt together in a bowl. Stir in the nuts.
In a large bowl, stir together the quince and the sugar. Whisk the eggs into the cooled butter, then gently stir this into the quince mixture. Gently stir in the flour mixture and stir well.
Spoon into the prepared tin. Bake for 55-65 minutes, or until a knife inserted in the centre comes out clean. Cool the cake in the tin. Unmould and sprinkle with icing sugar before serving.
1 February 2004