Squash and aubergine dhansak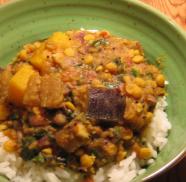 I know I meant to cook with dried beans tonight, but this recipe, which distracted me from my purpose, does contain three types of pulses - does that count? After reading through a month's worth of posts on eGullet, I was checking out recipeGullet, and typed in a query for Indian vegetable dishes. A few recipes came up, including a couple posted by Suvir Saran. This one, for a vegetable dhansak (or dhaansaak) looked like something I would love: lentil base, aubergines, squash and spinach, lots of spices. And indeed this was by far the best curry I have ever cooked myself - lovely, subtle and complex flavours, with a good combination of ingredients.
You could use a different combination of dals if you couldn't get all three, but I would try to use at least channa plus one other kind. The channa dal keeps its shape even after cooking, while the masoor and mung dal soften and almost dissolve, to lightly thicken the curry. I couldn't find any ripe fresh tomatoes, so drained a couple of tins of chopped tomatoes and used those instead. Knowing my penchant for lazily simplifying recipes each time I make them (sometimes an improvement, sometimes not) I tried the curry before adding the tempering, to see if it would be alright by itself. It was fine, but nothing compared to the final product. That last-minute addition of flavours balances and enhances the curry immeasurably. Don't skip it!
3/4 cup channa dal (yellow split peas)
3/4 cup masoor dal (split red lentils)
1/4 cup mung dal (yellow mung beans)
4.5 cups water
1 tablespoon finely chopped fresh ginger
2 garlic cloves, peeled and minced
2 teaspoons garam masala
1 teaspoon turmeric
1/2 teaspoon cayenne pepper (or more to taste)
1/4 teaspoon ground cloves
2 bay leaves
2 hot green chillies, chopped, with seeds
2 teaspoons salt
350 g tomatoes, peeled, seeded and chopped
1 small butternut squash, peeled and chopped into 2.5 cm cubes
1 medium aubergine (eggplant), chopped into 2.5 cm cubes
1 medium red onion, peeled, coarsely chopped
15 large fresh spinach leaves, thick stems removed, leaves washed and torn into pieces
1.5 cups water
1/4 cup ghee or oil
1 teaspoon black mustard seeds
1 teaspoon ground cumin
1 small red onion, peeled and finely chopped
1 garlic clove, peeled and minced
juice of 1/2 a lemon
1/4 cup of chopped coriander
Put the three kinds of dal into a sieve and wash with running water until the water runs clear. Transfer the dal to a large saucepan, and add the 4.5 cups of water. Bring to the boil and skim all the white foam off. Add the ginger, garlic, garam masala, turmeric, cayenne pepper, cloves, bay leaves, chillies and salt and stir well. Reduce the heat and simmer, covered, for about 20 minutes, stirring now and then. The dal should be tender, but not falling apart.
Add the tomatoes, squash, aubergine, onion and spinach to the saucepan, along with 1.5 further cups of water. Return to the boil, reduce the heat, and simmer partly covered for about 15 minutes, stirring occasionally, until the vegetables are tender. Remove from the heat.
For the tempering, heat the ghee or oil in a medium skillet or pan over medium-high heat. Add the mustard seeds, cover, and cook until they pop, about 1 minute. Add the chopped onion and the cumin and cook, stirring, for about 5 minutes, until the onion is well browned around the edges. Add the garlic and cook a few seconds, then stir in the coriander and lemon juice and stir, then remove from the heat.
Add the tempering to the curry and stir well, then taste for seasoning. Serve hot with rice.
Serves 6-8.
Comments (disabled)
24 March 2004