Fennel and roast tomato stromboli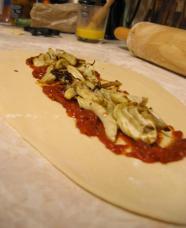 I just checked the Epicurious Food Dictionary, and it tells me that stromboli is a speciality of Philadelphia - so no wonder I couldn't find a recipe for it in any of my Italian bread cookbooks then. Why was I looking for this thing I knew almost nothing about? Because, one night last week when we went shopping in Waitrose when we were really hungry (bad move! goodbye additional 20 quid!), we picked up a bready thing from the refrigerated section and took it home to try out and assuage our hunger. It was a fennel and oven-roasted tomato relish stromboli, and it was, for a pre-packaged, parbaked commercial bread product, very yummy indeed. Good enough that I felt it was worthwhile trying to recreate it at home and make it even better.
A stromboli is quite like a calzone, an envelope of pizza dough around a filling, although from what I have seen on the web it can be shaped either as a semicircle, like the calzone, or into a long rectangular package. The one we bought was rectangular, about 9 cm wide and 30 cm long, so that was the shape I was aiming for. As I said, I checked through some of my recipe books and couldn't find a recipe for stromboli, then did a (not very thorough, I admit) web search, and came up with dozens of recipes starting with "take one package of frozen bread dough". So I thought, "bugger it, how hard can it be?" and decided to make it up as I went along.
The fillings were the easy part - the ingredients list on the back of the packaging had been clear enough to give me an idea of what to do. The dough was a different matter, since I had merely glanced at the ingredients for it before throwing it away, and remembered only that it had contained parmesan (and a bunch of stabilisers and preservatives and so on which I wouldn't be needing). When it came time to make my own a week later, I remembered the original dough as being a little more short than a normal pizza dough, but couldn't remember whether it had contained butter or some other fat. So as a starting point, I decided to try just a standard pizza dough, with a little grated parmesan mixed in.
And it worked really well! I would use a little less parmesan in the dough next time (20 g rather than 30 g), and perhaps cook the tomatoes down a little more. They were wonderful and vividly tasty, but I think they'd have been even better if I'd let them go past the stage of being thick, and kept cooking them till they were almost a paste, sticky and sweet. I was surprised by how much I liked the combination of the fennel and the tomato - I wouldn't have thought to put them together myself; normally I eat fennel with lemon or occasionally a white cheese. I would happily make this again as the recipe stands, but if I were any good with pastry I would also give it a go using a shortcrust with a little parmesan, either as an envelope or as a tart.
half a dozen medium-large ripe tomatoes
olive oil
red wine vinegar (Forum for choice)
balsamic vinegar
sea salt and black pepper
2 medium bulbs of fennel
1 tablespoon fennel seeds
250 g plain or strong flour
1/2 teaspoon salt
one 7g sachet of easy-bake yeast
20 g finely grated parmesan
2 tablespoons olive oil
120-150 ml warm water
1 egg, lightly beaten, or milk, for washing
additional fennel seeds, for sprinkling
Preheat the oven to 180C.
Quarter the tomatoes and place them in an oven dish. Drizzle over them a little olive oil, and a slug each of red wine vinegar and balsamic vinegar. Season with a little sea salt and freshly ground black pepper, and toss well. Cook in the oven for up to an hour. About half way through cooking, the tomatoes will have softened enough to be mushed down with the back of a spoon - do this, and then check them every 10 minutes or so to give them a little stir and check when they have thickened enough. Season to taste, and set aside.
Chop the tops off the fennel, and remove any tough outer leaves. Cut the bulbs in half, through the base, along their long axis. Turn the bulbs onto their flat, cut surface, and slice lengthwise in 5 mm slices, to get segments of leaves held together at the base. Place the fennel segments in a lasagne dish or baking tray. Lightly grind the fennel seeds in a mortar and pestle until they are a little broken up, but not ground. Toss the fennel with the seeds, a good drizzle of olive oil, and a little salt and pepper. Cook them in the oven for 35-45 minutes, tossing once or twice, until they are soft and starting to caramelize on the edges. Remove from the oven and set aside.
Increase the temperature of the oven to 200 C.
To make the dough, place in a large bowl the flour, salt, yeast and parmesan, and combine well. Add the olive oil and about 120 g of water, and mix together. Add a little more water if necessary, to bring it together to a dough. Turn the dough out onto a lightly floured surface and knead for at least 5 minutes, until the dough is silky and elastic. Return to a clean bowl, cover, and let rise for 30-60 minutes, until doubled in size. Punch down the dough and divide it into two.
Take one half of the dough, and use a rolling pin to roll it out to a rectangle about 35 cm by 20 cm. Spread half the tomato mixture along the middle of the dough, leaving a 5 or 6 cm edge all the way around. Pile half the fennel on top of the tomato. Paint all around the edge of the dough with a little lightly beaten egg, or milk, then turn one of the long sides of the dough over the filling. Turn in the two short edges and press them firmly. Finally, turn the remaining long edge over the filling, and press that seam together too. Gently flip the stromboli over so that the seams are underneath and you are looking at a smooth rectangle. Transfer it to a lined baking tray, then brush the egg or milk all over the dough. Sprinkle with a few fennel seeds, and stab the dough a few times with a sharp knife or the tines of a fork. Repeat with the second half of the ingredients.
Place the two stromboli in the oven, and bake for 20 minutes. When you take them out, they should sound hollow when you rap on the bottom of the stromboli with your knuckles. Let them sit for a couple of minutes, then serve. Serves 4, with vegetables or salad on the side.
Comments (disabled)
12 April 2004