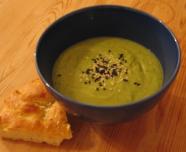 I meant to do lots of fantastic cooking over the weekend, but in the end we lazed around on Saturday and might not have made it to the grocery store on Sunday either, had we not run out of every single type of possible breakfast food. No milk, cereal, toast, eggs, baked beans or yoghurt anywhere in the house. Fortunately there was a bowl of blood oranges to see us through, but something still had to be done. So we did get to Waitrose, and picked up the ingredients for the zucchini and sesame soup I've adapted from one on Clotilde's webpage, and the wine to go in the focaccia (and to drink of course).
The soup is a delicate green, but has quite a hearty taste thanks to the tahini. The original recipe called for two heaped tablespoons of tahini, but I added just one and a half and might try even a little less next time. The chilli powder should be the tiniest pinch, not enough to make itself known as anything but a subliminal warmth.
olive oil
1 onion, peeled and chopped
2 cloves of garlic, peeled and chopped
1 kg zucchini (courgettes), chopped
1 large potato, peeled and chopped
2 cups vegetable stock
1 tablespoon of tahini (or more to taste)
sea salt and black pepper
a pinch of chilli poweder
1 tablespoon white and black sesame seeds, lightly toasted
Heat a little olive oil in a large saucepan, then add the onion and saute over a medium heat for 8 minutes, until it is translucent and soft. Add the garlic and cook for another 2 minutes, then add the zucchini, potato and stock. Bring to a boil, then lower the heat, cover and simmer for about 20 minutes, or until the vegetables are cooked.
Remove about a cup of the cooking liquid from the saucepan and reserve. Put the rest of the soup in a food processor and blend to a puree. Return it to the saucepan, and add back all, some or none of the reserved cooking liquid, according to how thick you like your soup. Stir through the tahini paste, season with salt, pepper and a little chilli powder, and return to a simmer. Taste, adjust seasoning if necessary, then serve in bowls with a few sesame seeds sprinkled on top.
Serves 4.
29 February 2004