Almond and blood orange syrup cake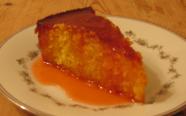 It's blood oranges again again tonight! That is the last of the bag now, they're finally all gone. They served us well though over the last week - a breakfast, a dinner salad, and now a lovely moist but light syrup cake. Noel and Cheryl came over for dinner, and we ate an aubergine and pesto lasagne, grilled baby zucchini and braised fennel, and then this cake for dessert. All very easy and I think quite delicious too!
6-8 blood oranges
100 g butter
1 cup plus 3/4 cup sugar
3 eggs, lightly beaten
2 teaspoons baking powder
3/4 cup fine semolina
3/4 cup ground almonds
1 cinnamon stick
Preheat the oven to 180C. Grease and line a 20 cm cake tin.
Finely grate the rind from 3 of the oranges, then juice all the oranges.
Cream the butter and 1 cup of the sugar in a large bowl, until light and fluffy. Stir in the orange rind. Add the eggs one at a time, beating well after each addition until the mixture is smooth.
Combine the baking powder, semolina and ground almonds. Gently fold this dry mixture into the wet batter. Add 1/4 cup of the orange juice and stir until combined. Spoon the mixture into the prepared cake tin and bake for 35 to 40 minutes, until a knife inserted comes out clean.
While the cake is baking, combine 1 1/2 cups of orange juice, the cinnamon stick and the remaining 3/4 cup of sugar in a small pan over medium-high heat. Bring the mixture to the boil, then reduce the heat and simmer for 20-25 minutes or until syrupy. Discard the cinnamon stick.
Once the cake is removed from the oven, gently spoon over about half the syrup. Let cool slightly, then remove from the tin and serve, drizzling a little more syrup over each slice.
Serves 8.
Comments (disabled)
2 March 2004