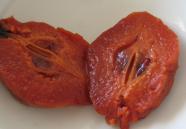 I've wanted to make pot-roasted quinces for years. Look at the photos you see alongside this recipe elsewhere! Those quinces look sticky and glossy and opulent and gorgeous. So after the success of the poached quince a couple of weeks ago, when I saw a tray of beautiful fresh quinces at the grocer I I immediately decided to pot roast them.
The recipe was developed by Maggie Beer, and appears in Stephanie Alexander's fantastic Cook's Companion. I figured that this would be the authoratitive source - they've written however many books together, they work together, blah blah blah. So I put aside my worry that I couldn't see how this recipe would produce anything substantially different to poached quinces, and went ahead. Well, as you can see from the little picture above, I got beautiful, tasty..... poached quinces! They're delicious, and beautiful, but not what I was expecting, or what was described in the heading to the recipe.
After finishing cooking these (and eating some very happily), I did a bit more reading and found in Nigella Lawson's Forever Summer another recipe for these quinces, which she says Maggie Beer described to her several years ago, which is quite different (and which I will try soon). The picture accompanying that recipe shows precisely the sort of quince I am after - darkest ruby red, glassy and glossy.
So, I'm not sure that I would recommend making the recipe below, at least not if you want what I wanted from it. If you're after a poaching method that allows you to use whole quinces, it'd be worthwhile - the results are certainly delicious.
Pot-roasted quinces
6 quinces (preferably with stem and leaf attached)
1.5 litres of water
4 cups of sugar
juice of 3 lemons
Pack the quinces, the water and the sugar in a large, heavy-bottomed, non-reactive saucepan. Boil vigorously for 30 minutes until the syrup thickens (large bubbles will form). Lower the heat and simmer for up to 5 hours, using a simmer mat if necessary. Turn the quinces at least 4 times during cooking, to ensure that they become a deep ruby colour through to the core. Add the lemon juice in the final minutes of cooking, to help cut the sweetness.
Serve whole quinces with a little of the syrup and some cream, or serve a piece of quince alongside a slice of quince and nut cake.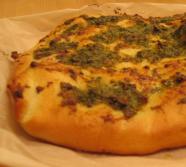 This excellent recipe for squidgy, foccacia-like bread is from Nigella Lawson's How to be a Domestic Goddess. As you can see from the (rather bad and uninformative) photo, I got a bit carried away with adding parsley to the garlicky paste spread over the top of the bread - I think a bit less would be better, perhaps with a little more fresh parsley chopped over the top just before serving. This amount would serve two people generouly if eaten alone; with soup or something else it would be enough for 3-4.
Garlic and parsley hearthbread
250 g strong white flour
half a 7g sachet of instant yeast
1 heaped teaspoon salt
150-200 ml warm water
40 ml olive oil (2.5 tablespoons)
2 heads of garlic
extra virgin olive oil for drizzling
1 small bunch flat-leaf parsley
sea salt, preferably Maldon, for sprinkling
Preheat the oven to 190C.
Combine the flour, yeast and salt in a bowl. Pour 150 ml warm water into a measuring jug and stir in the olive oil. Mix the liquid with the dry ingredients to make a soft but firm dough, adding more liquid as necessary. Turn the dough out onto a flat surface, and knead until it is smooth, supple and elastic. Form it into a ball, and place it in an oiled bowl, turning once to cover the ball with oil. Cover with cling film and leave to rise for an hour or so until doubled in size.
While the bread is rising, trim the tops off the heads of garlic, making sure they remain whole, then sit each on a square of alfoil, and wrap into baggy packets with tightly sealed edges. Cook the garlic packages for 45 minutes - they should be mushy but still holding their shape. Remove from the oven, tear open the packets, and let the garlic cool till you can handle them easily. Turn up the oven to 200C.
When the dough has risen, punch it down and leave it to rest for 10 minutes. Tear off a piece of greaseproof paper about a foot long, and put the ball of dough in the middle. Use a rolling pin to roll out the dough into a curved rectangle, then use your hands to press it out a little more. Move the bread on its paper to a baking sheet, cover with a teatowel, and leave to proove and get puffy for about 25 minutes.
While it's proving, finish making the topping. Squeeze the soft garlic cloves out of their skins and into the small bowl of a food processor. Add a handful of parsley leaves, and process to chop and combine. While still processing, trickle in enough olive oil to make a runny paste.
Poke your fingers all over the bread to dimple it, then pour the garlic and parsley mixture all over it. Put the bread in the oven and bake for 20 minutes, or until the bread is cooked - the dough should be golden, the garlic flecks a darker brown, and the rims puffing up a little around the oily topping.
Remove the bread from the oven, and drizzle over a good amount of olive oil (use your best one), sprinkle well with sea salt, and eat immediately.
A quick review of a busy week
I've been crazy busy at uni this week, so there's been just enough time to cook but not time to write about it. I made a bit of a dent in my "Up next" list, and everything I tried was pretty good. Here's a quick rundown (fortunately almost everything I made was inspired by or directly cribbed from other people's blogs, so I can just link to them!).
I finally got around to making the fig and chilli chutney posted by Angela at A Spoonful of Sugar, and it was dead easy and very tasty. I was planning on making a granary loaf to eat it with, but ran out of time so tried a Grant loaf instead. The recipe for this bread was publicised during the second world war by Doris Grant, because it is quick and simple to make, and apparently she hoped that it would appeal to newly working women. There's no kneading, and only one short rise in the tin, and the bread is great: dark and nutty and moister than normal bread. I used spelt flour rather than wholemeal, as suggested in Linda Collister's Bread:from ciabatta to rye, largely because I've heard at least two people say that this is the only bread book they've never had a failure from. Well, my bread was more than edible, but it was far from perfect. I forgot that spelt flour rises more quickly than wholemeal, and I think I was also subconsciously suspicious of the quick rising time, and so I let it rise too long, resulting in a big bubble under the crust. It also didn't seem to fit in the pan (even taking into account the rising-too-long issue) and there are other recipes for this loaf on the web which call for less liquid, and ocassionally less flour, so I think next time I might play around with one of those. It's worth trying again though, both for convenience (you get from ingredients to hot bread in little more than an hour) and taste. That spelt flour is some good stuff. I followed Angela's recommendation and ate the bread with the chutney, goats cheese and salad leaves - delicious.
A couple of nights later, I wanted to cook something new for dinner, but didn't want a gigantic pile of food, so we made oeuf cocotte, from Clotilde's recipe which is taking over the internet (or at least the food-blogging corner of it). I was inspired by two of Jackie's recipes on The Daily Bread - her take on the oeuf cocotte, using Boursin herby cheese instead of creme fraiche, and her red onion confit. I made a slacker's version of the confit, using just one onion and no wine (only hard spirits in the house, damn), and chopped and fried a couple of field mushrooms till they were nice and dark. Then I buttered two ramekins, laid a little bed of confit in the bottom of each one, scattered with the cheese and then the mushrooms, and cracked the eggs on top. Into the oven, bake in a hot water bath for 10-15 minutes, and yum, right? Well almost, except that I spent that "10-15 minutes" on the web commenting in Jackie's blog about how I was making it, and in the process slightly overcooked the eggs. Heh. Anyway, they were still yummy (although the eggs had become just slightly rubbery and alien at the edges). I've learnt my lesson about the secret to cooking oeuf cocotte: as Clotilde says about a different recipe, it's "keeping as close an eye on them as the mommy eagle watching the baby eagles in the nest". Next time I'll know. Tangentially, that Boursin-mushroom-onion confit combination would also be great with pasta, I bet.
I meant to make a roast vegetable risotto tonight, but we were slack losers and ended up ordering a pizza from La Cucina instead. The pizza was great, but really there was no reason not to make the risotto except our own exceptional laziness. We have risotto-making down to a fine collaborative art: I deal with all the vegetables, herbs, cheese, anything that goes in to flavour the risotto, while Ted does all the stirring and stock-adding (and believe me, there's a lot more art in his part than mine). He makes the best risotto I've ever tasted. So now I have field mushrooms, baby zucchini, a capsicum and an eggplant in the fridge, when they should be in my stomach. Never mind, this does mean we don't have to go shopping again tomorrow, or think about what to cook for dinner: it's all planned out and provided for.
I've come across a few recipes for African peanut (or groundnut) stews on the web recently. This takes the bits I liked from each and mixes them together. It is good winter food, warm and spicy and substantial. It's also kind of brown and gloopy-looking - hence no photo today.
African pumpkin and peanut stew
3/4 cup dried black-eyed peas, soaked overnight
olive oil
1 onion, peeled and chopped
3 cloves garlic, peeled and minced
1 red and 1 green hot chilli, seeded and finely chopped
5 cm piece of fresh ginger, peeled and finely chopped
1/2 tablespoon brown sugar, tightly packed
1 teaspoon ground cinnamon
1 1/2 teaspoons cumin powder
1 medium butternut squash (about 600 g uncut), peeled, seeded and cut into 1.5 cm dice
1 1/2 cups water
1/4 cup peanut butter (the health store kind is best here)
sea salt and freshly ground black pepper
1/2 cup unsalted roasted peanuts, chopped
1 bunch fresh coriander, chopped
Soak the black-eyed peas overnight, then drain, rinse and place in a large saucepan well covered with fresh water. Bring to the boil, boil hard for 5 minutes, then reduce the heat and let simmer for 45-60 minutes until tender. Drain.
While the beans are cooking, start the rest of the stew. Heat the oil in a large saucepan over medium heat. Add the onion and cook, stirring, for 7 minutes or until the onion is softening. Add the garlic, chilli, ginger, brown sugar, cinnamon and cumin and cook for another minute. Add the pumpkin and 1 cup of water, and stir well.
Measure out the peanut butter, and then gradually stir in the remaining 1/2 cup of water to form a thin paste. Add this to the stew, bring to the boil, then reduce the heat and simmer for about half an hour, until the pumpkin is tender. Taste for seasoning and add salt and pepper as needed. Add the drained, cooked black-eyed peas and the chopped peanuts, stir through, and let simmer for another 5-10 minutes.
Serve over rice, with some chopped coriander leaves sprinkled over.