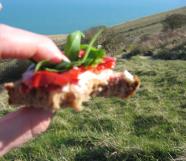 I love having people visit us for a few days. There's the enjoyment of interesting conversation over dinner in the evenings, good discussions about ways of cooking while making that dinner (depending on the person of course, although lots of our friends do seem to be very interested in food), and the inspiration to get out of the house and take visitors to see the best sights in the area. Our friend Danielle has been staying with us over the weekend, and it has been lots of fun. We came home from a long walk across the downs on Saturday evening to pick her up from the bus station, then came home all pleasantly tuckered out to make bean and vegetable chilli, guacamole, and tomato and lime salad to eat with tortillas and beer. On Sunday, we slept in, made worse by the changing of the clocks, then slouched around on the couch in the sun deciding what to do for the day. By the time we started to get peckish for lunch, we had determined to buy a basketful of picnic food and all the Sunday papers and drive out to the Seven Sisters for a late lunch and a little walk.
Three is really the minimum number for a seriously successful picnic, I think. With only one or two people, the food choices are restricted: you can't really justify buying the olives and the peppers and the artichoke hearts. Of course, simplicity can be good, but there is a lot of pleasure to be had in sheer abundance. We went well over the borderline of abundance: not only the olives, peppers and artichoke hearts, but also marinated aubergine, goat's cheese, Comte cheese, avocado, rocket, cow-embossed butter, rye bread, plums, dates on the vine, and almonds. And wine of course. We ended up driving past the Seven Sisters to Beachy Head, and found a spot on the side of a steep grassy hill overlooking the very blue bay on the Eastbourne side of the headland. A very satisfying couple of hours followed. Why do we ever eat Sunday lunch at home? (Well, because it has been raining almost every weekend for the last three months, but otherwise, the question remains.)
Then tonight, after we'd all had a very busy day, we had an easy and delicious dinner of the leftovers. Orrechiette tossed with the remains of the peppers and aubergines, with a little goat's cheese and sun dried tomato paste, and a rocket, cherry tomato and avocado salad. Ten minutes' preparation and so so good.
Comments (disabled)
In our lab, the tradition is that the acceptance of a paper for publication is grounds for a cake. Home-made or bought, it is an excuse to get the whole group together to acknowldedge all that hard slog you've put in. Of course, some papers take more hard slog than others - the one that we had accepted this week had been an ongoing drama for over three years, slowed down by our move to the UK and changes in understanding of analysis methods. I've read so many drafts, the very sight of that manuscript could make me want to cry. I am so relieved that I will never have to read it again!
So I made a cake to take in today. I wanted something spectacular to commemorate the end of this paper, but wasn't quite prepared to stay up all night making caramel lace or anything, so settled on a four-layer double chocolate cake, with chocolate frosting on the top, and cream and toasted almonds on the sides. It wasn't a particularly tricky recipe, and it came from the Women's Weekly Cakes and Slices book, which has the weight of a thousand Australian grandmothers behind it, so I started with no qualms.
I was a little bit worried when I checked the cakes 5 minutes before they were due to be done, and it was obvious they were completely cooked. I've always previously found that, if a Women's Weekly cake or biscuit takes more than two minutes more or less than the time given in the recipe, it's time to buy an oven thermometer, because the fault will lie with your oven, not the recipe. But I just shrugged and turned the cakes out to cool, then started to make the filling. The recipe said to melt dark chocolate in a bowl over simmering water, then remove from heat, and stir in sour cream and then icing sugar. I've always understood that water, or dairy products which contain water, can either be added to melting chocolate right at the start of the process, or after it has cooled down - but not directly to hot chocolate. But I chastised myself for doubting Women's Weekly, and tipped the sour cream right into the hot chocolate. Of course, the chocolate siezed in moments, getting thick and grainy and looking exactly like a lovely oily tapenade. Lovely in any other, non-cake-associated circumstance, that is.
Given the amount of water that had just gone in, there was no saving it. I beat in the icing sugar and then forced myself to taste it. The cognitive dissonance was severe: looks like tapenade, tastes like chocolate, ahhh, head explodes. I muttered bad swear words to myself but decided to use the stuff as filling anyway in the absence of another 300 g of chocolate in the cupboard. So slapped it together, left it overnight, iced it in the morning, and took it in with fingers crossed that the secret tapenade-like nature of the filling wouldn't be too obvious. And that part turned out to be fine - it had obviously been compressed between the layers enough to settle down and look like it should. But the cake itself was far too dry. Edible, but distinctly sandy. What the hell is going on with the world? Two problems with one Women's Weekly cake recipe? My certainties are crumbling.
In the end though, it's almost appropriate given what we were celebrating. I planned to make a cake, and what I had at the other end was, no doubt, a cake - but lots of things went wrong along the way, and it made me cross, and the product at the end was not exactly something I wanted to show to company even though that was its purpose - really, in many respects, very much like this paper.
Comments (disabled)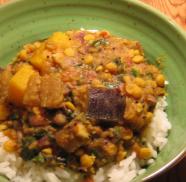 I know I meant to cook with dried beans tonight, but this recipe, which distracted me from my purpose, does contain three types of pulses - does that count? After reading through a month's worth of posts on eGullet, I was checking out recipeGullet, and typed in a query for Indian vegetable dishes. A few recipes came up, including a couple posted by Suvir Saran. This one, for a vegetable dhansak (or dhaansaak) looked like something I would love: lentil base, aubergines, squash and spinach, lots of spices. And indeed this was by far the best curry I have ever cooked myself - lovely, subtle and complex flavours, with a good combination of ingredients.
You could use a different combination of dals if you couldn't get all three, but I would try to use at least channa plus one other kind. The channa dal keeps its shape even after cooking, while the masoor and mung dal soften and almost dissolve, to lightly thicken the curry. I couldn't find any ripe fresh tomatoes, so drained a couple of tins of chopped tomatoes and used those instead. Knowing my penchant for lazily simplifying recipes each time I make them (sometimes an improvement, sometimes not) I tried the curry before adding the tempering, to see if it would be alright by itself. It was fine, but nothing compared to the final product. That last-minute addition of flavours balances and enhances the curry immeasurably. Don't skip it!
Squash and aubergine dhansak
3/4 cup channa dal (yellow split peas)
3/4 cup masoor dal (split red lentils)
1/4 cup mung dal (yellow mung beans)
4.5 cups water
1 tablespoon finely chopped fresh ginger
2 garlic cloves, peeled and minced
2 teaspoons garam masala
1 teaspoon turmeric
1/2 teaspoon cayenne pepper (or more to taste)
1/4 teaspoon ground cloves
2 bay leaves
2 hot green chillies, chopped, with seeds
2 teaspoons salt
350 g tomatoes, peeled, seeded and chopped
1 small butternut squash, peeled and chopped into 2.5 cm cubes
1 medium aubergine (eggplant), chopped into 2.5 cm cubes
1 medium red onion, peeled, coarsely chopped
15 large fresh spinach leaves, thick stems removed, leaves washed and torn into pieces
1.5 cups water
1/4 cup ghee or oil
1 teaspoon black mustard seeds
1 teaspoon ground cumin
1 small red onion, peeled and finely chopped
1 garlic clove, peeled and minced
juice of 1/2 a lemon
1/4 cup of chopped coriander
Put the three kinds of dal into a sieve and wash with running water until the water runs clear. Transfer the dal to a large saucepan, and add the 4.5 cups of water. Bring to the boil and skim all the white foam off. Add the ginger, garlic, garam masala, turmeric, cayenne pepper, cloves, bay leaves, chillies and salt and stir well. Reduce the heat and simmer, covered, for about 20 minutes, stirring now and then. The dal should be tender, but not falling apart.
Add the tomatoes, squash, aubergine, onion and spinach to the saucepan, along with 1.5 further cups of water. Return to the boil, reduce the heat, and simmer partly covered for about 15 minutes, stirring occasionally, until the vegetables are tender. Remove from the heat.
For the tempering, heat the ghee or oil in a medium skillet or pan over medium-high heat. Add the mustard seeds, cover, and cook until they pop, about 1 minute. Add the chopped onion and the cumin and cook, stirring, for about 5 minutes, until the onion is well browned around the edges. Add the garlic and cook a few seconds, then stir in the coriander and lemon juice and stir, then remove from the heat.
Add the tempering to the curry and stir well, then taste for seasoning. Serve hot with rice.
Serves 6-8.
Comments (disabled)
I'm thinking about using HaloScan to let people write comments on the blog. I am vaguely worried - what if I get overwhelmed with spammy "comments" linking to online casinos? What if people comment about how crap my cooking is? What if I get busy and don't respond to comments for a few days and people think I'm a snooty bitch? Endless traumas, as you can see. I think I will add the code in and see how it goes for a few weeks and then decide what to do. So comment away!
Comments (disabled)
Still no actual cooking going on - I've been sick on and off for two weeks now, and was in Paris on the weekend. However, my consumption of six pastries and half a kilo of cheese in two days seems to have effected a cure and I'm now keen to get back to it. I've been reading about cooking dried beans in the eGullet forums and want to try some experiments with the scandalous no-soaking and early-salting methods.
Comments (disabled)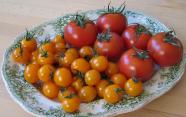 Look! More-or-less ripe tomatoes appearing in the shops! It must be spring. The little yellow ones, Golden Cherubs - that's their real name, not my fault - were even grown in the Isle of Wight. How can that be, when we had snow again here, less than a hundred miles along the coast, a couple of nights ago? Grown in industrial greenhouses, I suppose, but I prefer to see it as proof of seasonal change, anyway. The bigger red ones with slight green striping are Camone, from Sardinia, and according to Waitrose they should be sharp but sweet. I doubt it, at this time of year, but I'm willing to give them a try. I see a tomato salad in my near future.
Comments (disabled)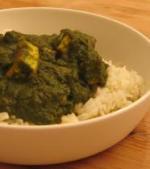 I sometimes envy people who grew up in a country with a real, living, traditional cuisine. People like Carlo or Alberto who can say, with great certainty, "this is how this Italian dish should be made". Or like Manolis, who seems to have Cretan cuisine built in to him, including a fantastic knowledge of wild greens. Of course, I do remember going to an Italian cooking class at Black Pearl Epicure in Brisbane a few years ago, which had two instructors. Someone asked, "To cook pasta, do you salt the water before or after it comes to the boil?". One instructor said, "Before, of course!", at exactly the same moment that the other said, "After, of course!". Since experts seem to disagree on even these fundamental matters, I don't feel quite as worried as I used to, when making a traditional dish from a foreign cuisine, that I'm buggering it up with my ignorance.
So I feel fairly comfortable cooking Mediterranean food, with or without a recipe. But when it comes to Indian and south-east Asian food, I am at more of a loss. I know the kind of food I like from these areas (the kind served in cheap restaurants with sticky plastic tablecloths, badly translated menus offering lots of obscure fungi and braised fish heads, and non-English speaking waiters, mostly, unless it's Nahm). But faced with a recipe, I can't really tell whether it'll taste any good or not, let alone whether it's actually any more Asian than McDonalds. Reading most Indian recipes on the web, for example, you'd think that 80% of vegetarian curries were flavoured only with chilli and possibly a bit of turmeric or cumin. Surely that's not really the case? I need to get some books on traditional Indian and Asian cooking. Until then, I'll keep experimenting with recipes which catch my eye, and trying to train my sense of what works.
I'd noticed last time I was in Taj Mahal Foods that they had packaged paneer in their cheese section. In Brisbane one of my favourite dishes at an Indian restaurant we went to often was palak paneer, spinach with curd cheese, so I thought this would be a good recipe to start experimenting with. I followed the same procedure as when I made the castagnaccio - download 6 or 8 recipes from the web, work out what are the common elements and what other elements I like, and make it up from there. Incidentally, I also finally tracked down an explanation of the difference between saag paneer and palak paneer (used interchangably on most restaurant menus, I think): this website says that palak is spinach, while saag is mustard greens, which are much less likely to be used in restaurants since they are more expensive and take longer to prepare. Methi (fenugreek) leaves appeared in several recipes, and I (amazingly) found the last bunch left at Taj when I went in to buy the paneer tonight, but if you can't find them you could make up the weight with spinach. The photo above was taken before I thought to stir the yoghurt through (which I think improves the taste, and also lightens the colour). This recipe certainly tasted pretty good to me - but as I say, I have no idea whether it is anything like authentic!
Palak paneer
500 g spinach, large stems removed, roughly chopped
100 g bunch of methi (fenugreek), leaves picked
2 or 3 large ripe tomatoes, peeled, seeded and roughly chopped
150 g paneer, cut into 1.5 cm cubes
ghee (or a mixture of vegetable oil and butter)
1 large onion, peeled and chopped
5 cm piece of ginger, peeled and grated
2 cloves of garlic, peeled and finely chopped
2 green chillies, chopped (deseed them or not according to taste)
2 heaped teaspoons cumin powder
2 heaped teaspoons coriander powder
1 heaped teaspoon turmeric powder
sea salt
1 - 2 tablespoons of yoghurt
In a large saucepan, place the spinach and methi leaves with just the water clinging to them. Cook them over a medium heat, stirring now and then, until they are well wilted. Cool slightly, then transfer to a food processor, along with the tomatoes. Process for 30 seconds or so, until finely chopped.
Heat some ghee in a frypan, then add the cubed paneer and cook over medium-high heat for several minutes, turning the paneer so it browns lightly on all sides. Remove from the heat and set the cubes on some kitchen towel to soak up any excess oil.
In the large saucepan, heat a little ghee, then add the onions and fry for 5 minutes or so, until softened. Add the ginger, garlic and chillies and cook another 2 minutes, then add the cumin, coriander and turmeric and cook 1 minute more. Tip in the pureed spinach mixture, and bring back to a simmer. Taste and add salt or more spices as necessary. Add the fried paneer, and simmer for 5-10 minutes. Stir through the yoghurt to taste and remove from the heat. Serve with rice.
Serves 4.
Comments (disabled)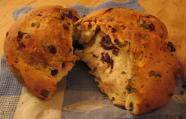 When I saw the first issues of Olive and Delicious magazines in December, I was so thrilled I subscribed to both of them. Two glossy, non-stodgy cooking magazines, relevant to the seasons and produce in the UK! So exciting. Since then I have calmed down a bit - Delicious especially has been a bit of a disappointment, with the monthly article by Jamie bloody Oliver and his cheeky pukka bollocks, and an increasing emphasis on meaty recipes and traditional puddings, although there is a good article on purple sprouting broccoli in the latest issue. Olive, by contrast, has had an editorial about how unpleasantly posh restaurants behave when asked for a vegetarian option, and is a bit more relaxed and amusing about food, though I think having an entire article about jellies (with the title "Wibble wobble") is a tad silly. Enough nursery puddings, please! I don't care if it's ironic.
Anyway, having these magazines drop through the letterbox every month does keep me cooking new things, since I promised myself when signing up for them that I would make at least one thing from each magazine each month, before the new issue arrived. I have been keeping up with this quite well, until last month when, despite noticing about half a dozen recipes I wanted to try from the March Olive, I hadn't made one of them when April arrived. I rectified this by cooking two things from it tonight: a sweet potato and carrot soup, and some bread. The soup was nothing to write an entry about, or to make again (fry an onion and some garlic, add 250 g chopped carrots and 750 g chopped sweet potato, simmer in stock till tender, blend, season, serve with a drizzle of chilli oil. Very boring. Shows the power of a sexy photo to sucker you in to a recipe.) The bread, however, was fantastic.
The recipe was by Paul Hollywood, who lived in Cyprus for five years as a hotel baker. The recipe was fairly terse, since after all it's the interview and photos which matter, right? Still, I think I made a pretty good loaf, using a combination of the recipe, information from the photo (which contradicted the shaping instructions given in the recipe) and a bit of making it up as I went along. I ended up with a somewhat strangely shaped loaf, but it tasted great. There was another variant of the recipe given, with the parsley omitted and replaced with the zest of 2 lemons and 150 g of crumbled feta - that would be good to try too. Both original recipes called for dried oregano, but I love fresh so used that instead.
Cypriot bread with olives, haloumi and herbs
500 g strong white flour
10 g easy-bake dried yeast
1 teaspoon salt
3 tablespoons olive oil
300 ml water, room temperature
120 g pitted black olives
70 g haloumi cheese, crumbled into pieces
1 small bunch flat-leaf parsley, leaves picked and chopped
several sprigs fresh oregano, leaves picked and chopped
In a large bowl, mix together the flour, yeast and salt. Make a well in the centre and pour in the olive oil and water. Mix together, then tip out onto a lightly floured surface and knead for about 5 to 7 minutes, until the dough is smooth and elastic. Replace the dough in the bowl and leave to rise for 1 hour, until it has about doubled in size.
Tip the dough out again and knead in the olives, cheese and herbs. Shape the dough into a rough oblong, and place on a baking sheet lined with baking parchment. Leave to rise again for another hour.
Heat the oven to 220C. Slash a cut along the top of the loaf with a sharp knife. Bake for 30 minutes, then remove from the oven and rap on the bottom of the loaf - it should sound hollow. Let bread cool on a wire rack before eating.
Comments (disabled)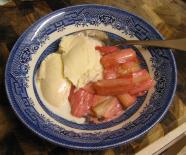 Oven-poached rhubarb
Angela of A spoonful of sugar made an absolutely stunning rhubarb tart last month. I was inspired by the beautiful colour of the rhubarb in her photo to try oven-poaching some myself. It was very easy - just chop 450 g of rhubarb into 1 inch pieces and toss it with about 100 g castor sugar in an oven-proof dish, then bake at 180 for 10-15 minutes. Stir once, very gently, after about 5 minutes, once it has produced a little juice, to dissolve any remaining sugar. Taste it to check whether it's done, and for sweetness. I took it out of the oven, let it cool for about 10 minutes, then ate some with ice-cream, drizzling a little of the cooking juice over. But first I admired its beauty - cooked this way, the rhubarb retains its delicate colour and doesn't dissolve to dull stringy mush.
Comments (disabled)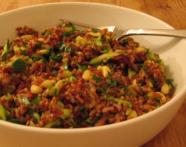 Easy Friday night dinner. Come home and put on some red rice to cook for a light and healthy salad. While it's cooking, get your daily fat and protein by snacking on a little gorgonzola with crusty bread, and drink a glass of wine. Once the rice is cooked, spend three minutes speeding around the kitchen to chop the sun-dried tomatoes, zest and juice a lemon, and grate a couple of zucchinis, then toss it all in a pan for five minutes. Eat and enjoy! Afterwards, look at the rhubarb you brought home with intentions of oven-poaching it and decide that it will keep till tomorrow. Retire to bed with a Peter Wimsey novel, then fall asleep before midnight.
And I'm not even 30 yet.
Camargue red rice and zucchini salad
150 g Camargue red rice
olive oil
8 sun-dried tomatoes in oil, drained and chopped
40 g pine nuts
juice and grated zest of 1 unwaxed lemon
1 heaped teaspoon baby capers
2 medium zucchinis (courgettes), coarsely grated
big handful of flat-leaf parsley, chopped
Bring a large pot of water or dilute stock to the boil and add the rice. Stir, then leave to simmer for 30-40 minutes until cooked. Drain.
In a large pan, heat a little olive oil, then add the sun-dried tomatoes, pine nuts, lemon zest and capers, and fry for 2 minutes, until heated through and the pine nuts are just starting to go golden. Add the zucchinis and cook another 2 minutes, then add the rice and cook 1 to 2 minutes, until heated through.
Stir the lemon juice and most of the parsley through the salad. Serve at once, sprinkled with a little more parsley.
Makes 2 generous main servings, or 4 side servings.
Comments (disabled)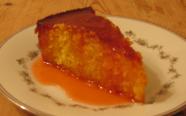 It's blood oranges again again tonight! That is the last of the bag now, they're finally all gone. They served us well though over the last week - a breakfast, a dinner salad, and now a lovely moist but light syrup cake. Noel and Cheryl came over for dinner, and we ate an aubergine and pesto lasagne (details below), grilled baby zucchini and braised fennel, and then this cake for dessert. All very easy and I think quite delicious too!
Almond and blood orange syrup cake
6-8 blood oranges
100 g butter
1 cup plus 3/4 cup sugar
3 eggs, lightly beaten
2 teaspoons baking powder
3/4 cup fine semolina
3/4 cup ground almonds
1 cinnamon stick
Preheat the oven to 180C. Grease and line a 20 cm cake tin.
Finely grate the rind from 3 of the oranges, then juice all the oranges.
Cream the butter and 1 cup of the sugar in a large bowl, until light and fluffy. Stir in the orange rind. Add the eggs one at a time, beating well after each addition until the mixture is smooth.
Combine the baking powder, semolina and ground almonds. Gently fold this dry mixture into the wet batter. Add 1/4 cup of the orange juice and stir until combined. Spoon the mixture into the prepared cake tin and bake for 35 to 40 minutes, until a knife inserted comes out clean.
While the cake is baking, combine 1 1/2 cups of orange juice, the cinnamon stick and the remaining 3/4 cup of sugar in a small pan over medium-high heat. Bring the mixture to the boil, then reduce the heat and simmer for 20-25 minutes or until syrupy. Discard the cinnamon stick.
Once the cake is removed from the oven, gently spoon over about half the syrup. Let cool slightly, then remove from the tin and serve, drizzling a little more syrup over each slice.
Serves 8.
Comments (disabled)
We made an aubergine lasagne last new year's eve, which I vaguely remembered to have been fairly good. Lots of champagne (and the intervening couple of months of course) meant I couldn't remember precisely, so I thought it'd be good to have some proper scientific testing and try it again. While I was shopping for the ingredients I spotted a really luxuriant pot of fresh basil, and had a brainwave: aubergine lasagne with pesto! I can call it a brainwave now that it is currently sitting in my belly and my brain is unfogged by champagne, and I can tell you without vagueness that it tastes excellent!
The only bothersome part of this recipe is the initial cooking of the aubergine. It tastes best when it is very finely sliced, which means that you spend an hour frying a hundred fine rounds of aubergine, but it is worth it in the end, really. You could probably make this lasagne with bottled pesto, but if at all possible make your own - it's really 5 minutes' work and the results are much better.
Aubergine lasagne redux - now with added pesto!
olive oil
1 large onion, peeled and chopped
3 cloves of garlic, peeled and chopped
2 x 400g tins of chopped tomatoes
500 ml tomato passata (or use chopped tomatoes here too)
150 ml red wine
3-4 large aubergines
400 g fresh lasagne sheets (check they don't need pre-cooking)
300 g mozzarella cheese, grated
1 quantity of home made pesto
sea salt and freshly ground black pepper
In a large saucepan, heat a little olive oil, then add the chopped onion and stir over medium heat until softening. Add the garlic and saute another couple of minutes, then tip in the crushed tomatoes, passata and red wine. Simmer gently for 30 minutes. Add salt and pepper to taste, and set aside.
While the sauce is simmering, slice each of the aubergines lengthwise into slices about 2 or 3 mm thick. Layer these slices on the draining board or in a colander, salting between layers, then weight them down and leave them to drain for 20 minutes. Rinse the slices well under cold water and pat dry. Heat a little olive oil in a frypan and cook the slices, a few at a time, for a couple of minutes on each side until they are soft. Set aside on kitchen paper.
To construct the lasagne, spread a couple of spoonfuls of the tomato sauce across the bottom of a lasagne dish, then cover this with a layer of pasta sheets. Cover these with more tomato sauce and a layer of aubergine slices. For the next layer, spread pesto on the lasagne sheets, then add a layer of aubergine. Keep repeating this until all the ingredients are used. Finish with a layer of pasta, well covered with tomato sauce, and sprinkled with grated mozzarella.
Bake at 180C for about half an hour, until the top is golden and bubbling. Remove from the oven and let sit for a couple of minutes before serving (although, like almost all lasagnes, this is even better the next day).
Serves 6-8.
Comments (disabled)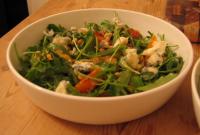 We came home tired and hungry, and knowing that we needed to spend time tonight preparing for tomorrow night, when friends are coming over for a meal. My gastronomic eye was very jaded, and my cooking muscles all limp and floppy. Fortunately for our chances of a decent dinner, I had decided earlier, when my enthusiasm levels were higher, that we would make something with the blood oranges sitting in a bowl on the hall table.
I did a web search at lunchtime today and discovered that about 80% of all blood orange recipes are either for orange and fennel salad, orange, rocket and gorgonzola salad, or orange cake. Since I am making braised fennel tomorrow, and am not yet at such a level of degeneracy that I plan to eat cake for dinner, the middle option it was for tonight.
I was quite surprised at myself for wanting to make this, since normally I shy away from fruit in savoury salad recipes - too much ambrosia as a child, perhaps. But I am glad I changed my mind this once, because this salad is great. I think it is because the orange is not sweet but rather the tart element of the salad, mellowed by the creamy gorgonzola and warm toasty pine nuts. Yum yum. And all ready in under 10 minutes!
Rocket, gorgonzola and blood orange salad
Salad
70 g rocket (arugula)
2 or 3 blood oranges, peeled and cut into segments
40 g or so gorgonzola, crumbled
1/4 cup pine nuts, lightly toasted
Dressing
40 ml blood orange juice
1/2 tablespoon white wine vinegar
60 ml olive oil
1 teaspoon dijon mustard
a pinch of salt
Place the rocket in a bowl, add half the dressing, and toss well. Divide the rocket between two plates.
On top of the rocket scatter the chopped oranges, crumbled gorgonzola and toasted pine nuts. Drizzle a little more dressing over, then serve at once, with a loaf of fresh and crusty white bread.
Serves 2.
Comments (disabled)