I think in the second half of April I ate more take-aways, and more bowls of pasta with olive oil and garlic (or olive oil and lemon juice, or olive oil and capers - whatever was in the fridge) than I had for the previous six months together. Far too busy to cook, I thought, although I'm sure I would have been less stressed if I'd been eating decently.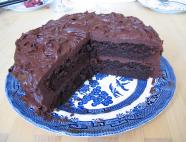 There were a few good eating occasions along the way, though. The lovely and talented Brad came down the day before my birthday (and a few days after his - happy birthday Brad!), and we had pasta with pesto and red, orange and yellow peppers stir-fried in garlic-infused olive oil, and then chocolate cake. The cake was the same recipe as the one I made for Noel's birthday last year, but with a raspberry jam and chocolate icing from an Epicurious recipe I can no longer find online. I still haven't found the ideal icing for that cake, but this one was a step closer.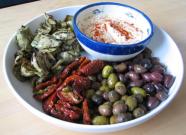 Then on the Sunday, we had beautiful sunny weather for my birthday picnic. Thank you, everyone who came! I had a fantastic time, perhaps because I ran out of time to make things and so just bought lots of lovely stuff on the morning. One plate of cheeses with different breads and crackers; a big flat bowl of olives, sun dried tomatoes, grilled artichoke hearts and a bowl of hummus and yoghurt sprinkled with paprika; dishes of pistachios, almonds, dates and figs; a big bowl of purple fruits - plums, grapes and lychees; various other things I've forgotten. I did have time to make a cake: a lemon curd layer cake (three layers for three decades!).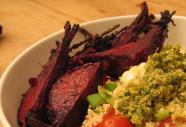 And I'm continuing to be inspired by Olive magazine - so much better than Delicious, though that does have the odd thing that catches my eye. A lot of the time I don't cook recipes directly from Olive, just nick ideas to mix up myself, but this one was made almost as it was written: beetroot roasted with orange and ginger. I couldn't get baby beets, which just need roasting whole for 20-30 minutes, so in the interests of eating at a reasonable time of night I quartered some older beets. Mix up a tablespoon of grated fresh ginger, the juice of 1 orange, 2 teaspoons of lightly crushed cumin seeds, a large pinch of chili flakes, 200 g of Greek yoghurt and a dash of olive oil. Toss this mixture over the beets in a roasting pan, then roast for 30-40 minutes, or until they are tender. Very nice, although I think it could be made without the yoghurt without much difference in taste. We ate this with couscous and a home-made green olive tapenade (green olives, capers, parsley, coriander, lemon zest, olive oil), which didn't go at all with the beetroots -but I was cooking at home so rarely that fortnight, I decided that if I craved both beetroot and green olive tapenade, then god damn it I was going to have them both while I had time to get into the kitchen.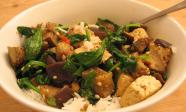 And finally, a rare stir-fry not made with soy sauce (good for me, not salty enough for Ted). Heat some peanut oil in a large wok. Add cubes of aubergine and cook for 5-10 minutes until becoming tender. Add some cubed tofu, a chopped red chili, a couple of cloves of garlic, and a teaspoon each of ground coriander and crushed cumin seeds. Cook for another 2 minutes, then add a few handfuls of baby spinach, and the juice of a lemon. Keep stirring until the spinach is wilting, then serve over steamed rice.
Comments (disabled)
18 April 2004 - is my blog burning?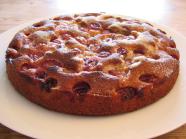 It's time for Is my blog burning? again! After the soup and the tartine rounds, we are now up to the sweet course, and the theme is Cake Walk. I considered making something from my most recent cake cookbook purchase, Julie Duff's Cakes regional and traditional, which has fascinating recipes for things like huffkins (a tea cake from Kent), goosnargh cakes (flavoured with caraway and coriander, traditionally eaten with ale at Whitsun) and fat rascals (smaller versions of Yorkshire turf cakes). But in the end I decided that I wanted something lighter, and more spring-inspired. I briefly wondered whether it would be possible to make a cake version of cucumber sandwiches, but in the end was tempted by a cake less English: gateau de Beaumes-de-Venise aux raisins.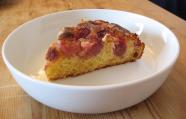 It was the photo of the cake on Epicurious that reeled me in - there is something about that pattern of dimpling and swelling of cake crust around fruit which promises deliciousness to me. Having cooked the cake, I do wonder how they managed to keep their cake so pale on top, after baking it at 200 C for 40 minutes - mine went much browner (a bit too brown, really). But the cake is lovely, everything I was hoping for - moist crumb, delicate muscat flavour throughout, slightly more concentrated in the soft grapes, and a faint echo of the lemon and orange zests. So far I have only eaten a slice warm, but I expect it will keep very well (if we give it a chance).
Beaumes-de-Venise cake with grapes
1 1/2 cups plain flour
1 teaspoon baking powder
1 teaspoon salt
1/4 teaspoon baking soda
3/4 cup castor sugar
90 g butter, at room temperature
3 tablespoons extra-virgin olive oil
2 large eggs
1 teaspoon grated lemon peel
1 teaspoon grated orange peel
1 teaspoon vanilla essence
1 cup Beaumes-de-Venise or other muscat wine
2 cups seedless red grapes
30 g butter, extra
1 tablespoon castor sugar, extra
Preheat the oven to 200 C. Grease a 9 or 10 inch diameter springform pan with olive oil, then line the base with baking paper and brush the paper with oil too.
Sift the flour, baking powder, salt and baking soda into a bowl. In another, large bowl, whisk together the sugar, butter and oil until smooth. Whisk in the eggs, lemon and orange peel and the vanilla. Now add the flour mixture alternately with the wine in three additions each, whisking until just smooth after each addition.
Pour the batter into the prepared pan and smooth the top with a spatula or the back of a spoon. Sprinkle the grapes evenly over the batter. Bake the cake for 20 minutes, until the top is set, then dot the top of the cake with the 30 g of butter and sprinkle with a tablespoon of sugar. Bake for a further 20 minutes, or until the top is golden and a knife inserted into the centre comes out clean.
Cool the cake in the pan on a rack for about 20 minutes, then run a knife around the edge and release the sides of the pan. Serve slighly warm or at room temperature. Serves 8-10.
Comments (disabled)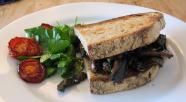 When I woke up this morning the wind was blustering and the rain was pelting, and this continued until well into the afternoon. So when I was thinking about what to make for lunch (while rugged up in a jumper and thick socks), I bypassed the books of Mediterranean food and took down from the shelf Gordon Hammersley's Bistro cooking at home. I would never have thought to buy this book myself - French or French-inspired cookbooks are fairly often a waste of money for a vegetarian, apart from the pages at the back covering vegetable side dishes. I was led to buy this one after reading an entry about it on An invitation to the barbeque at the end of last year. Rachael mentioned a couple of recipes which took my fancy at that time of deep dark winter - oven-baked penne with onions, walnuts and goats cheese, creamy garlic soup, pear and cranberry crumble - so I ordered it from Amazon late one night, was surprised when it turned up on my doorstep a week or so later, flicked through it, and then was distracted by something else and hadn't looked at it since.
When I paged through it this morning, there were lots of things to catch my eye, including some which I will have to wait to cook, like autumn vegetable stew with cheddar-garlic crust, and others which are now on my short-term list, such as baked polenta squares with pepperonata and white truffle oil, and peach galette. Looking through the bookmarks I left between the pages, I can see that almost all of them are for Italian- rather than French-inspired dishes, but never mind. I'm not making any claims to be cooking authentic Bistro-style!
My choice for lunch was decided by a gorgeous photo (and who says women aren't aroused by visual stimuli?) of mixed wild mushrooms, brown and glistening, poking out from between two slices of toasted pain de campagne. Yuuuum. It looked good enough to make us venture out into the rain in search of mushrooms, additional heads of garlic, and good bread. I bought some Poilane sourdough (my first loaf of this famous bread) at the Real Eating Company, but couldn't find exciting mushrooms either there or Waitrose, so settled for a combination of flat field mushrooms and little crimini. I raced home to check that the tomatoes I had slow roasting in a low oven hadn't burnt down the apartment (slight fire paranoia), chopped the heads off the garlic and wrapped them up and put them in to roast as well, then sat down and waited for the last minute frying of the mushrooms and the reward of a fantastic weekend lunch. And was it fantastic - toasted sour and tasty bread, spread with garlic soft and sweetened but still with a little bite, sandwiching a pile of deep-flavoured mushrooms, made to be picked up and eaten in our hands. On the side, a little salad of watercress with those roasted tomatoes, and a red wine vinegar vinaigrette. Very, very satisfying!
Wild mushroom and roast garlic sandwich
2 whole heads of garlic
sea salt and freshly ground black pepper
olive oil
1 tablespoon unsalted butter
250 - 300 g mixed wild and domestic mushrooms, cut into thick slices
2 garlic cloves, finely minced
1 small shallot, finely minced
1 teaspoon chopped fresh thyme
1/4 cup dry white wine
2 tablespoons chopped fresh parsley
4 sliced pain de campagne or other robust bread
Preheat the oven to 160 C. Remove any loose, papery skins from the two heads of garlic, and cut off the top 5 mm of each head to reveal the cross-sections of the cloves. Line a little baking dish with aluminium foil, and place the garlic on top, cut side up. Drizzle each head with a little olive oil and a pinch each of salt and pepper. Sprinkle a couple of tablespoons of water around the garlic, the cover the pan well with more foil. Bake until very tender, about 1 to 1 1/2 hours. Remove the garlic from the pan, and squeeze the cloves with your fingers to extract the garlic.
In a large pan, heat a couple of tablespoons of olive oil and the butter over medium-high heat until the butter is very hot. Add the meatiest mushrooms, like criminis and portobellos, and cook them, stirring occasionally, until they brown lightly and begin to release their juices, about 5 mintues. Add the remaining mushrooms and season with salt and pepper to taste. Continue to cook over medium heat, stirring once or twice, for another 5 minutes.
Add the chopped garlic, shallot and thyme and cook until fragrent, about 2 minutes. Add the white wine and continue cooking until the musrroms are tender and most of the liquid has evaporated, 5 to 10 minutes. Season to taste, stir through the parsley, and remove from the heat.
Toast the bread until golden brown. Spread each piece generously with the roast garlic, squishing the soft cloves with the knife. Construct two sandwiches with the bread and the mushrooms, and eat at once.
Serves 2.
Comments (disabled)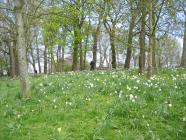 I'm turning thirty later this month, and have been dithering about how I'd like to celebrate it. I'm not about to have a crisis about leaving my twenties, as far as I can tell, but it is something I'd like to mark. If we were still living in Australia I'd invite over all my friends, make piles of meze, and drink and eat and talk all evening and well into the night. Unfortunately, the days of living in big-roomed houses with front decks, back decks and backyards are over (temporarily), and it'd be a tight squeeze getting everyone into our flat here. I considered pubs - but there's no food; restaurants - but you're trapped at tables and can't talk to everyone; function rooms - I don't have a hundred people coming. Today at uni we were outside playing frisbee in the afternoon, and it was so beautifully sunny, I spontaneously decided to have an afternoon picnic in the park near our flat for my birthday and sent out the invitation before I could get sensible about it. It's a bit worrying, putting faith in the weather, in April, in the UK, but all fingers are crossed.
Now I just need to decide what to cook. I said I'd provide meze, and have some ideas for easy things that can be made really quickly. The usual flatbreads with hummus, salsa verde, muhommorrah, tapenade and so on. Olives, perhaps some spinach tians, maybe some vine leaves - either my own or from Kambi. I'd like to make lots of lovely stuff, but I am going to be fairly busy with the rest of my life too. Does anyone have suggestions for other recipes? I'd be interested in hearing about things which are quick and/or can be made in advance, but also about your favourite meze even if they're time consuming. I know I'll get tempted in to making at least a couple of fiddly things.
Comments (disabled)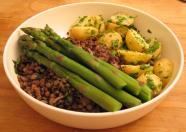 This is my version of meat and two vegetables - Puy lentils, marbled green-brown, delicate and nutty, alongside two spring vegetables, lifted with some fresh herbs and lemon juice. The lentils were simmered along with a sliced red onion for about 20 minutes, until they were tender but not mushy. Then I drained them, and tossed them with a splash each of mellow red wine vinegar and olive oil, and stirred in some roughly chopped fresh mint.
The potato salad on the side was the best I've ever had, and was inspired by a memory of a description Jackie wrote sometime, somewhere on the web. I used the tiny baby potatoes I bought yesterday, scrubbed them but didn't peel, and boiled them for about 10 or 15 minutes. Once drained and dry, they were cut in half, and mixed with olive oil, lemon juice, chopped flat-leaf parsley and chives, some capers, and a sprinkle of sea salt. Simply delicious. And then, because no meat+2 can be complete unless you have dirtied three pans, I boiled a big bunch of fresh asparagus until it was just tender, then whisked it out to adorn the lentils.
Dinner was good. Even more so after we remembered the feta we'd intended to add, and crumbled a little bit of that over to mix saltily with the lentils. God I love spring.
Comments (disabled)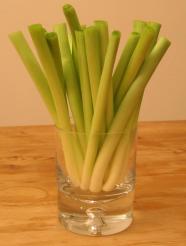 Tonight I was planning to make a salad of Puy lentils with fresh broad beans and goats cheese and mint. I was happily making my way through the grocery store buying all the necessary things, when I arrived at the vegetable section and realised that there were no fresh broad beans! It would be possible to make this salad with frozen broad beans, of course, but that wouldn't be the celebration of spring that I wanted, would it? Plans shattered, Ted and I mooched around the shelves of vegetables for several minutes waiting for inspiration to strike, when I spotted these baby leeks. I knew at once that they were coming home with me tonight.
Each leek was as slender as my little finger, and a sweet pale green. I was wondering aloud what to make with them, when Ted noticed that they were next to some baby zucchini and baby carrots, each about 10 cm long, and said, "infanticide salad!". There was no way I could resist making it, now that we had a name for it. So I gathered up these vegetables, along with a couple of wee fennel bulbs and a handful of tiny Jersey potatoes each no bigger than a fat olive, and some herbs and a lemon to make a dressing which wouldn't overpower the sweetness of the vegetables. I didn't end up using the potatoes in the salad - perhaps I will boil them tomorrow, then halve them and toss them with capers and chopped herbs and a little lemon juice and olive oil. The big surprise for me in this meal was the flavour of the carrots, and how well they worked with the herbs and lemon. I would happily make that as a side dish for a meal - a big turnaround for a root-vegetable-avoider like me.
Infanticide salad
10 baby carrots
2 baby fennel
6 baby zucchini (courgettes)
8 baby leeks
8 cherry tomatoes
olive oil
sea salt and freshly ground black pepper
50 g lamb's lettuce
juice of 1 lemon
1 or 2 tablespoons finely chopped flat-leaf parsley
1 or 2 tablespoons finely chopped fresh mint
pecorino shavings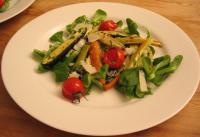 Preheat the oven to 180 C.
Scrub the carrots and cut in half lengthwise. Cut off the tops of the fennel and remove the outer leaf if it is tough. Slice the fennel in half through its long axis, then slice lengthwise into fine segments (4 mm thick) held together at the base. Slice the zucchinis in half lengthwise. Cut the bottoms off the leeks, and then chop in half across the middle.
Roast the vegetables in one large or two smaller roasting dishes - try not to pile the vegetables up too much, or they will get soggy. The carrots will take the longest to cook, so put them in first, tossed with olive oil and a little salt and pepper. Add the other vegetables in stages, according to their size and how long you think they will take to cook. I would add the fennel after 10 minutes, the zucchini and leeks after a further 10 minutes, then the tomatoes after a further 15. Keep an eye on them and remove the vegetables once the tomatoes have softened and the skin just started to split - that should take about 5 or 10 minutes. Toss the vegetables each time you add more, and drizzle over a little more oil if necessary.
Once the vegetables are all tender and light golden, remove from the oven. Sprinkle over the lemon juice and the chopped herbs, and toss well. Season to taste. Divide the lamb's lettuce between two large plates, and top with the vegetables. Shave some pecorino over the top of the salad, and eat at once.
Comments (disabled)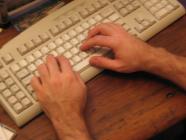 I couldn't really be bothered writing a blog comments program myself (hence erstwhile use of Haloscan), but Ted decided that he would do it for me as an early birthday present. So he did. See the new comments style! I fiddled with the design (after merciless plagiarism from other blogs), but he did all the hard work. Thanks Ted, you big hero!
In further news, I am thinking about what I will cook for the next Is my blog burning? event - the Cake walk, hosted by Renee from Shiokadelicious. I am being inspired and repulsed in equal measure by these Janet Jackson breast cupcakes, and this bleeding chest cavity cake.
Comments (disabled)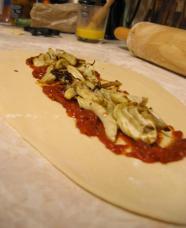 I just checked the Epicurious Food Dictionary, and it tells me that stromboli is a speciality of Philadelphia - so no wonder I couldn't find a recipe for it in any of my Italian bread cookbooks then. Why was I looking for this thing I knew almost nothing about? Because, one night last week when we went shopping in Waitrose when we were really hungry (bad move! goodbye additional 20 quid!), we picked up a bready thing from the refrigerated section and took it home to try out and assuage our hunger. It was a fennel and oven-roasted tomato relish stromboli, and it was, for a pre-packaged, parbaked commercial bread product, very yummy indeed. Good enough that I felt it was worthwhile trying to recreate it at home and make it even better.
A stromboli is quite like a calzone, an envelope of pizza dough around a filling, although from what I have seen on the web it can be shaped either as a semicircle, like the calzone, or into a long rectangular package. The one we bought was rectangular, about 9 cm wide and 30 cm long, so that was the shape I was aiming for. As I said, I checked through some of my recipe books and couldn't find a recipe for stromboli, then did a (not very thorough, I admit) web search, and came up with dozens of recipes starting with "take one package of frozen bread dough". So I thought, "bugger it, how hard can it be?" and decided to make it up as I went along.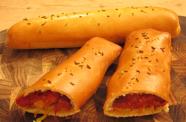 The fillings were the easy part - the ingredients list on the back of the packaging had been clear enough to give me an idea of what to do. The dough was a different matter, since I had merely glanced at the ingredients for it before throwing it away, and remembered only that it had contained parmesan (and a bunch of stabilisers and preservatives and so on which I wouldn't be needing). When it came time to make my own a week later, I remembered the original dough as being a little more short than a normal pizza dough, but couldn't remember whether it had contained butter or some other fat. So as a starting point, I decided to try just a standard pizza dough, with a little grated parmesan mixed in.
And it worked really well! I would use a little less parmesan in the dough next time (20 g rather than 30 g), and perhaps cook the tomatoes down a little more. They were wonderful and vividly tasty, but I think they'd have been even better if I'd let them go past the stage of being thick, and kept cooking them till they were almost a paste, sticky and sweet. I was surprised by how much I liked the combination of the fennel and the tomato - I wouldn't have thought to put them together myself; normally I eat fennel with lemon or occasionally a white cheese. I would happily make this again as the recipe stands, but if I were any good with pastry I would also give it a go using a shortcrust with a little parmesan, either as an envelope or as a tart.
Fennel and tomato stromboli
half a dozen medium-large ripe tomatoes
olive oil
red wine vinegar (Forum for choice)
balsamic vinegar
sea salt and black pepper
2 medium bulbs of fennel
1 tablespoon fennel seeds
250 g plain or strong flour
1/2 teaspoon salt
one 7g sachet of easy-bake yeast
20 g finely grated parmesan
2 tablespoons olive oil
120-150 ml warm water
1 egg, lightly beaten, or milk, for washing
additional fennel seeds, for sprinkling
Preheat the oven to 180C.
Quarter the tomatoes and place them in an oven dish. Drizzle over them a little olive oil, and a slug each of red wine vinegar and balsamic vinegar. Season with a little sea salt and freshly ground black pepper, and toss well. Cook in the oven for up to an hour. About half way through cooking, the tomatoes will have softened enough to be mushed down with the back of a spoon - do this, and then check them every 10 minutes or so to give them a little stir and check when they have thickened enough. Season to taste, and set aside.
Chop the tops off the fennel, and remove any tough outer leaves. Cut the bulbs in half, through the base, along their long axis. Turn the bulbs onto their flat, cut surface, and slice lengthwise in 5 mm slices, to get segments of leaves held together at the base. Place the fennel segments in a lasagne dish or baking tray. Lightly grind the fennel seeds in a mortar and pestle until they are a little broken up, but not ground. Toss the fennel with the seeds, a good drizzle of olive oil, and a little salt and pepper. Cook them in the oven for 35-45 minutes, tossing once or twice, until they are soft and starting to caramelize on the edges. Remove from the oven and set aside.
Increase the temperature of the oven to 200 C.
To make the dough, place in a large bowl the flour, salt, yeast and parmesan, and combine well. Add the olive oil and about 120 g of water, and mix together. Add a little more water if necessary, to bring it together to a dough. Turn the dough out onto a lightly floured surface and knead for at least 5 minutes, until the dough is silky and elastic. Return to a clean bowl, cover, and let rise for 30-60 minutes, until doubled in size. Punch down the dough and divide it into two.
Take one half of the dough, and use a rolling pin to roll it out to a rectangle about 35 cm by 20 cm. Spread half the tomato mixture along the middle of the dough, leaving a 5 or 6 cm edge all the way around. Pile half the fennel on top of the tomato. Paint all around the edge of the dough with a little lightly beaten egg, or milk, then turn one of the long sides of the dough over the filling. Turn in the two short edges and press them firmly. Finally, turn the remaining long edge over the filling, and press that seam together too. Gently flip the stromboli over so that the seams are underneath and you are looking at a smooth rectangle. Transfer it to a lined baking tray, then brush the egg or milk all over the dough. Sprinkle with a few fennel seeds, and stab the dough a few times with a sharp knife or the tines of a fork. Repeat with the second half of the ingredients.
Place the two stromboli in the oven, and bake for 20 minutes. When you take them out, they should sound hollow when you rap on the bottom of the stromboli with your knuckles. Let them sit for a couple of minutes, then serve. Serves 4, with vegetables or salad on the side.
Comments (disabled)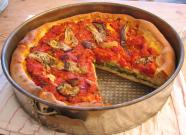 For me, the perfect pizza is one Napoli-style - very thin, very crispy crust, with few, but well-chosen toppings. Ted likes this type of pizza too, but he's a pizza bigamist, because a corner of his heart is devoted to Chicago-style pizza. He's from Illinois, it's forgivable. We first cooked a Chicago-style pizza in Brisbane, from this recipe given to us by a friend of Ted's who'd worked at a pizza place in his university town, Champaign-Urbana. We've been experimenting with that recipe ever since (it was one of the first - or perhaps the very first - recipe on this webpage, so has come a long way since then). Then for Ted's birthday this year, I bought him The great Chicago-style pizza cookbook, which has reviews of famous Chicago pizza restaurants, colour photographs of the owners and patrons of these restaurants sporting sexy 80s moustaches, and most importantly, recipes for a range of pizzas and comprehensive descriptions of pizza-making techniques. We tried our first recipe from this book today: a pizza with the crust stuffed with spinach and mozzarella, with a simple tomato sauce on top. We added a few marinated aubergine slices to the top, but otherwise stuck to the original recipe.
Stuffed pizza with spinach
Dough
3 teaspoons sugar
2 packets active dry yeast
1 1/4 cups warm water
3 1/4 cups bread flour
3 teaspoons salt
4 tablespoons vegetable oil
Filling
150 g fresh baby spinach
200 g mozzarella cheese, grated
Sauce
three 400 g cans of whole or chopped tomatoes
2 tablespoons olive oil
1 teaspoon dried oregano
2 teaspoons chopped fresh basil
1 teaspoon salt
1 clove garlic, crushed
1/4 cup freshly grated parmesan
Dissolve the sugar and yeast in the water, and set aside for 5 minutes. Mix the flour and salt in a large mixing bowl, then make a well in the centre and add the yeast mixture and the oil. Mix together and knead thoroughly until a mass of dough is formed. Turn out onto a floured work surface and knead for 5-6 minutes, until the dough is smooth and soft. Place the dough in a lightly floured mixing bowl, cover, and set aside in a warm place to rise for 60-90 minutes, until doubled in size.
Wash the spinach thoroughly and dry completely. Remove any tough stems, then chop the leaves very finely. Mix the chopped leaves with the grated mozzarella.
Drain all the liquid from the tinned tomatoes, and crush the tomatoes with your hands if you are using whole ones. Transfer the tomato flesh to a bowl. Add the olive oil, oregano, basil, salt, garlic and parmesan, and mix well.
Preheat the oven to 210 C. Lightly grease a large pizza pan or springform pan, about 12 inches in diameter.
Punch down the dough, then turn it out onto a flat surface and knead gently for 1 minute. Divide it into two pieces, one slightly larger. Roll out the larger piece, until it is about 16-18 inches in diameter - enough to cover the base and sides of the pan. Place the dough in the pan, pressing it into the base and sides. Trim off any dough which hangs over the edge of the pan. Spoon the spinach and mozzarella filling over the dough, and spread evenly.
Roll out the second piece of dough until it is about the same size as the pan. Lay the second piece of dough over the spinach filling, then turn down the edges of the first piece of dough and crimp the two edges of dough together with your fingers to form a thick raised border. Cut a couple of slits in the top layer of dough to let the steam escape during cooking. Spread the tomato mixture evenly over the top crust.
Bake in the preheated oven on the lowest rack for 10 minutes. Move the pizza to a high rack, and bake an additional 25 minutes. Check halfway through - if the pizza crust is getting too brown, cover it with alfoil for the remaining cooking time.
Comments (disabled)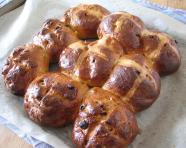 Elizabeth David. On the one hand, responsible for getting olive oil out of the pharmacies and into the grocery stores of the UK, bless her. On the other hand, lots of her recipes don't work for me, damn her. Her books make great reading - whether it's the longing descriptions in the first Mediterranean cookbooks, or the historical scholarship leavened with ascerbic remarks of the later books on British cooking - but I wouldn't try one of her recipes for the first time if I needed to be sure that it would work perfectly and on time. I think this is partly due to less rigorous testing of published recipes at that time (as Angela said in her comments to her hot cross bun post), but also perhaps just that expectations of recipes have changed.
I know I've been led astray by some recipes of my mother's because of this change. I once made, from her foolproof recipe, a fudge which never set. I phoned her and was set straight about my errors. Firstly, the recipe hadn't specified whether to stir or not, so I had, when I shouldn't have (or the other way around, I don't remember) - that was something which was part of her core knowledge, but not part of mine. Secondly, when it said "boil for 12 minutes", I assumed that meant "boil for about 12 minutes", so didn't keep my eye on the clock, because I'm used to modern, coddling recipes which will tell you "exactly 12 minutes" if it matters, because we've all become slackers who think near enough is good enough (as it is for many recipes, honestly). What a long sentence that was. So anyway, I can't really blame Elizabeth David without compunction for the recipes of hers I've failed to make successfully, but they still make me wary.
Despite this, I was feeling in the mood for tradition with my hot cross buns this year and so decided to make them from the recipe she gives in English bread and yeast cookery, a book which contains a wealth of information about the changing recipes for traditional English breads, buns, crumpets, dumplings and so on. She describes the history of small spiced buns, which originally became popular in Tudor times, when bakers were, by royal decree, only permitted to sell them on special occasions ("except it be at burials, or on Friday before Easter, or at Christmas, upon pain of forfeiture of all such spiced bread to the poor"). The recipe she gives for hot cross buns is different from most others I've seen in that there is no kneading before the first rise. This makes them easy to prepare, but means that the dough never becomes smooth and supple, and the finished buns are therefore a bit lumpen looking.
I modified the original recipe by making a paste of flour and water to make the cross with, rather than just slashing the dough after the second rise, which I am not very good at. David says "There is no need to worry overmuch about the exactitude of the cross. You have made the symbolic gesture. That is what counts." Unfortunately, while my crosses were reasonably exact, I wasn't sure whether my buns were going to recover after the hacking I was giving them, so the first four only had cut crosses, and the next 5 had them drizzled on with the edge of a spoon. Finally, I also changed the glaze for the buns. The original recipe called for a mixture of milk and sugar boiled together, which produced something unpleasantly curdy - no idea what happened there - so I quickly made up a syrup of water and sugar to use instead.
Hot cross buns
250 g strong flour
1 sachet of easy-bake yeast
1/2 teaspoon salt
30 g soft light brown sugar
1 heaped teaspoon mixed sweet spice
30 g softened butter
1 egg
110 ml milk
60 g currants
sugar syrup, to glaze
Warm the flour in a large bowl. Add the yeast, salt, sugar and spices, and mix. Make a well in the mixture and add the butter, egg and milk, and stir until all the ingredients are well amalgamated. Finally, add the currants and mix them in carefully so they are well and evenly distributed throughout the dough (I added a little mixed peel here too).
Cover the bowl and leave to rise until doubled in size (this may take 1 to 2 hours, depending on the temperature and the yeast). Now punch down the dough, knead briefly, and then cut into 9 to 12 pieces. Form each piece into a ball and place on a lined tray, a little apart from one another. Cover with a teatowel and leave in a warm place until the buns have doubled in volume.
Cut crosses in the tops of the buns using a knife, or make up a paste of flour and water and draw crosses on with that. Bake in the oven at 190C for 15 to 20 minutes, until they are golden brown. Remove from the oven, and give them two successive coatings of sugar syrup to glaze.
Comments (disabled)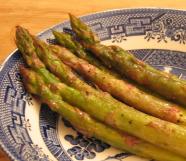 I should have taken a before photo of this asparagus, as well as an after one. When it was raw it was a lovely delicate shade of violet, but after I'd tossed it with olive oil and lemon juice and a little sea salt and roasted it in the oven for 10 minutes, the violet retreated to just the very tips of the leaves. It tasted very good nonetheless, alongside a mushroom risotto.
Comments (disabled)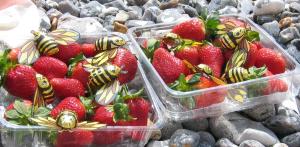 Much more charming than easter eggs - it's chocolate easter bees, which come packaged in a cute little hexagonal cardboard beehive. Eat on the beach with friends and their children in April sunshine for maximum enjoyment. You should click on the thumbnail to see these stripy little things in all their beauty, resting on strawberries before being eaten. (You all know that you can click on any of the little photos for a close-up, right?)
Comments (disabled)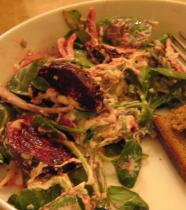 I've been crazy busy at uni for the last couple of weeks, so updates have been scarse, as you can see. I handed in a draft of my next paper to my supervisor yesterday, and then spent today setting up analyses to run over the easter holidays and clearing up some administrative stuff. So now I finally have some spare brain cells recovered enough to write about the brilliant salad Danielle and I (mostly Danielle!) created the last night she was here, over a week ago.
Ted was in London for a couple of days, so I left uni at about 7 pm, usually the precursor to a dinner of pasta + olive oil and garlic/chickpeas and herbs/sundried tomato paste and pine nuts/other cupboard staple. Instead, I came home and found preparations well underway for Armenian lentil and apricot soup (which I will write about later) and roast beetroot salad with goats cheese. Bliss. The salad was delicious, with a blend of fantastic earthy flavours - beetroot, walnut oil, sunflower seeds - lifted by the slight sharpness of the dressing and the crispy green leaves. The cheese was quite a soft one, and so was spread throughout the salad when we tossed it. If you wanted a cleaner look you could use a firmer sheeps feta, or just sprinkle the cheese over the salad after tossing it. But it would taste very fine indeed either way. My new favourite salad.
Roast beetroot and goats cheese salad
4 or 5 billiard ball-sized raw beetroots
olive oil
150 g baby spinach or mixed salad leaves
1 small log of soft goats cheese
1 -2 tablespoons sunflower seeds
1/2 small red onion, halved and finely sliced
3 tablespoons walnut oil
1 tablespoon white wine vinegar
1/2 teaspoon Dijon or seed mustard
1/2 teaspoon honey
Wash and trim the beetroots. Toss them in a little olive oil, and roast in a moderate oven for about 30 minutes, until they are softened and the skin is very slightly crisped. Remove from the oven and let cool a little.
In a bowl, mix together the baby spinach or mixed leaves, the beetroot, crumbled goats cheese, sunflower seeds and sliced onion. In a little jar, put the walnut oil, vinegar, mustard and honey and shake well to make the dressing. Taste the dressing and adjust quantities if necessary, then pour it over the salad and toss thoroughly. Serve at once.
Comments (disabled)